A series of Twitter messages between WikiLeaks and the President's son during the period before and just after the US election has been leaked.
The correspondence had been turned over to a congressional investigation into Russian interference in the US election – with WikiLeaks suspected of having been a conduit.
And it makes embarrassing reading for WikiLeaks perhaps more than Trump Junior, as WikiLeaks which prides itself on being a transparency organisation attempts to help the Trump campaign spin against their opponents.
WikiLeaks ask Donald Jr to leak his father's tax returns to them so that they don't appear biased during their mass publication of waves of hacked Democrat emails
advise Donald Trump Sr not to concede if he loses the election, but to say it was rigged
ask if Donald Trump could promote them and the Democrat leaks on Twitter
ask if President Trump would ask Australia to make Julian Assange an ambassador.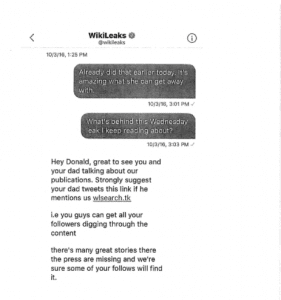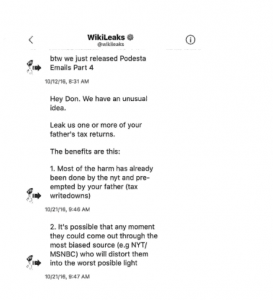 After the messages were leaked to The Atlantic, Donald Trump Junior published them himself to downplay their significance:
Here is the entire chain of messages with @wikileaks (with my whopping 3 responses) which one of the congressional committees has chosen to selectively leak. How ironic! 1/3 pic.twitter.com/SiwTqWtykA

— Donald Trump Jr. (@DonaldJTrumpJr) November 14, 2017
Many were quick to point out the irony of Donald Junior's complaining about leaks…
You're funny!

What's truly ironic is that you're complaining about leaks. This was you 13 months ago. pic.twitter.com/WoT5pKE5Cl

— Pé🌻 (@4everNeverTrump) November 14, 2017
https://twitter.com/krassenstein/status/930228997123919872
Flashback: October 14, 2016. Pence responds to reports that the Trump campaign is in cahoots with WikiLeaks: "Nothing could be further from the truth." pic.twitter.com/J4AjDrtjWF

— Kyle Griffin (@kylegriffin1) November 14, 2017
And how Donald Trump Sr parroted WikiLeaks' words:
Also, here's your dad tweeting just after Wikileaks reached out to you on Oct 12, 2016 talking about how the press is "missing" stories.

Notice the similar complaint from your dad? pic.twitter.com/13WMdXyJk3

— Pé🌻 (@4everNeverTrump) November 14, 2017
RELATED:
https://www.thelondoneconomic.com/news/hillary-clinton-says-wont-run-2020-presidential-race-donald-trump/18/10/
https://www.thelondoneconomic.com/film/directorwriter-interviews/clooney-slams-trump-response-coastal-elites-comment/11/10/
https://www.thelondoneconomic.com/tle-pick/donald-trump-was-right-the-election-was-rigged-in-his-favour/15/11/
https://www.thelondoneconomic.com/news/watch-russell-brand-owns-bill-maher-voting-trump-hillary-corbyn-dont-vote-politicians-speak-directly/08/10/