A woman diagnosed with terminal cancer was shocked to be called to a 'consultation' to discuss if she could return to work.
Krissy Johnson, 48, was diagnosed with incurable metastatic Breast Cancer in September 2015 and given less than a year to live.
Nearly three years later, she has been called to a meeting by the Department for Work and Pensions (DWP) to determine if she is capable of returning to work.
The mother-of-one shared a letter she had been sent last week by the Independent Assessment Services on behalf of the DWP in a post on Facebook which has been shared more than 6,000 times.
https://www.facebook.com/photo.php?fbid=10155394618868342&set=a.10150430883338342.364968.629388341&type=3&theater
The letter stated: "Our job is to help the DWP understand how you health conditions or disability affects your daily life.
"One of our health professionals has looked at the information you sent to the DWP.
"After doing this we have decided that we need to see you for a face-to-face consultation to discuss you health condition or disability further."
Former mental health worker Krissy said it was the third time she had been called to such a review where she would be expected to prove her condition was terminal.
She said: "When I first applied in 2015 I received a call to say they had received my terminal certificate so I would be fast tracked.
"I was receiving my payments then after six months I was sent more forms to fill out and asked to attend a review which I could not go to because I was in hospital.
"I then received another review appointment which I refused to go to.
"Last Thursday I received the third review letter, and when I spoke to them on the phone they acted like I had done everything wrong."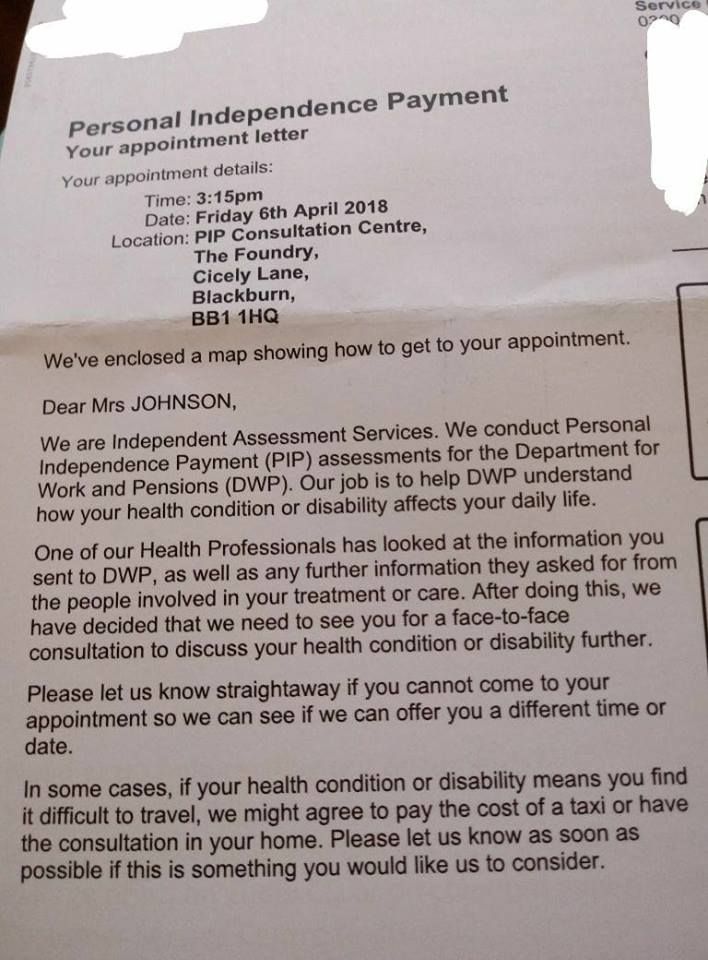 Krissy said she was told she had not filled the forms out correctly or put long term diagnoses on her application.
She added: "Two people in two minutes had called me a liar, I wish I was lying, I wish none of this was happening to me but it is.
"I sent them everything, even my confidential medical report, my God I sent them stuff I didn't even want to read it myself."
Krissy, from Clitheroe, Lancs., said she now faces having her payments cut or revoked totally should the DWP find her fit to return to work.
She said: "At the moment I am doing well, I look after myself, I take my pills but I am not sure how long until I get symptoms.
"I am not sure of anything, yet I am expected go to this review and explain why I can't work.
"I'm scared that my last time on this earth will be spent claiming or struggling to find money."
"I want people to take note and pay attention to what is happening to us because it is shocking.
"The forms are so ridiculously complicated, it's almost impossible for someone who is terminally ill or has a chronic illness to handle on their own."
Krissy said she has written to the Prime Minister Theresa May to ask why her lifer has been made more diffult by the DWP.
A spokesman for the Department for Work and Pensions said: "We apologise for the letters that Ms Johnson has received.
"We have reviewed the case and she is now being paid under the special circumstances with no break in her claim.
"We can confirm that she does not have to attend any appointments and a letter will be sent to Ms Johnson confirming this.
"Anyone having any problems with PIP should contact their local office whose staff will be able to help."
Krissy said did not believe there had been a mistake,
She said: "This is the third time I have been called in to be assessed.
"This is not a mistake it is a deliberate thing, they are relying on people in my situation just lying down and accepting their fate.
"They just want us to lie down and die, but I have a voice and I still have the strength to fight it so I will.
"There needs to be a system put in place to help people in this situation and stop them being take advantage of."
https://www.thelondoneconomic.com/news/government-ruled-blatantly-discriminatory-ruling-affects-160000-people-mental-health-impairments/23/12/
https://www.thelondoneconomic.com/news/dwp-apology-error-double-amputees-fit-work-assessment/03/02/
https://www.thelondoneconomic.com/news/theresa-may-u-turn-pip-main-disability-benefit-set-cost-taxpayer-3-7billion/30/01/
https://www.thelondoneconomic.com/news/constituent-incontinent-cancer-sufferer-refused-pip-forced-wash-reuse-baby-nappies/18/12/
https://www.thelondoneconomic.com/must-reads/broken-britain/mum-four-benefits-cut-sick-attend-meeting-died-cold-alone-wrapped-coat-scarf-family-claimed/09/11/