This is the moment a wildfire engulfed fields during a searing heatwave before more than 100 firefighters extinguished the 50ft flames.
Around 20 fire engines were called to the 500sqm field after a tiny fire turned into fierce flames and thick plumes of smoke in just 20 minutes.
Eyewitness footage shows the flames spread across the dry Little Marlow field in Pump Lane South, Buckinghamshire, at 4:30pm yesterday.
Eyewitness Tony Allen, 52, said: "My wife noticed black smoke bellowing from the other side of the dual carriageway. I left my house to see if I could help.
"I noticed the wind was starting to blow over embers from the other side of the dual carriageway which were landing in the field.
"The farmer had just harvested the field for wheat and barley that morning so there was hay laying around the place.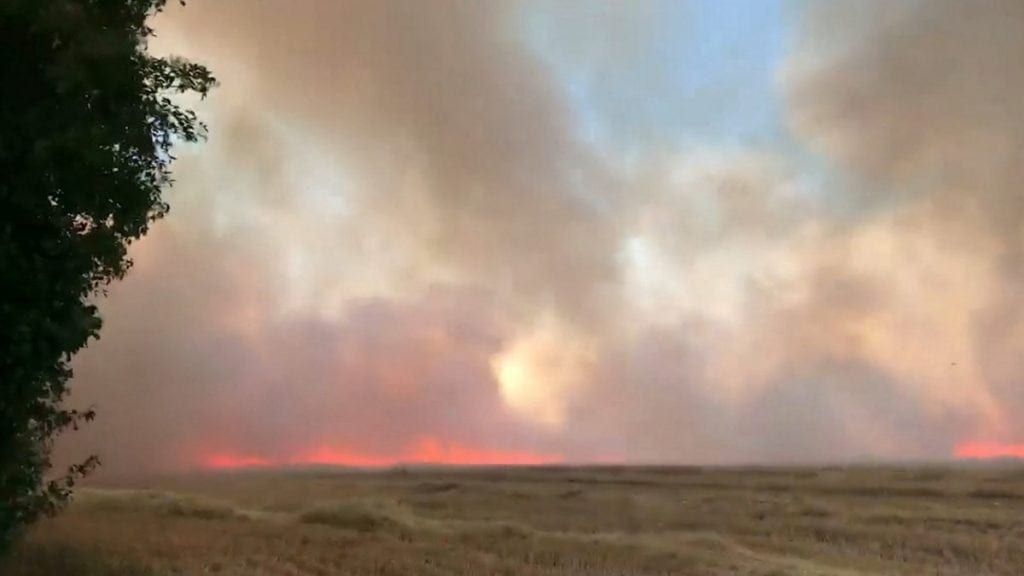 "I tried running over and stamping on the embers but by time I got one out another bit would land 100ft away.
"But within 20 minutes the whole field was alight."
Father-of-two Tony added: "It was memorising to see my usual dog walking route go up in flames.
"I started to run away when the flames reached 50ft."
The cause of the fire is currently under investigation.
A spokesman for Buckingham Fire and Rescue Service said: "We received a call shortly after 4pm Monday afternoon after reports of a fire in the Marlow area.
"Working alongside Thames Valley Police we sent 20 fire engines and 100 crew to tackle the blaze. We threw everything at it.
"At one point the fire was spreading faster than you could run.
"At this point the cause of the fire is not yet known but is currently being investigated."