Yesterday Home Secretary Sajid Javid praised veteran Labour MP Dianne Abbott for being the sort of "role model" that Conservatives should be appealling to, insiting "it takes guts and determination to become the first black woman to be elected to the House of Commons," in a rousing Conservative Party Conference speech many speculated was his pitch to be the next Tory leader.
Keen not to be outdone in the messaging of inclusiveness, Prime Minister Theresa May also heaped praise on the Hackney North & Stoke Newington MP, and hit out at the appalling abuse the Shadow Home Secretary had received.
"The first black woman ever to be elected to the House of Commons received more racist and misogynist messages today than when she first stood over 30 years ago," said the Conservative leader in her speech to the conference.
Last week The London Economic reported how UKIP leader Gerard Batten invited a controversial YouTuber behind UKIP's Warplan Purple social media campaign to address the UKIP conference even though he had tweeted "I wouldn't even rape you" at Labour MP Jess Phillips during a hideous campaign of online abuse and threats of the female MP.
A week later in Birmingham, Tories gathered at their party conference applauded their leader's speech as she insisted that politicians such as Diane Abbott and 'hard' Brexit championing thorn in her side Jacob Rees-Mogg should be free from trolls and abuse.
But many soon pointed out that during 2017's surprise snap election called by Theresa May, it was her Conservative Party HQ leading attacks on Diane Abbott.
And it did not go unnoticed by the Hackney MP herself:
"The @Conservatives ran a nasty campaign, defined by personal attacks, which particularly targeted Diane Abbott. For Theresa May to now pretend she's on Diane's side, and to pay lip service to ending abuse in politics, is disgraceful hypocrisy," commented the Labour Party.
During the last election, left wing journalist Paul Mason called out the Tory attacks as "dog whistle racism."
A study of social media abuse during the last election by Amnesty International found that black and female MP's suffered the worst abuse, and trolling of the Shadow Home Secretary accounted for a third of all online abuse during the election campaign.
In fact Britain's first black female MP suffered 45% of all abusive tweets in the six weeks leading to Theresa May's snap election.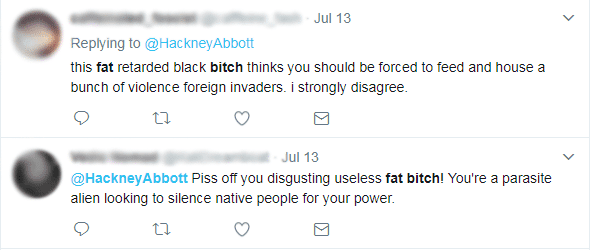 "The type of abuse she receives often focuses on her gender and race, and includes threats of sexual violence," the Amnesty study found.
This followed election period analysis by Buzzfeed that found that a third of Conservative emails to members "explicitly mention the so-called threat of Abbott becoming home secretary, while the Tories have increasingly taken to pushing videos involving Abbott on their official Facebook page and received above-average engagement. One video posted on Monday already has more than a million views, possibly helped by paid-for Facebook advertising."
Theresa May herself repeatedly named Diane Abbott as a risk in interviews including her BBC Question Time debate.
READ MORE: 
Media ignores Diane Abbott's racist abuse from trolls. Until she describes what they say on TV. Then they go nuts when she quotes the abuse.
BNP send Jeremy Corbyn racist Christmas Card featurign Diane Abbott.
UKIP party conference addressed by this controversial figure.