A racist thug has been jailed for accusing an Asian taxi driver of being responsible for the Manchester Arena bombing.
Terrence Poxon said the victim had "firebombed kids," and racially abused him on May 28 – less than a week after the attack killed 22 people.
Poxon, 58, was also armed with a wooden bat and smashed up the victim's cab at 3.30pm.
A court heard he had dressed himself in a Union Jack T-shirt to deliberately parade it around Normanton, Derby.
Poxon told police he was pleased with his actions and said he had armed himself in case anyone challenged what he was wearing.
He also admitted to police "yes, I am being racist" after calling the taxi to his home and smashed three of its windows and made dents in the vehicle.
Poxon, of Shelton Lock, Derby, admitted racially aggravated public order offence, racially-aggravated criminal damage and threatening a person with an offensive weapon in a public place.
Jailing him for 25 weeks at Derby Crown Court, Judge Nirmal Shant QC said: "The victim was doing nothing more than carrying out his job in a law abiding way when you decided you were going to teach him a lesson for something he was not responsible for.
"Your behaviour was wholly unacceptable."
Prosecutor Steven Taylor said: "The taxi driver asked him where he wanted to go and the defendant answered 'Normanton'.
"When the driver asked him 'where in Normanton?' he suddenly became aggressive and said to the victim 'you did the Manchester bomb'.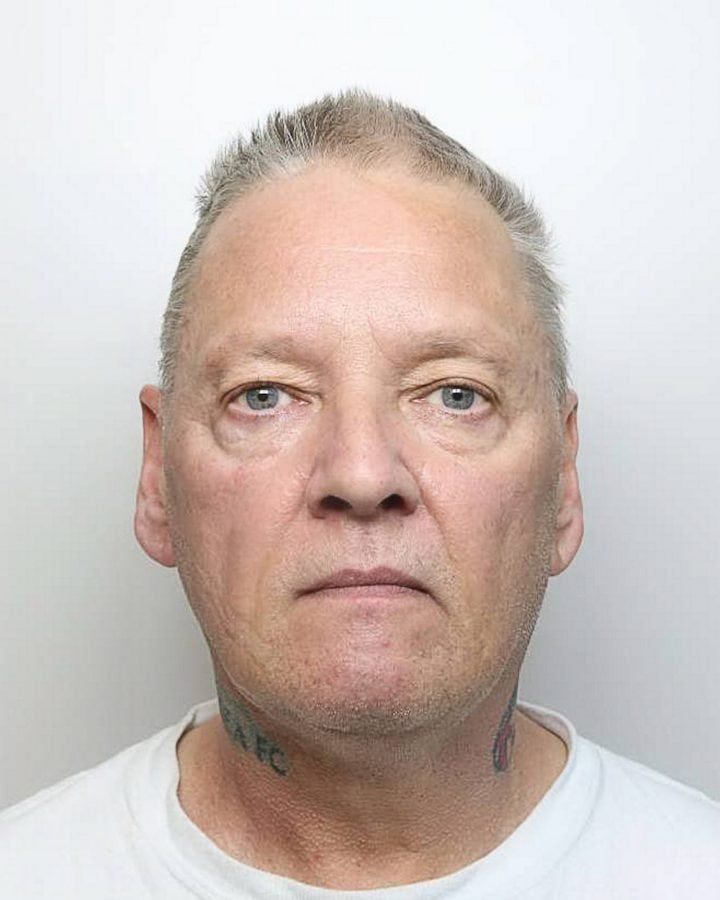 "He then pulled a wooden baton from his sleeve of his coat.
"One of the witnesses said the defendant was wearing a Union Jack t-shirt and gesticulating in a confrontational manner shouting 'Chelsea, Chelsea' like a football chant.
"He then pointed at the taxi driver and shouted 'guilty'.
"He said to the officers 'yes, I am being racist' and he was not particularly apologetic about it.
"He told officers his intention was to go to Normanton Road wearing his Union Jack t-shirt and he had the baton in case anyone approached him about it.
"He said had anyone asked about his t-shirt he would have used the baton against them.
"He said he wanted the taxi driver to feel like the little kids did at the Manchester bomb."
Mr Taylor said the actions "frightened the cabbie" who managed to pull over in Chellaston Road and get out of the taxi.
The attack was witnessed by people waiting at a bus stop who the taxi driver had gone over to for protection.
Police attended the scene but Poxon had walked back home, where he was arrested.
Stuart Newsome, defending, said Poxon had never been in trouble with the law before and had physical ailments including stomach problems, liver disease and chronic arthritis.
He said: "He is not a man of entrenched violence by any stretch of the imagination.
"He is remorseful and feels guilty and embarrassed about what he did."
The Manchester Arena blast, on May 22, claimed the lives of 25 people and injured 250 more.
It was carried out by 22-year-old suicide bomber Salman Ramadan Abedi at the end of a concert by the American singer Ariana Grande.