A pharmacist gave bomb-making advice to her fellow jihadist after the pair met on a muslim dating site, a court heard today (mon).
Munir Mohammed, 36, was helped by qualified pharmacist Rowaida El-Hassan, 33, in the Islamic State inspired plot, in which she also advised him on the toxin ricin, jurors were told.
Mohammed was caught with materials to make the explosive TATP, and had instruction manuals on building explosives, mobile phone detonators and ricin, it was said.
The pair had a "shared extremist ideology", and the case showed how easy terrorist plots can be prepared because of the internet, the Old Bailey was told.
Mohammed had pledged allegiance to IS and had expressed willingness to participate in "a new job in the UK", it was said.
Anne Whyte QC, prosecuting, said: "This is a case which reflects the age in which we live.
"It demonstrates the relative ease with which acts of terrorism can be prepared, thanks to the internet.
"No-one was injured or killed as a result of the defendants' activities.
"Both of them possessed material useful to someone wishing to manufacture improvised explosive devices – devices that are designed to injure or kill in an indiscriminate way."
She continued: "Both of them had also been in possession of videos which gruesomely and variously depicted the murder, sometimes multiple murder of prisoners in the custody of an organisation, familiar to you as Islamic State.
"These videos were designed to provide ideological justification for the acts of violence."
When Mohammed was arrested, he possessed two of the three components needed to create the explosive TATP, it was said.
He also had instruction manuals on how to prepare explosives, mobile phone detonators and ricin, the court was told.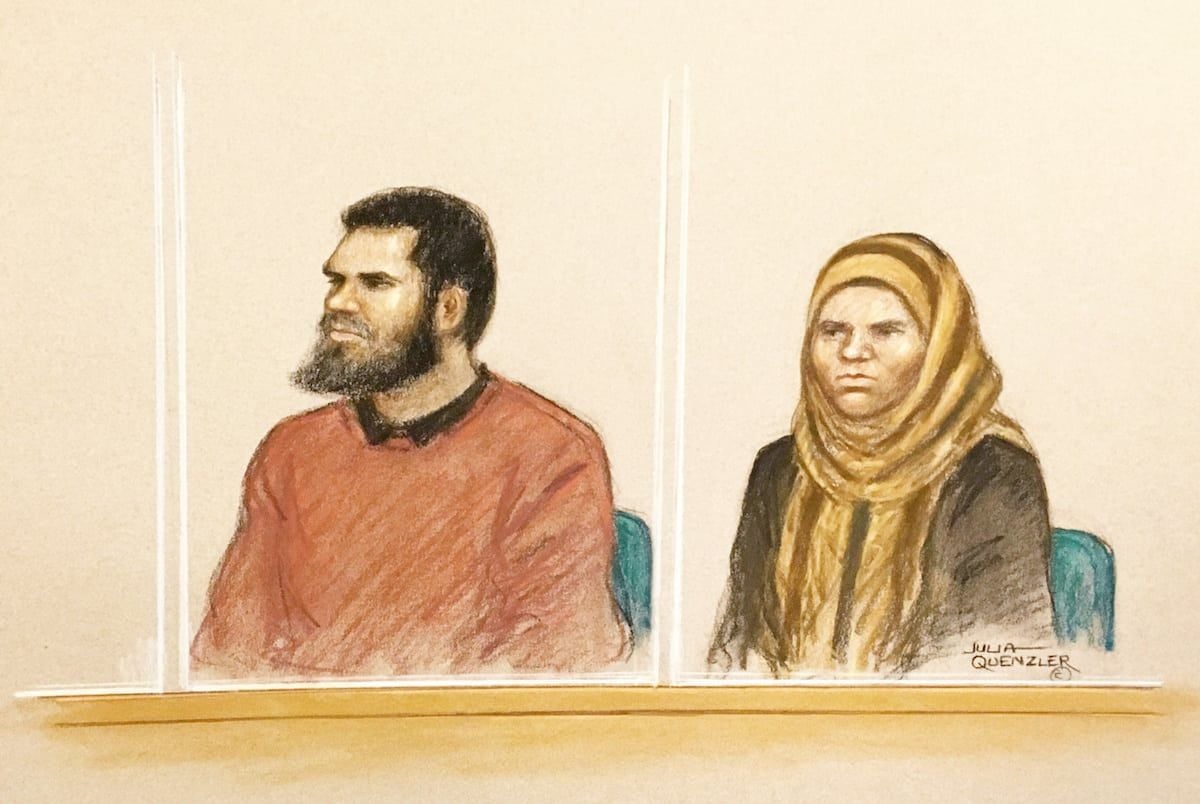 Mohammed had been in Facebook contact with someone he believed to be an IS commander, whose online identity was Abubakr Kurdi, jurors were told.
Miss Whyte said: "Kurdi used Facebook to promote an official call to arms by IS for Muslims living throughout the world to conduct individual attacks, so-called lone wolf attacks.
"After terrorist incidents in locations such as Orlando, Nice and Normandy he would use Facebook to extol the virtue of such attacks.
"In his communications with this man, Kurdi, Munir Mohammed pledged his obedience to Kurdi and by implication to IS.
"He requested, using very basic code, the receipt of bomb making instructions and he expressed willingness to participate, to use his words, in 'a new job in the UK' – in other words, in an act of terrorism involving extreme violence."
The prosecutor went on: "Munir Mohammed appears to have met Rowaida El-Hassan, a qualified pharmacist, through a Muslim dating website.
"Their communications with each other demonstrated a rapidly formed emotional attachment and a shared extremist ideology.
"They exchanged materials and views at the time, we say, Munir Mohammed was planning to perform an attack of his own, motivated and inspired, no doubt, by what he had seen and heard on social media.
"Rowaida El-Hassan had a professional knowledge of chemicals because of her professional training and qualifications."
El-Hassan allegedly helped Mohammed by providing information about chemical components for bomb making and how to source them.
She also assisted his online research about the manufacture of ricin, the court heard.
Miss Whyte told jurors: "In doing this she supported him in his engagement with attack planning.
"We say that the facts of this case reflect the age because the case involves the deliberate, persistent and criminal use of technology in the context of alleged terrorism offences.
"It is a case about thoughts and words and using the internet to commit terrorist acts on behalf of Islamic State, an organisation which is banned under English law.
"In this case there is relatively little dispute about what each of them did
"Your task will be to decide why they did it."
Mohammed, of Derby, and El-Hassan, of Willesden, north west London, deny preparation of terrorist acts between November 18 2015 and December 13 2016.
The trial continues.
Pakistani Christian claims he was brutally attacked by gang of Muslims for displaying poppies on his car