A Christian magistrate who tried to sue the NHS after he was sacked as a director for speaking out against gay adoption has lost his case.
Richard Page, 71, was suspended by the NHS Trust Development Authority after he claimed it was better for a child to be brought up by both a man and a woman.
He made the comments in his role as a magistrate when considering an application by a same-sex couple to adopt a child.
Last year he went on a media campaign to defend his views.
During an appearance on ITV's This Morning, he declared that he was opposed to gay marriage, and was accused by presenter Piers Morgan of being a homophobe, which he denied.
Mr Page was sacked from the bench for serious misconduct by then Justice Secretary Michael Gove and Lord Thomas, who said his comments suggested he was "biased and prejudiced against single sex adopters".
A few days later the NHS Trust Development Authority suspended him from his role as a non-executive director at Kent and Medway NHS and Social Care Partnership Trust.
The trust said he had undermined the confidence of staff, particularly LGBT employees.
He launched a case against the NHS Trust Development Authority for discrimination, harassment and victimisation for his Christian beliefs under the Equality Act 2010.
Mr Page, of Headcorn, Kent, claimed he was being "ousted from public service" for being a Christian and argued he had worked with "numerous homosexuals" during his time in the NHS.
But an employment tribunal rejected his bid to be reinstated.
The panel said he was not dismissed for holding or expressing his views, but because he had appeared in the media without telling the trust.
In a judgment, the tribunal panel said: "Expressing his views in that context was not something that the tribunal finds was intimately linked to his religion or his beliefs."
"Had the belief relied on by the Claimant been the wider views expressed in his Good Morning Britain television interview in March 2016, ie that 'homosexual activity' is wrong then the tribunal may well have concluded that this was not a belief that was worthy of respect in a democratic society".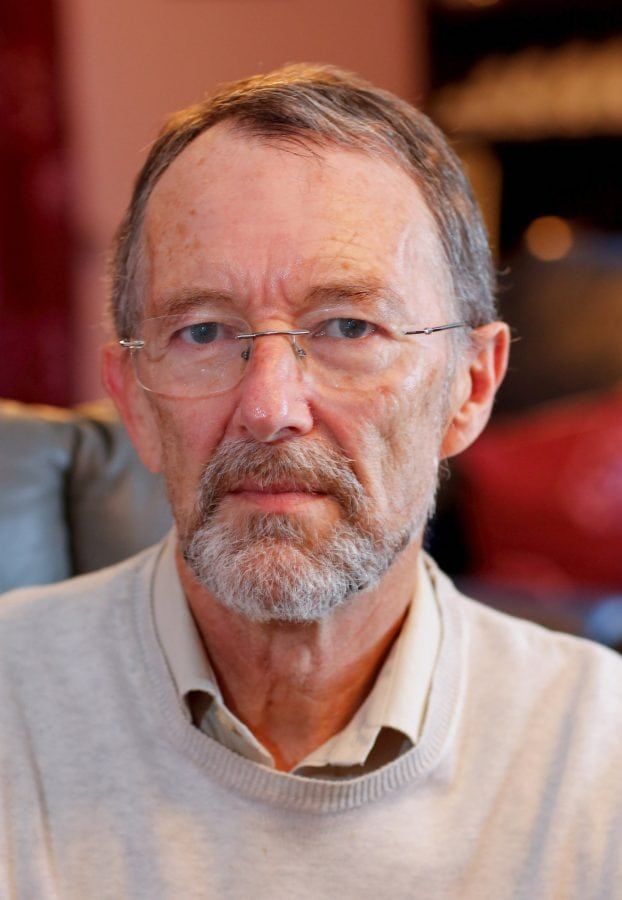 Mr Page, who previously worked as an NHS finance director, told Croydon Employment Tribunal he was not anti-gay but that "It is a sin to have sex outside of marriage, which necessarily includes all homosexual practices."
In a witness statement Mr Page said: "I strongly believe that it is best for any child to be raised in a traditional family with a mother and a father.
"The child needs the complementary roles offered by both parents, male and female, psychological as well as physical.
"Consequently, I take a sceptical view of same-sex adoptions, or adoptions by a single person."
He added: "I have been ousted from every venue of public service for no other reason than that, as a good Christian, I have always endeavoured to do my duty in good conscience."
Asked whether it would ever be appropriate for a gay couple to adopt, Mr Page replied: "By my reckoning it would be better than a care home, which would be a last resort."
On his views on the Bible, he said: "I am a Christian I believe what it says, he is our maker therefore I find what he says correct.
"It is immoral. Homosexual activity is a sin."
During the hearing, it was put to Mr Page that he had been asked by the trust not to publicise his controversial views in the media, something which he accepted.
But he denied that he had said anything offensive and added: "Well if I am upsetting to them, they are upsetting to me.
"It's not natural, if I think back to my school days my understanding is that same sex couples cannot have a baby, so it is unnatural isn't it?"
Mr Page said he will appeal the decision.
In a statement, he said: "I am very disappointed by this outcome but I am determined to appeal. This case is much bigger than me now.
"It is about how ordinary folk, just like me, are becoming increasingly fearful to speak out against the homosexual agenda.
"They bully, intimidate and force you of your job. It is time for this to stop"
Andrea Williams, chief executive of Christian Concern and the Christian Legal Centre which supported Mr Page, said: "It seems that the NHS bosses and liberal judges cannot tolerate the expression of Christian views on morality – particularly on sexual morality.
"He was not targeted for the expression of beliefs, but rather for the expression of certain beliefs – namely, belief in the traditional family.
"This judgment makes a mockery of the freedom of thought, freedom of speech, and the rule of law.
"We will of course appeal this judgment which clearly contravenes Mr Page's human rights, and we will appeal any number of times until we get justice."
https://www.thelondoneconomic.com/news/controversial-vicar-said-words-pride-gay-hijacked-lgbt-community/28/07/
https://www.thelondoneconomic.com/must-reads/teacher-bullied-schoolboy-gay-comes-assembly/27/02/