A martial arts instructor is fighting for his life after a gang of armed teens left him for dead as he tried to stop them stealing his moped.
The 46 year old man was kicked and punched to the ground by seven teens when he saw them stealing his bike as he had lunch in a Brazilian restaurant.
He was rushed to hospital with a head injury following the attack on Saturday in Battersea, south west London.
A waitress at the restaurant said the man, a Brazilian with Portuguese nationality, taught capoeira, a Brazilian martial art.
The woman, who was "still in shock" told how she prayed next to him as he had stopped breathing following the vicious attack.
She said: "I was sitting outside with him and a Spanish lady and we were talking about church and other things.
"He was telling me how he went to Spain and he does capoeira and teaches how to do self-defence.
"Then he came inside to pay for his bill and then he left, outside he had a motorbike – I don't know if he forgot something because he came back.
"By the time we came back to the table one of the boys had jumped on his motorbike and was trying to steal it
"The Spanish lady screamed. She said 'somebody is trying to rob the motorbike'.
"It all happened so fast, the robber was really trying hard to go, I saw the boy punching the poor man.
"He turned around and punched him back and they both fell into the motorbike.
"When I saw this I began to worry as I knew there would be more coming. I tried to stop him, to get him out, but they all came at the same time."
The stunned witness said that she remembered seven youths "under the age of 18" attacking the man.
She said: "It was terrifying, I had to stand back as one of them had a knife. I was screaming to them 'stop this, stop this'.
"I begged with them don't it, but they hit him and he went to the floor, then they kicked him and they kicked his face.
"And then one of them came with the knife, my son said please don't do this, but the knife fell on the floor and somebody managed to kick it away.
"They left him on the floor, he was not breathing.
"He laid there and I started to pray, I'm a Christian and I believe in God – some others joined me in prayer.
"The guy is now in hospital, he is in a coma, the doctor has said there is no hope for him, he has brain injuries.
"I only know the man as he comes in here sometimes to buy lunch, he is from Brazil with Portuguese nationality."
The group rushed off before police arrived at the scene shortly after 4.30pm but the moped was not stolen.
The attack happened on the same road where another 46-year-old Ian Tomlin was beaten to death in October last year.
Residents of a nearby block of flats described the area as "getting worse" due to problems "with gangs".
A man in his thirties said: "I'm the only one of my friends that has not moved out, I'm just here to care for my mum
"If we had any sense we would've got out sooner, what happened to that man was one of three crimes in the past two weeks.
"You have to be careful when you go outside your door, most times we just stay in and order food if we need to."
It comes as a man in his thirties died after a fight in the early hours of this morning (Tues) after being stabbed in Forest Gate, east London.
And another man, 23, died after being stabbed in Mile End, east London on Saturday.
Detective Chief Inspector Mark Cranwell, said: "We know there were a group of young males, some on pedal cycles, who were hanging around the area prior to the incident.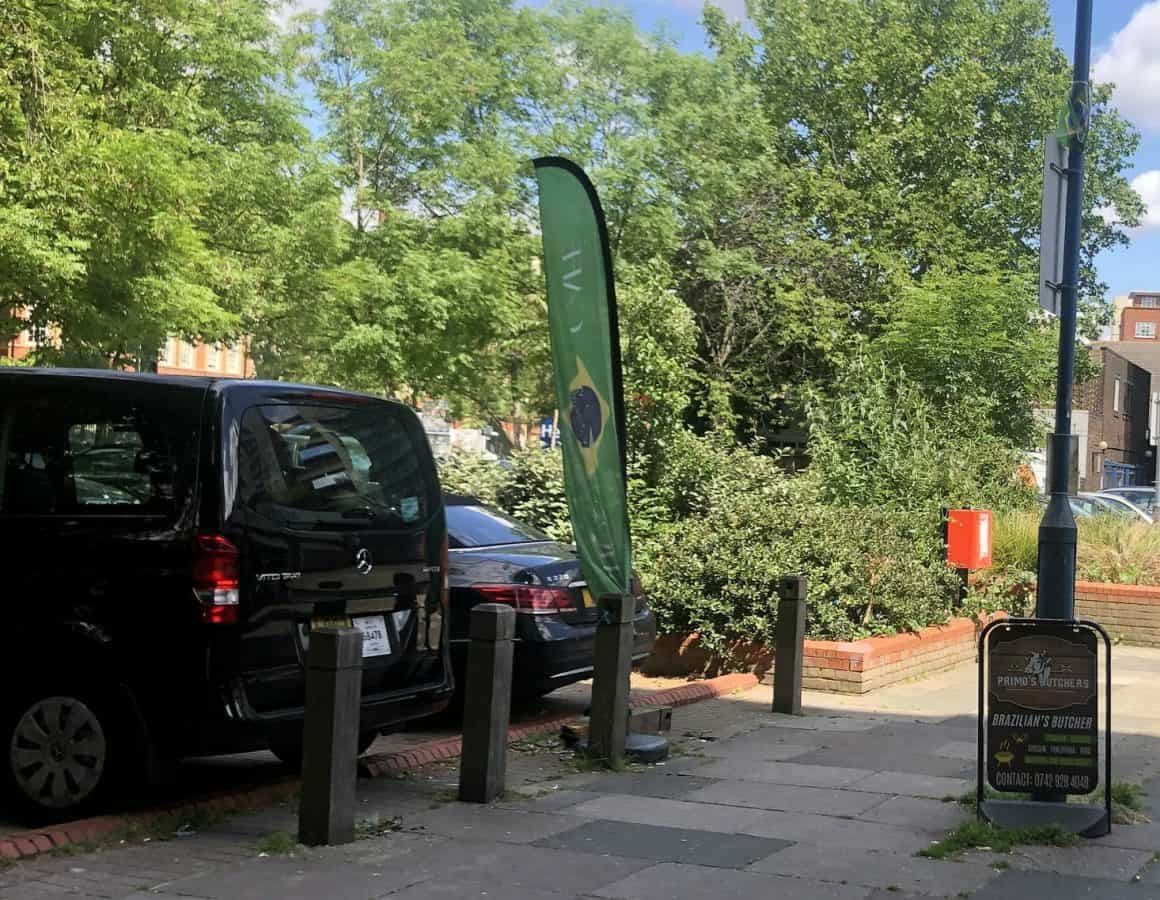 "I want to hear from anyone who saw this group or who may know their identity.
"There is a busy Tesco store and other shops nearby in Battersea Park Road, and people will have seen these males in the area before, during and after the attempted theft of the moped and their subsequent cowardly attack.
"I want to reassure the community that there is an urgent and extremely thorough police investigation underway, and I am determined to find those responsible.
"I am certain that several people – probably local to the area – will know what happened and who was responsible for this attack on the victim and on their own community.
"I need them to come forward and share information with me."
A Scotland Yard spokesman said: "Police were called to Charlotte Despard Avenue, SW11 at 4.32pm on Saturday, May 25.
"Officers attended and found a 46-year-old man suffering a head injury.
"London Ambulance Service attended and the man was taken to hospital. He remains there in a critical condition and his next of kin have been informed.
"It is believed that, shortly before the victim was assaulted, he had approached a group of males who were attempting to steal his moped which was parked nearby, in a car park near to shops off Battersea Park Road."
The spokesman said that the victim was attacked in the street by a "group of males" who made off before police arrived.
He added: "The moped was not stolen. It has been recovered by police and is subject to forensic examination.
"A 16-year-old male was arrested near to the scene a short time later on suspicion of GBH. He was taken to a west London police station and has been bailed to a date in early June pending further enquiries.
"Due to the nature of the incident and the victim's critical condition, the police investigation is being led by detectives from the Homicide and Major Crime Command."