A Telegraph journalist told a scientist he was 'finished' after he tweeted about her.
The writer, Allison Pearson, reacted to his comments on the social media platform with a series of fiery tweets. She tried to find out he who was, where he worked, with the apparent aim of trying to get him reprimanded and possibly sued.
It all began when David Bradshaw, who works for GlaxoSmithKline, responded to a tweet from Harborough MP Neil O'Brien who was criticising the cartoonist Bob Moran for 'Covid-sceptic nonsense'.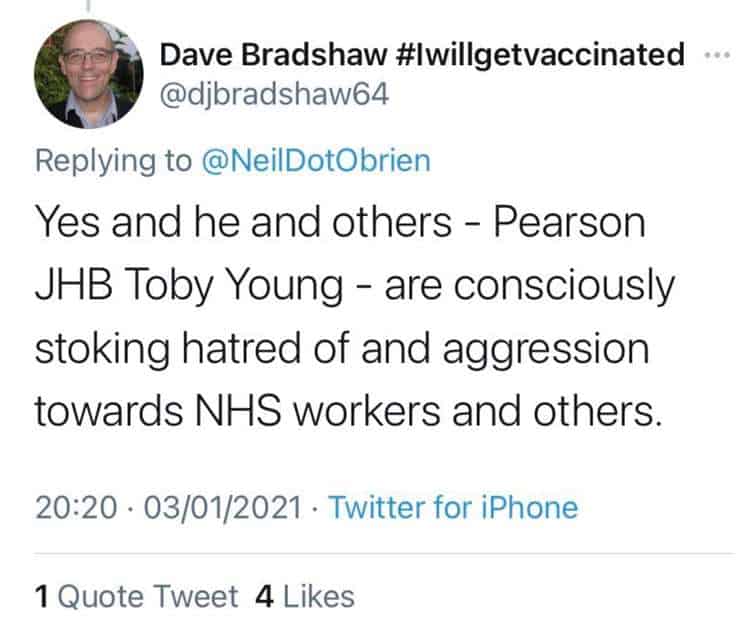 Though Mr Bradshaw's tweets were deleted, uses posted screenshots of one reply which read: "Yes he and others – Pearson, JHB, Toby Young – are consciously stoking hatred and aggression towards NHS workers."
Then the columnist Peter Hitchens tagged Allison Pearson and tweeted: "Please give evidence of this very seriously and possibly defamatory claim."
This is when Pearson began to chase information on him. She then threatened to sue him on grounds of defamation.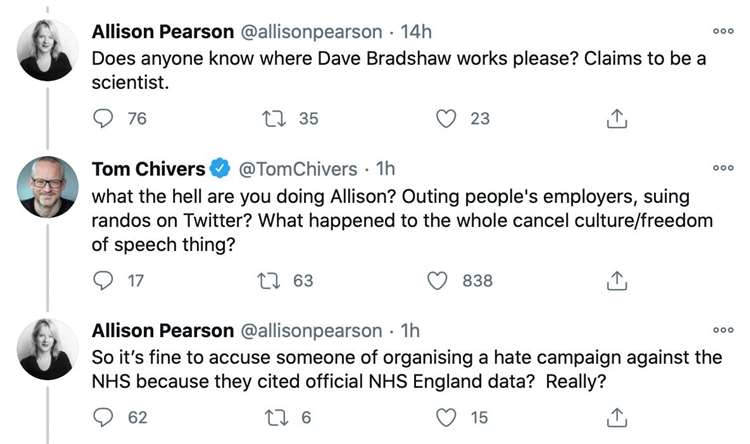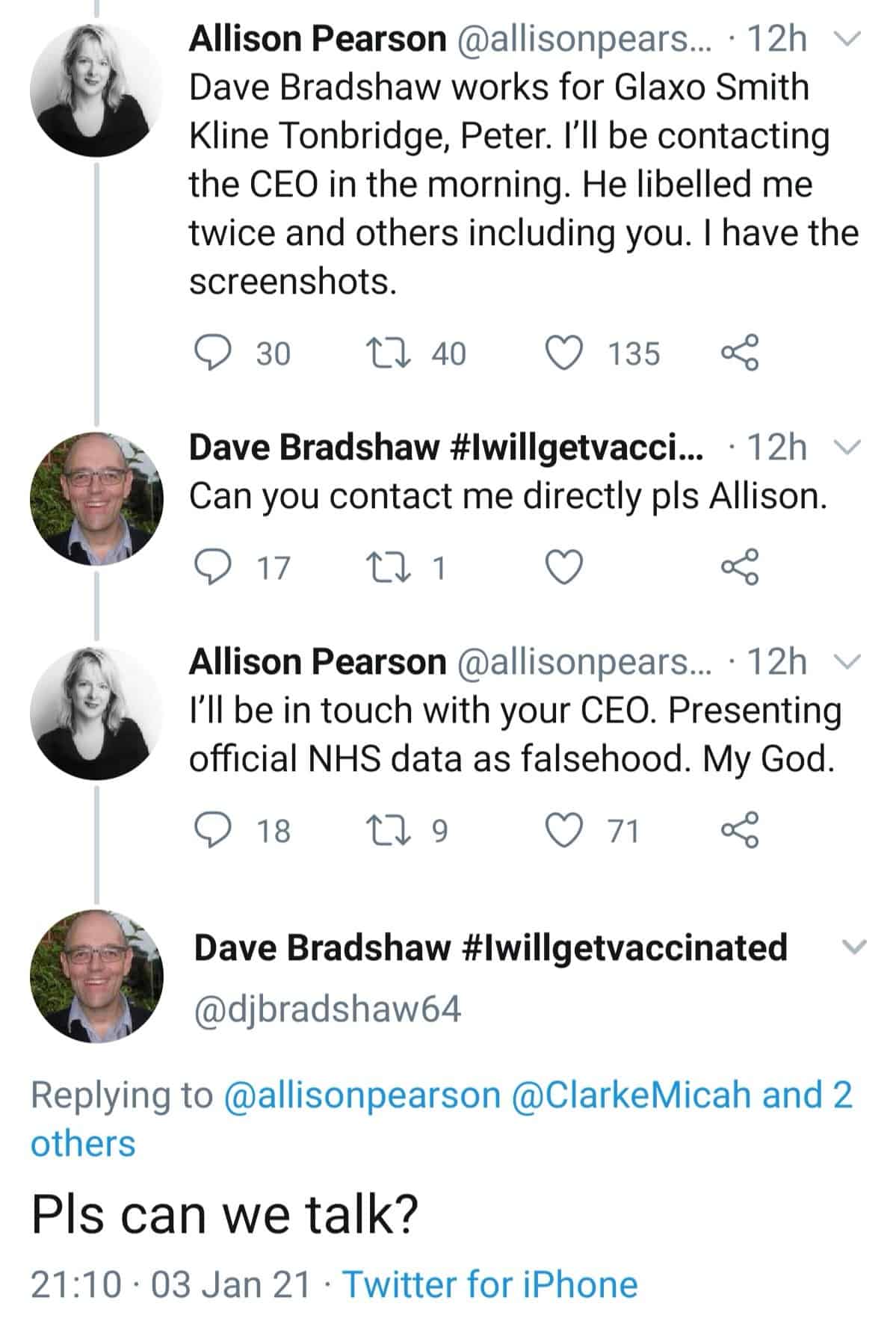 She tweeted: "Right, that's it. Libel. Disgusting.
"I'll be in touch with your CEO. Presenting official NHS data as falsehood. My god."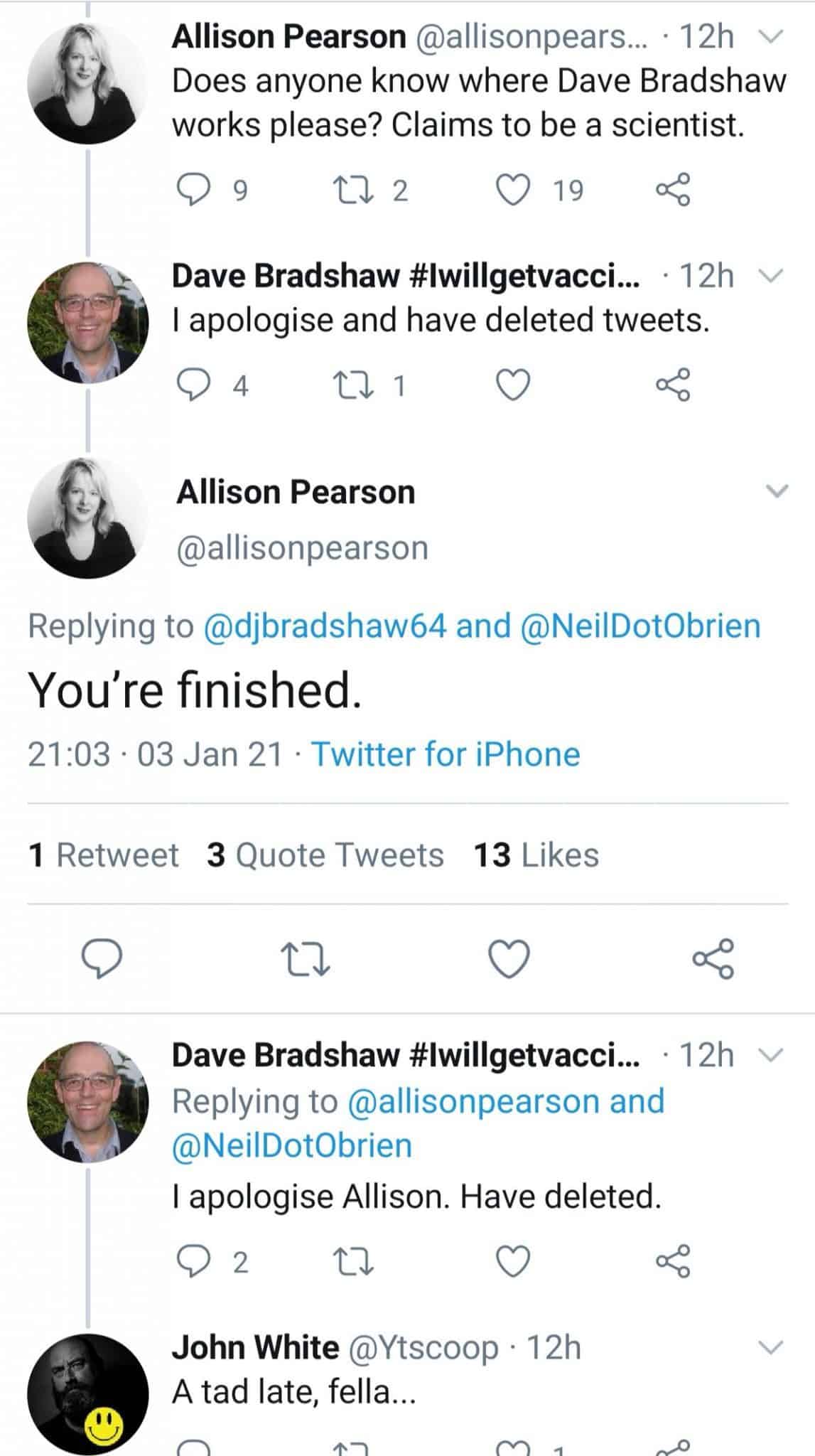 Mr Bradshaw apologised, and deleting the tweets. He then offered to donate money to charity.
He wrote: "Hi Allison. Again I apologise. I am very loyal to the NHS. I have worked for them in the past and have a very dependent special needs son.
"I have become very worried seeing the hostility NHS people are facing currently.
"I am the main breadwinner and my family rely on me for this."

Many people have come to support him on twitter and making #Istandwithdave trend on Twitter.
1.
2.
3.
4.
5.
6.
7.
8.
9.
10.
Related: 'Hundreds' turn up for anti-lockdown protest held outside Covid ward