By Courtney Greatrex 
A disabled mum in a wheelchair has blasted bosses at under fire Southern Rail after staff allegedly refused to help her board a train because they were running late.
Rebecca Bartholomew, 37, said a ticket inspector would not help because the service was three minutes behind schedule.
The mum of one was left stranded on the platform as the train pulled away and she missed a hospital appointment.
She claimed the inspector told her it was "Southern Rail policy" not to help the disabled if a train is running late and staff were only prepared to help her if there was time for them to "call ahead and book assistance".
She said: "I am furious that Southern Rail are punishing me because I am disabled.
"It is not my fault that the train was delayed yet I am the one who has suffered and missed my hospital appointment."
Rebecca arrived 25 minutes early at Chichester train station, West Sussex on Wednesday to catch the train for a hospital appointment in Brighton, 33 miles away.
When the train arrived she put her leg in the door to try and board the train but claims a cruel inspector tricked her after promising to help.
She said he asked her to move her leg but when she did so he closed the doors and told Rebecca to wait for the next train, leaving her embarrassed and patronised.
The mum then complained to a customer service assistant who turned her away with a pamphlet.
Rebecca, from Pagham, West Sussex, said: "I stuck my leg in the door so that they know I need some assistance, but when the inspector came he said he would help me if I moved my leg.
"As soon as I took my leg out, the doors closed and he said that I needed to call ahead and book assistance."
In 2015 Rebecca suffered a stroke when an artery at the back of her neck split and she collapsed at home following weeks of migraines.
She was rushed to Brighton General Hospital where it took doctors three days to find the bleed on her brain and she survived despite just a 20 per cent survival rate.
Following surgery Rebecca spent a month in Princess Royal Hospital in Haywards Heath, West Sussex, before returning home.
She said: "I suffered three weeks of migraines before I collapsed at home and my five-year-old had to call me an ambulance.
"I was rushed to Brighton General where it took three days to find the bleed on my brain.
"I was given a 20 per cent chance of survival, so luckily I made it through but the damage had already been done and I was paralysed in the right side of my body."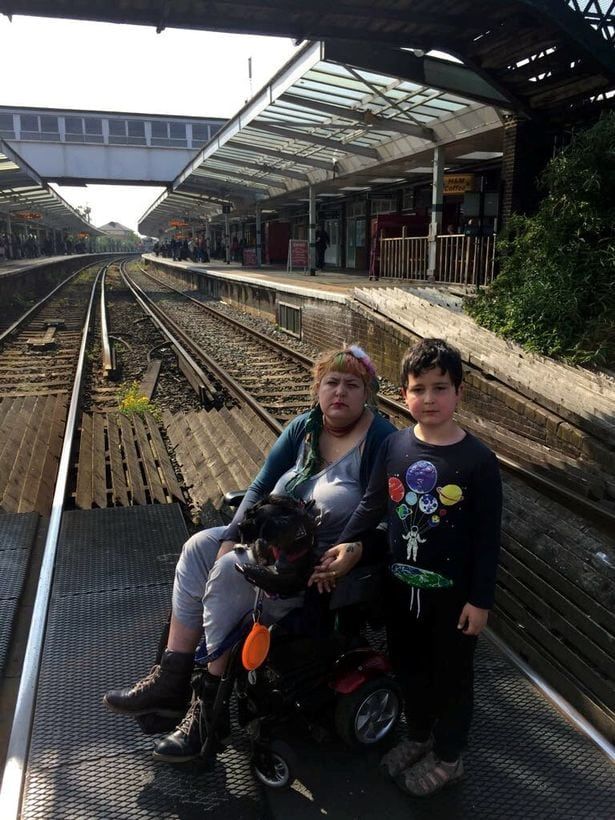 "I was a hugely independent person before I had my stroke and it was a real struggle to come to terms with what had happened."
She added: "I understand that Southern Rail have been in the press about being late all of the time, but I'm sure people would understand if it was to help a disabled passenger on board.
"This treatment is really wrong and I want people to be aware of what they're doing.
"I do have my pride, but I feel so embarrassed by what happened I don't feel as if I can go back to the station.
"My disability shouldn't make my disability feel less worthy to get transport or do basic things in life and I want train companies to know that."
A Southern spokesperson said: "We sincerely apologise to Rebecca for letting her down on this occasion.
"It certainly is not our policy to refuse disabled passengers access to our trains if they are running late.
"We are investigating this incident and have been in contact with Rebecca about it."
Read "Southern Fail: Recruitment drive goes horribly wrong" Click Here