An aristocrat accused of offering £,5000 to "accidentally" run over leading Brexit challenger Gina Miller in a series of Facebook post, a court heard (today).
Rhodri Philipps, the 4th Viscount St Davids, 50, added she was a "bloody troublesome first generation immigrant" who should be sent back to her "stinking Jungle.
He allegeded made the comments on November 7 last year – four days after Ms Miller won a landmark High Court challenge over Brexit.
Philipps, also known as Lord St Davids, is charged with three counts of making malicious communications of a "menacing" nature.
He appeared in court today to stand trial, and was due to get legal aid but chose instead to represent himself.
In the post on November 7 he wrote: "£5,000 for the first person to 'accidentally' run over this bloody troublesome first generation immigrant.
"If this is what we should expect from immigrants, send them back to their stinking jungles."
Philipps also wrote two "menacing posts" about a Cameroonian man on September 11 last year, it is said.
Responding to an article about an immigrant called Arnold Sube, he is said to have written: "Please will someone smoke this ghastly insult to our country.
"Why should I pay tax to feed these monkeys?"
Westminster Magistrates' Court heard polo-playing Philipps, of Knightsbridge, central London, also called Ms Miller a "hideous jumped up immigrant" on November 11.
In the Facebook message, he replied to a post by someone else which said "I'm open to naughty suggestions, dirty ideas, and anything that will give me an orgasm…"
Philipps allegedly responded: "Mine includes torturing Tony Blair, Hilary Clinton, ISIS, Dave (PM) the forgettable, Murdoch…Oh and that hideous jumped up immigrant Gina Miller."
The November 11 post was submitted by the prosecution as bad character evidence, which was admitted by Chief Magistrate Emma Arbuthnot.
Philip Stott, prosecuting, said it was "demonstrative of animosity towards Gina Miller."
But two other posts, from August last year, were rejected as bad character evidence.
The court heard one, posted on August 17, said: "I would vote for Trump if I could. The world needs a collective register of Muslims.
"Makes the job a lot easier for our collective SIS to track down non-conformists, and frankly, shoot them on the spot.
"Muslims have denied responsibility for their own. The NEW CRUSADE has begun.
"Whether Jewish, Christian, Hindu, Buddhist or atheist, the tyranny of Islam and its ignorant (goat fucking) brethren has to be destroyed.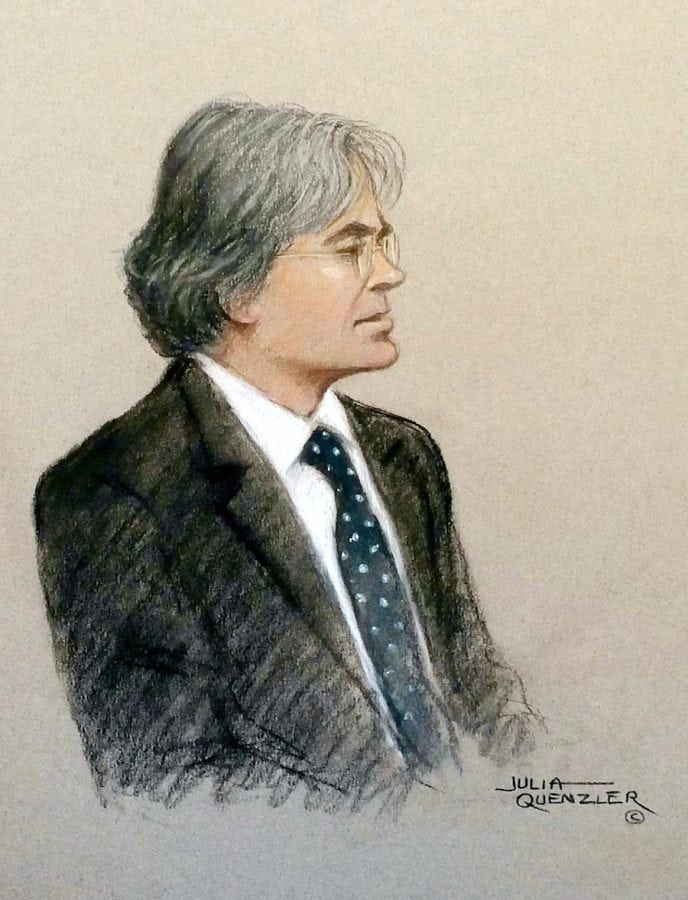 Mr Stott said: "It deals with a threat of violence against Muslims.
"The second message is similar in content – about a new crusade, 'these desert dwellers need to be repelled'.
"The Crown say that's demonstrative and explanatory of his general hostility to those not from this country as he sees it."
Giving evidence, Philipps insisted he was not racist – and said he did not consider himself to be the "Messiah".
He told the court: "I am not decrying Muslims as a generic. It's very clear from that piece, and the newspaper articles it refers to, I am referring to ISIS.
"I didn't expect this to appear outside my network. I have a number of Muslims who are dear friends. No one has hit the Facebook complaint button."
Referring to the "please forward this message" bit, he said: "It is one of hyperbole, contemporary commentary.
"I am not considering myself the Messiah. It's basically tongue in cheek."
Philipps also said his mother was a first generation immigrant from the same continent as Ms Miller.
He was joined in the dock by Peter Irvin, a barrister who is assisting him as a McKenzie friend.
Guyana-born Ms Miller, 52, a mother-of-three, spearheaded the legal challenge to the Government's Brexit stance last year.
She argued Parliament needed to be consulted before Article 50 could be triggered.
She is not due to give evidence in the trial, as her evidence was accepted by both sides.
The case continues.
Tory MP recorded saying Brexit no deal is a 'n***** in a woodpile'
Cop charged with assault after tasering elderly race relations advisor to her own police force
Revealed: The Extent of the Daily Mail's Support for the British Union of Fascists