A police officer has been removed from duty after being captured on camera telling a black man: "You would be the first one I would shoot if I had a gun."
Jack Chambers, 24, said he was left gobsmacked when the PC also asked him "Are you going to go Black Lives Matter on us are you?"
West Midlands Police's Professional Standards Department are now investigating after the video went viral on Facebook.
The force confirmed they had received an official complaint and referred the matter to the Independent Police Complaints Commission (IPCC).
The dad-of-two can be seen in the mobile phone footage (SEE VIDEO BELOW) smoking on a sofa being spoken to by officers before one makes the comments.
Unemployed Jack, of Coventry, said: "They said they were there for a wanted person – but I think they're just harassing me.
"I was at a friend's house, at first I was nervously laughing and then I realised it's not actually that funny.
"A black man had just been killed by police days before in America, so I just carried on smiling out of nerves really and didn't mess about.
"But I was actually pretty intimidated, his comments were racist – he was mocking a whole movement [Black Lives Matter].
"They found out at the end that I was recording them and said it was sly but they can't stop me, it's not against the law.
"I've experienced racism with officers before when they told me and my Asian mate they "don't like our kind"
"Loads of stuff like that has happened to me so that's why I was so glad I filmed this. I sincerely believe West Midlands Police as a whole is racist.
"They've offered me a formal apology but that's not good enough.
"Loads of people have been supportive on social media – white, Asian and black people.
"Black youths have been dying from the police even if half of it is in America, it's still not a joke, and laughing about the Black Lives Matter movement isn't funny.
"I want to take them to court and I've already spoken to some lawyers who think I have a very strong case.
"I want to see that officer removed from the force. There's no place for that kind of behaviour in modern day policing."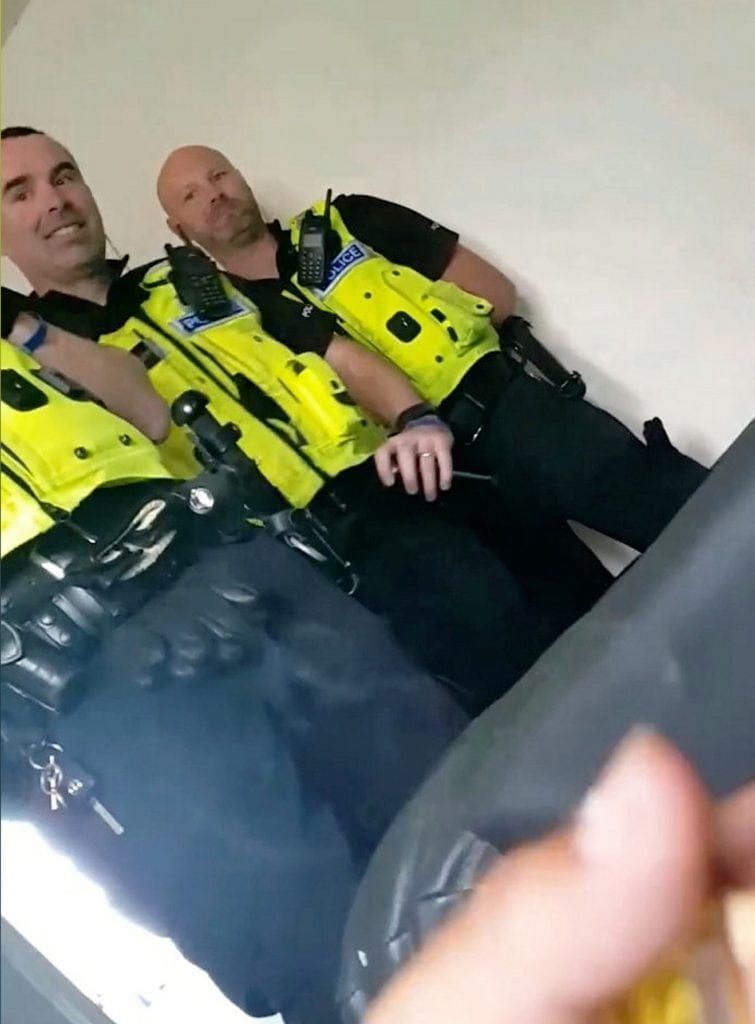 Assistant chief constable Alex Murray said: "What was said was not right and the officer has been removed from front line duties pending further assessment.
"The officer has already expressed remorse and is very apologetic over his comments.
"We expect the highest standards of behaviour from all our officers and staff, and we will always take complaints from members of the public seriously."
It was believed the incident was filmed in Coventry on August 24.
The footage starts by showing officers inside a house talking to Jack as he sits on the sofa explaining why he didn't open the door to them.
Jack says: "I thought you were going to attack me…I've been seeing all kinds of videos."
One officer asks him: "Are you going to go all Black Lives Matters on us are you?"
Jack replies "Yeah."
The officer is then heard saying: "You would be the first one I'd shoot if I had a gun, definitely" to which the Jack replies "Oh f**king hell."
The reason for the police's visit to the house was not known.
Community activist Desmond Jaddoo said: "My concern as an activist is taken into account the current climate and deaths in custody and also community relations, this goes no way in building trust and confidence with the police.
"We call on West Midlands Police not only to investigate this matter but to remove this particularly officer from his duty.
"As far as I'm concerned these are serious matters, police officers are there to set an example, their behaviour must be beyond reproach.
"You don't not make flippant statements about serious issues which affect communities.
"This is not locker room banter."
What do you think of the comments Jack filmed? – Comment on the video below:
"You would be the first one I'd shoot if I had a gun, definite…

What do you make of this footage?A police officer has been removed from duty after being filmed telling a black man: "You would be the first one I would shoot if I had a gun, definitely."Jack Chambers, 24, said he was left gobsmacked when he also filmed the PC asking him "Are you going to go Black Lives Matter on us, are you?"West Midlands Police's Professional Standards Department are now investigating after the video went viral on Facebook.

Posted by The London Economic on Wednesday, 13 September 2017
RELATED: 
"Significant" Police investigation into Tory breaches of electoral laws in June
Police left a "sorry we missed you" note after discovering cannabis plantation
Police staff so badly paid they can't even afford to buy their children clothes
Watch – Moment police ambushed London terrorists and shot them dead
Police commissioner loses vote of no confidence for suggesting gun-toting civilians could tackle terrorists
NINE G4S staff suspended from immigration removal centre after abuse claims