Marks & Spencer are selling potentially deadly SLIPPERS, according to a customer, after she slipped down a flight of stairs because of the comfy footware.
Vasantha Narayanswami was left with a broken foot, vertigo and partial deafness after falling down a flight of stairs due to faulty slippers, she claims.
And scores of other customers have blasted the £15 slippers, because there is an unsupported heel, that doesn't have enough grip.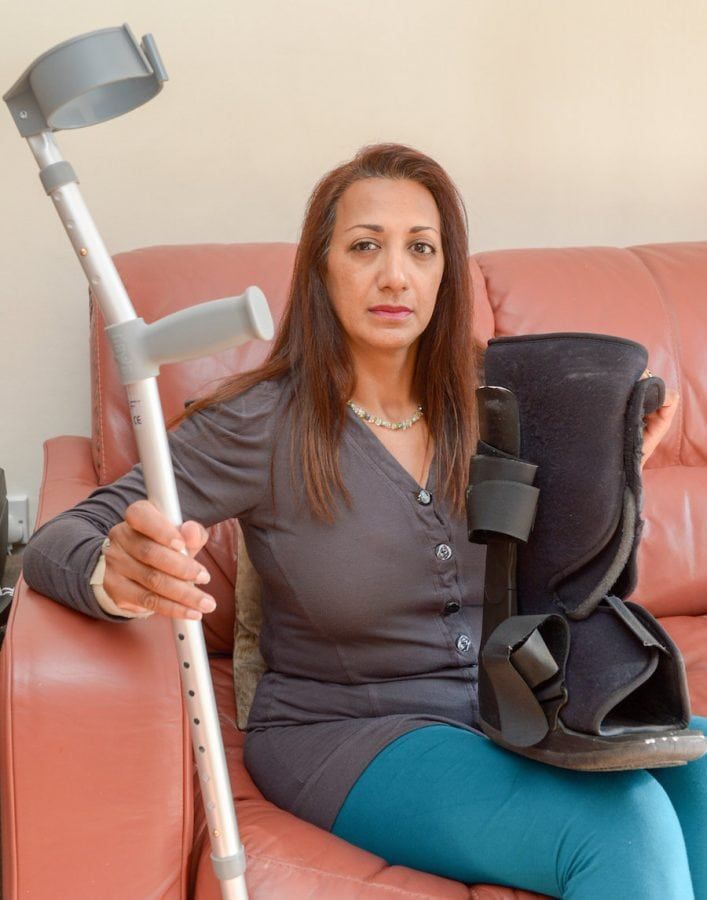 Vasantha slipped down half a flight of stairs, hitting her head and twisting her ankle, after losing her footing.
The 58-year-old claims the weak material of the slipper and the slippery inner sole caused her foot twist as she went down the stairs.
She suffered from a head injury, short and long term memory loss, a broken talus bone – which is the bone at the base of the leg, tore two muscles of her metal tassels, a sprained wrist, sensitivity to light and tinnitus.
Vasantha, from Ash Vale, Surrey, said: "They were perfectly fine when I tried them on, but when I tried to go upstairs for the first time I had to grip the banister as the upper on the shoe didn't have enough support.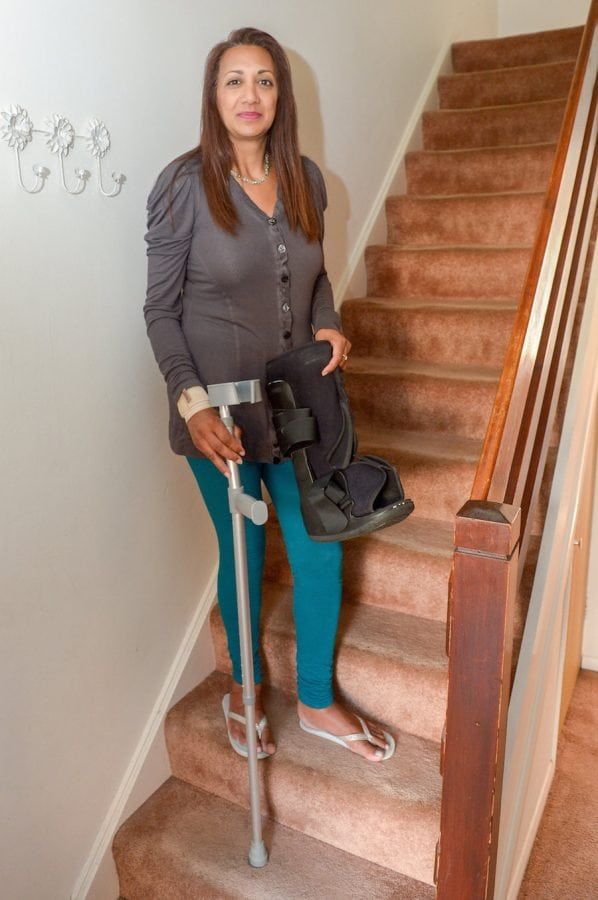 "The width of the sole was too narrow for the edge of the shoe, it was not strong enough to cope with the narrowness. It was a completely cosmetic design.
"As I came down the stairs the next morning, because it was such a light fabric my foot twisted sideways.
"And because the lining was a satin material there was no grip and it caused my foot to slip more and caused me to fall sideways.
"My foot twisted and I heard a loud snap which was so painful I passed out and as I fell I hit my head and damaged my wrist as I tried to grab the banister."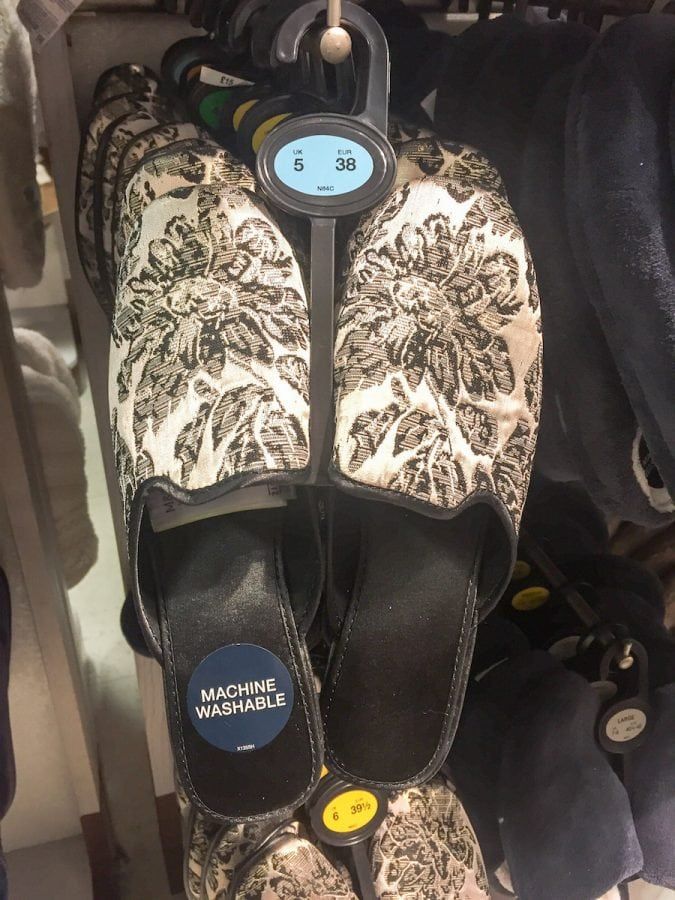 Vasantha was off work for five months while she tried to recover from the tumble at her home in April.
She bought the Wedge Heel Mule Slippers for M&S on March 29 for £15 and tried them on for the first time three days later at around 7.45am.
The private tutor says her accident was the result of a design flaw in the slipper and wants to see a product recall of the "dangerous" footwear.
Vasantha was then left lying unconscious at the bottom of the stairs for around 15 minutes, before crawling on her hands and knees to the kitchen where she dialled 999.
But whilst on the phone to a clinician she passed out again and has to wait an hour-and-a-half to get taken to hospital.
The private tutor said: "It was horrific, I was on my own and had to get my brother to come and take me to the hospital but he couldn't come straight away because he has a disabled son.
"Both muscles on my foot ripped off and I broke my the ball in my foot and was left deaf in one ear for a long time afterwards. I had to do physio everyday at home.
"It's going to take a long time to get better. I can walk now but I'm still in a lot of pain, with headaches, and can't go outside for longer than 15 minutes as I still suffer from vertigo.
"When it happened I was in good shape, I exercised every day, but no I can't do any of that.
"I couldn't go out out the house for ages. I got a bit depressed as I was stuck inside. My emotions fluctuated a lot.
"And as I'm self employed my business suffered and I lost a lot of income. My students suffered as well as it was a crucial time for GCSE students."
After contacting M&S, Vasantha called for a product recall and contacted Trading Standards, who investigated, but the store had not taken the shoes off the shelves.
She also claims that a negative online review she wrote of the slippers was rejected without a reason.
When Vasantha took the pair back to the store a customer assistant allegedly said, "You don't want those slippers, they're dangerous".
Vasantha said: "I want to prevent anyone else having an accident.
"M&S are deliberately deceiving the public from knowing how dangerous these slippers are and stopping them having access to the truth."
A spokeswoman for M&S said this was an isolated accident and not down to a fault with the slippers.
She added: "This is an isolated incident and this customer has pursued a number of channels regarding this.
"This is one of our most popular products, we sell more than 130,000 over two years and this is the only complaint we have had of this nature.
"We believe this is a one off unfortunate accident and we are not to blame.
"We are still selling this product and if there was a problem we would stop. But they have been tested to industry standards and passed and deemed to be safe.
"Customer safety is of utmost importance to M&S. All our slippers are tested to industry standards. We wish Miss Narayanswami a speedy recovery."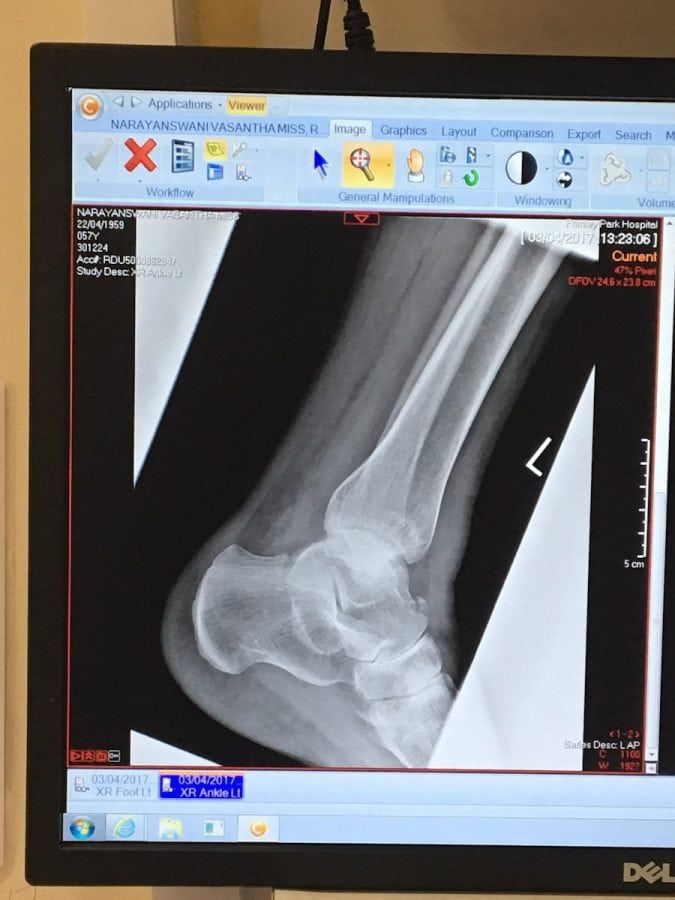 She added that online reviews were moderated by a third party company to ensure they are "relevant and useful" to customers.
But scores customers have made similar remarks about slippery lining of the floral slippers.
One said: "I have usually bought my wedge slippers from you and found them to be just what l wanted.
"The last pair however were very loose and do not support the feet.
"The above style that l ordered recently in hope for a better fit, were returned.
"I am very disappointed and need to look elsewhere now."
A reviewer wrote: "I would be better in the inside was not satin.
"If you have tights or socks on your feet slip."
Another said: "Sorry, sent them back, never tried on such uncomfortable slippers, nothing soft about them.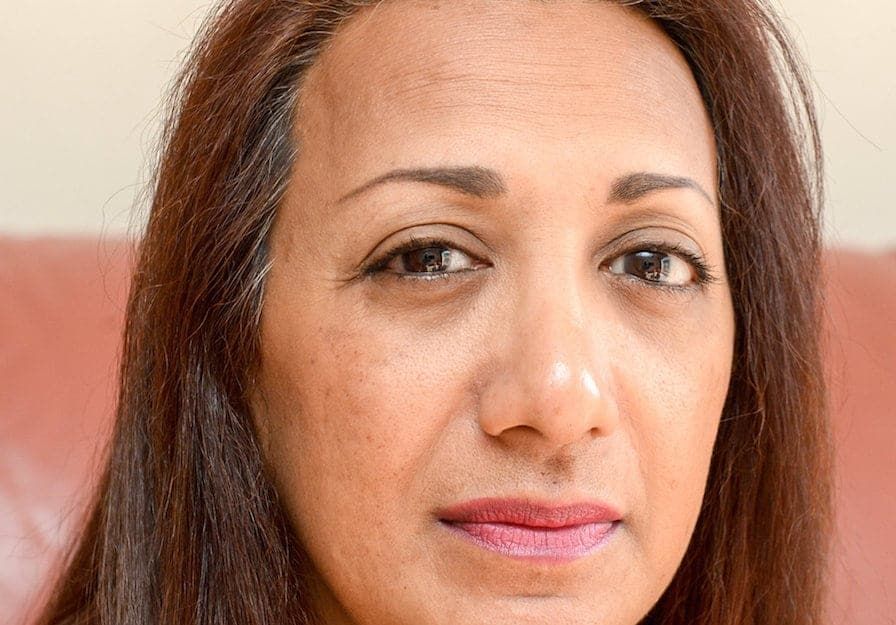 "The sole was very hard and the lining slippery, no padding to make them comfortable."
Another said: "I have purchased these slippers for many years i am disappointed the fit is now very sloppy."
One customer, who gave them two out of five stars, said: "The sole was very hard and the lining slippery, no padding to make them comfortable."
Trading Standards have been contacted for a comment.
Watch Video Here
https://www.thelondoneconomic.com/must-reads/luckiest-pub-uk/03/09/