A police station notice telling wanted criminals the best time to hand themselves in has been removed.
The sign advised people not to hand themselves in after 6am, or they will face a 24-hour wait in custody before being taken to court.
The notice, which relates to the Ministry of Justice decision to move all remand hearings in Worcestershire, Herefordshire and Shropshire to Kidderminster Magistrates' Court, had been put up on the door of Worcester Police Station.
The sign, printed with Warwickshire and West Mercia Police's logos on the top, read: "Please note that Worcester Magistrates' Court is no longer a remand court.
"The remand court for Worcestershire is now Kidderminster.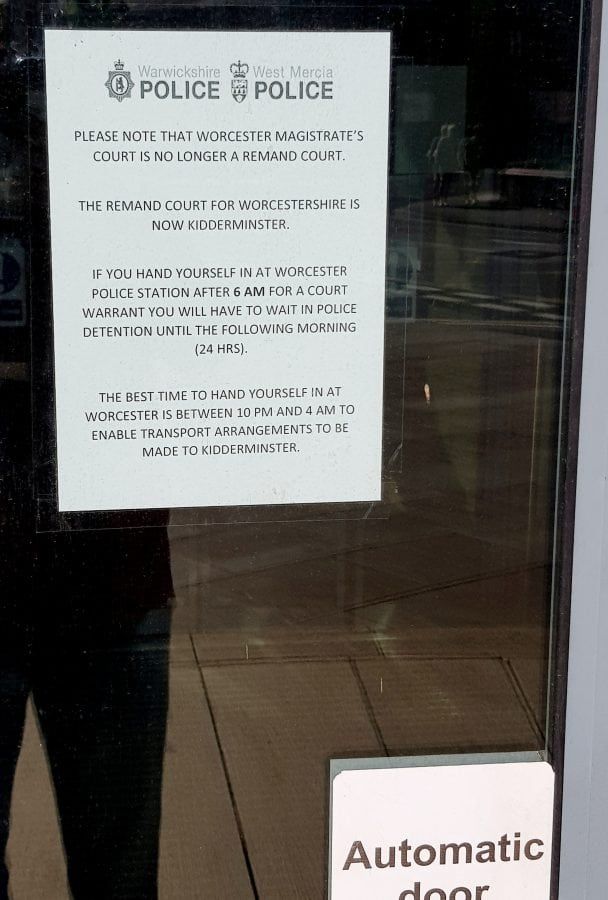 "If you hand yourself in at Worcester Police Station after 6am for a court warrant you will have to wait in police detention until the following morning (24 hrs).
"The best time to hand yourself in at Worcester is between 10pm and 4am to enable transport arrangements to be made to Kidderminster."
West Mercia's Custody Chief Inspector Ian Wall said: "We are aware of a poster referencing some changes to the system. The poster, which was written in good faith, has since been removed and does not reflect operational guidance.
"Individuals wanted by the courts often hand themselves in at police stations and we would encourage them to do so at the earliest opportunity to allow us to process them efficiently through the system prior to any court appearance."
Those in custody from Shropshire and Worcestershire held for remand hearings are now taken to Kidderminster for the proceedings by bus – instead of Telford Magistrates' Court.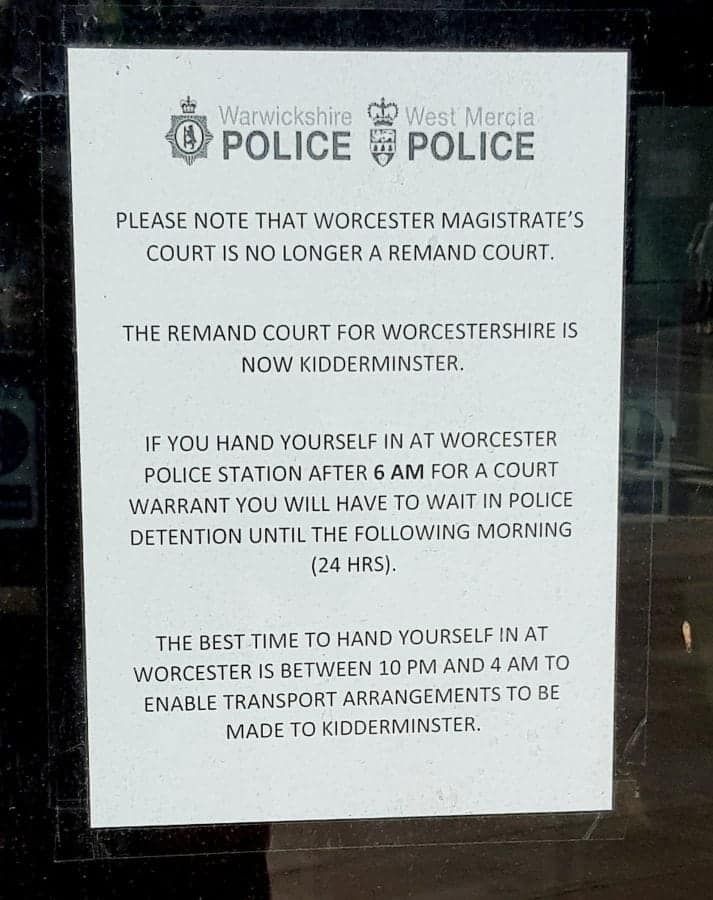 Because the bus leaves Shropshire at 7.30am, anyone who is remanded or who hands themselves in after that time is held until the transport leaves at the same time the following day.
Solicitors have said it is leading to police 'babysitting' people in custody.
https://www.thelondoneconomic.com/must-reads/caught-by-the-fuzz-policeman-hailed-as-having-the-most-hipster-beard-in-british-police/11/05/