Police are hunting a mindless vandal who was captured on CCTV bizarrely snapping a row of trees planted at a posh school to honour their war dead.
The yob was caught violently shaking the cherry trees until they broke at one of Britain's oldest boarding schools on Friday night .
The memorial was planted eight years ago as as a tribute to former pupils at Loughborough Grammar School who had lost their lives in conflict .
At around 9.25pm, camera footage captured the sozzled-looking crook damaging five of the seven trees before he leaves the grounds by scaling railings. 
The boys' boarding school, which was opened in 1495, is now appealing to the public to help the police identify the vandal.
Jane Harker, Head of External Relations at Loughborough Endowed Schools, said: "Staff and students, past and present, are heartbroken.
"The trees are very precious to everyone in the school community.
"Each has, at its base, a plaque which carries the names of fallen pupils.
"Their presence in the Quad, at the heart of school life, serves as a constant reminder to us all of the sacrifice they made.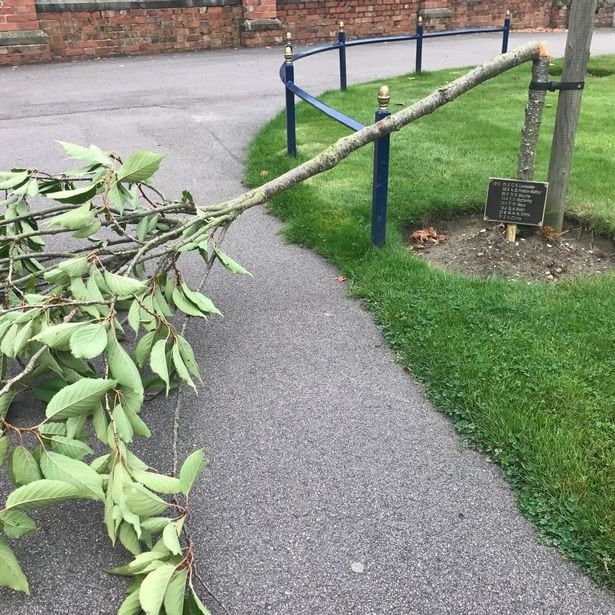 "To see them snapped at their bases and lying on the ground is devastating."
The trees were planted eight years ago and were dedicated last year to mark the centenary of the death of a former headmaster's son at the Battle of Gallipoli.
A plaque on the site reads: "The commemorative plaques were given by the Old Loughburians' Association to mark the dedication of the Quad as a memorial to the members of the School who died serving their country."
Residents of Loughborough, Leics., have taken to social media to express outrage at the act of vandalism.
Liz Connelly wrote: "Hope he gets caught and justice is done."
Vera Poynton said: "Disgraceful, I wonder what is going on with some people.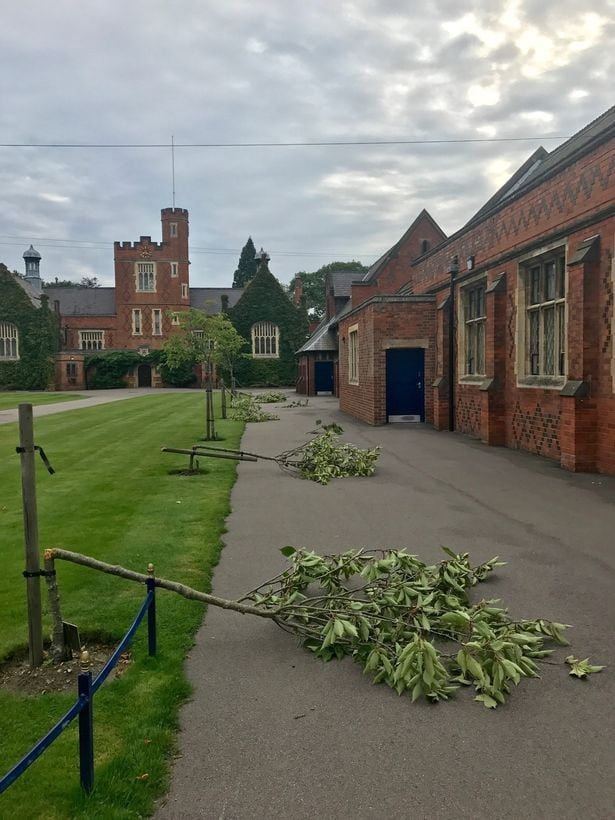 "What an idiot. The problem is he will probably get away with it – courts are far too lenient nowadays."
Paul Boyd said: "I can't for the life of me understand why someone would go out of their way to do that.
"I really hope he's caught and given a darn sight more than a slap on the wrist."
Ruth Kerry said: "Oh my! It's terrible that people have nothing better in their lives!"
The white male, with hair shaved shorter at the sides and longer on top, was wearing a light-coloured t-short, dark-coloured shorts, white trainers and sunglasses.
A Leicestershire Police spokeswoman said: "The matter has been reported to us and we are investigating.
"It was reported on August 26 and it happened approximately 9.30pm the night before.
"There was damage to a number of trees at the school.
"If anyone has any information, call 101 quoting incident number 204 of August 26."
RELATED 
https://www.thelondoneconomic.com/must-reads/police-hunting-robber-targets-greggs-arrest-40-year-old-man/09/08/