The RSPCA needed to call the RAC this week for some roadside assistance after a cat crawled into a car's ENGINE.
After squeezing into the tiny space behind the front bumper, the female tabby was driven for two or three miles before being heard – purring.
Luckily the whiskered contortionist was freed with some roadside assistance from the RAC on Tuesday.
RSPCA animal collection officer Kirstie Gillard, who called the car specialists to help remove the front bumper, took her to RSPCA Putney to be checked over.
Happily she was unscathed by the ordeal, which happened in Southwark, south London.
Kirstie said: "Some cats do like to get into tight spaces and make themselves cosy so we do so them stuck in cars relatively often.
"Luckily this little one was unharmed, I put posters up in the local area and I am pleased to say she was reunited with her owner quickly.
"I'd like to thank London South Bank University who were really helpful and brought water for the cat.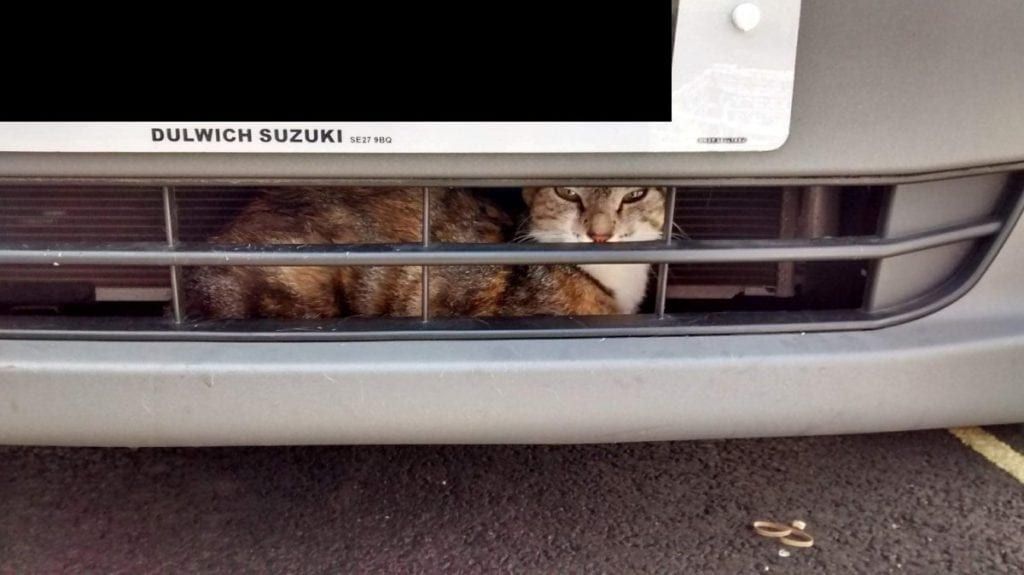 "We would urge people just to have a quick check around their cars before setting off on a journey especially in built up areas or where they know their neighbours may own cats."
RAC patrol Terry Bearman, 45, had to read the message on his van's computer twice when he was called to rescue a cat from a car bumper.
Terry, who has a cat of his own, said: "Unfortunately the cat had been driven for two or three miles before we were called to the scene.
"It took less than ten minutes to free him and he seemed absolutely fine.
"It definitely has to go down as one of the most unusual jobs I've done in my three-and-half years working for the RAC."