A partially blind woman who can barely walk is no longer eligible for a free NHS service to take her to hospital appointments – because she is "too healthy".
Pamela Midgley, 61, has up to three check-ups a month at different hospitals as she battles a degenerative eye disease, chronic arthritis, asthma and ulcers.
The legal bookkeeper, who was forced to give up work when she started losing her sight five years ago, has also been diagnosed with clinical depression.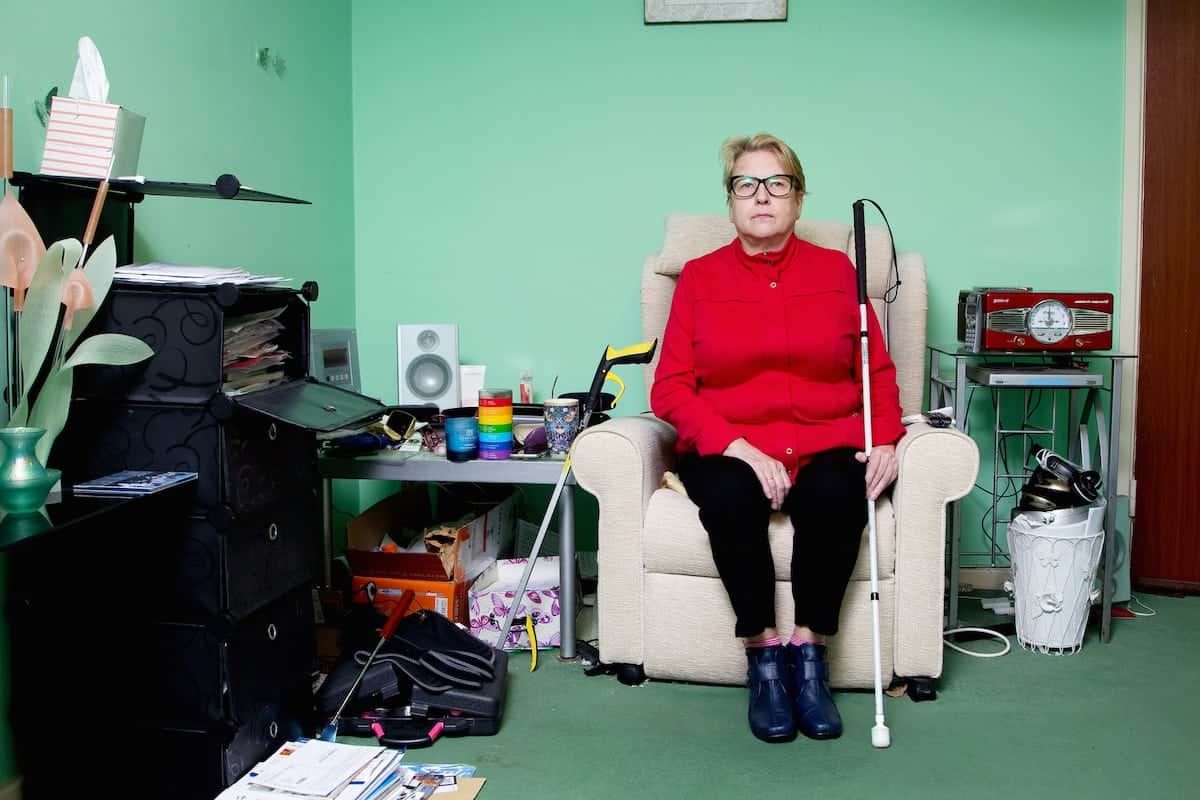 Over the last two years she has been collected from her warden-assisted flat in Castle Bromwich, Birmingham, by a free NHS transport service.
The non-emergency ambulance has taken her to three hospitals around the Midlands for her appointments before ferrying her back home.
She needs to travel to Heartlands Hospital in Birmingham for her eyes, Solihull Hospital for her arthritis and asthma and Birmingham Dental Hospital for teeth examinations.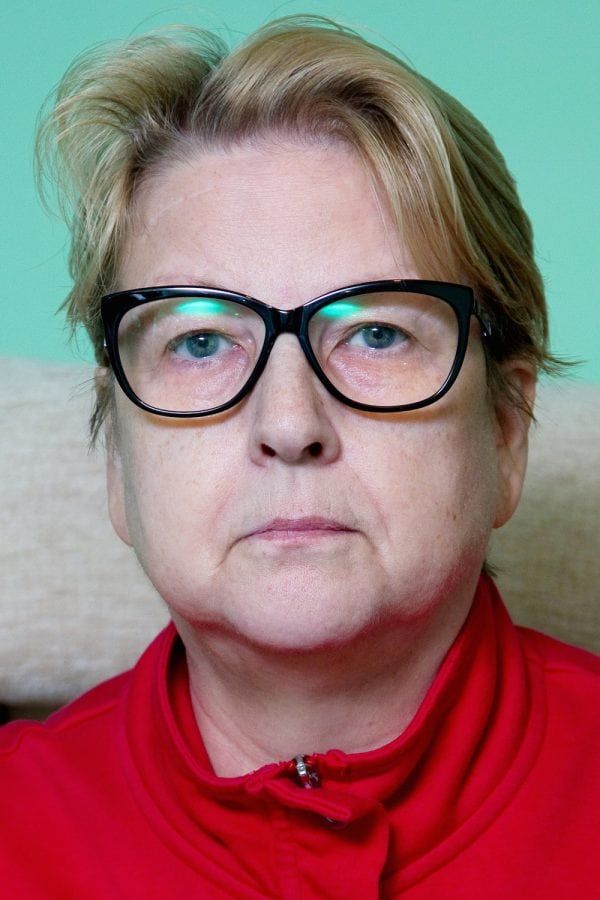 But following a change in the criteria for patients to qualify for the service, Mrs Midgley, who lives on her own and has no family nearby, was told she is no longer eligible.
In future, Mrs Midgely, who has never married, will now have to catch at least two buses to reach each hospital.
She said: "I've been using the service for the past two years, and now suddenly I'm not ill enough.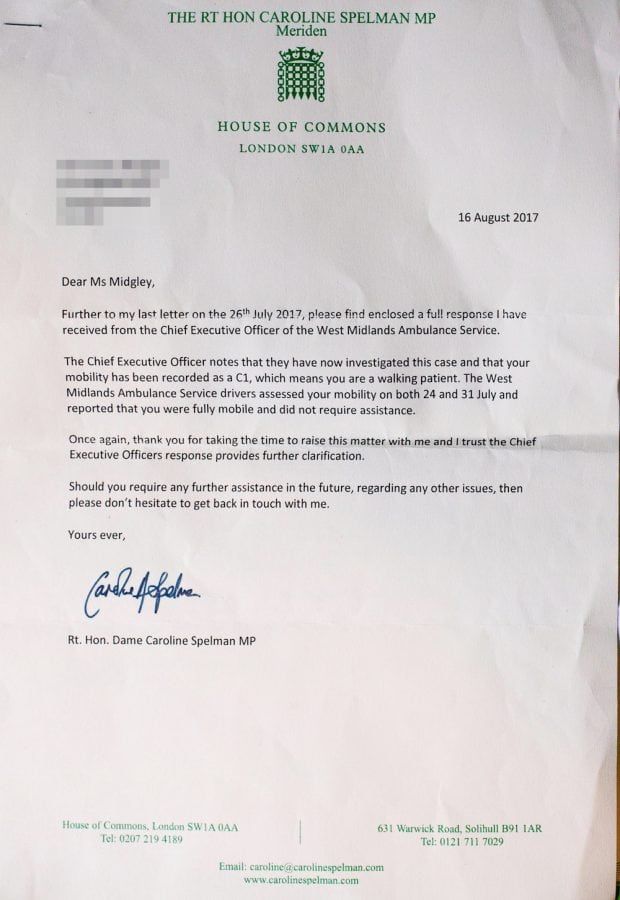 "I'm partially sighted with an incurable eye disease. I have poor sight and no peripheral vision.
"I recently broke both my feet after mis-stepping off a kerb. I can barely walk and have really come to rely on the NHS service to take me to my appointments.
"I used to get a non-emergency ambulance to the hospital appointments but now,
suddenly, everything's changed.
"Apparently I'm too healthy, even though my eyes are getting worse. It's a joke. Maybe I should cut my leg off so they take me seriously?
"I phoned up to book transport after getting a letter through the post for my appointment last week.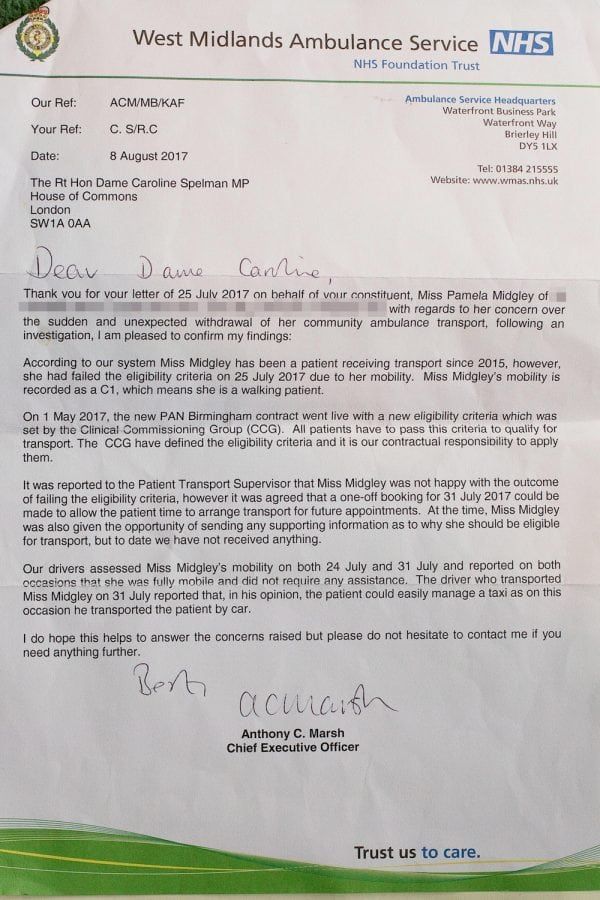 "But when I called, I was told that I no longer qualified for an ambulance and would have to get there myself.
"When I first found out I was furious, but then I just burst into tears.
"I can venture to the shop on my own but I don't go any further and it takes me a long time to walk even a short distance.
"Stepping on and off the bus could end up in a broken bone or stitches. I just don't know what to do.
"I've paid my national insurance all my life. I just feel completely let down."
Paul Jennings, interim chief executive for NHS Birmingham and Solihull Clinical Commissioning Group (CCG), defended the move, saying Mrs Midgley could appeal.
He said: "We are very sorry to hear of any concern caused to Ms Midgley and we would be keen to talk to her directly about this.
"The Clinical Commissioning Groups undertook a consultation in 2015, to listen to local people's view about non-emergency patient transport.
"As a result of the consultation, a new eligibility policy and patient charter were introduced.
"Eligibility for transport is based on a patient's medical need and risks to their health.
"It also helps to identify their mobility class, determine the type of vehicle that is required, and level of support required from transport staff.
"There is an appeals process in place if a patient does not agree with the assessment of their eligibility."
https://www.thelondoneconomic.com/news/thousands-doctors-set-flee-nhs-following-brexit/14/11/
https://www.thelondoneconomic.com/must-reads/broken-britain/mum-four-benefits-cut-sick-attend-meeting-died-cold-alone-wrapped-coat-scarf-family-claimed/09/11/