A policeman who had a chunk of his ear bitten off as he searched a thug said there is 'no respect' for the uniform any more as he saw his attacker jailed for seven years.
And the judge told Shayhon Francis, he had disgraced his hard-working family as his mother sobbed in the public gallery.
PC Andrew Burton, 50, was conducting a stop and search when Francis, 23, launched his ferocious attack, tearing off a piece of the officer's ear before spitting it out onto the pavement.
The piece was recovered but could not be reattached.
Speaking after sentence at Inner London Crown Court, Pc Burton said: : "I'm clearly 50-years-old.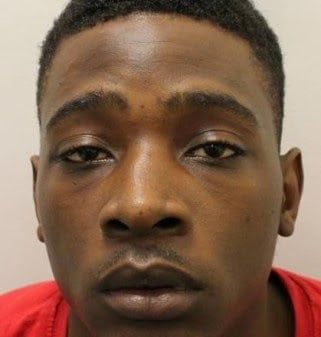 "I'm an old PC. There's no respect for the uniform or for the age anymore. It's a 'me me me' culture from what it seems."
But the brave bobby refused to be cowed by the experience, adding: "I will continue to patrol in my community and I will continue to challenge those where grounds exist.
"It made my wife and children sad that I was assaulted in this manner."
Francis attacked the officer when he was stopped on Halloween last year and the pair ended up wrestling on the ground.
The young father, who had left school with 10 GCSEs and was said to come "from a good and hardworking background", claimed he only "nipped" the officer because he was struggling to breathe.
The court heard he head butted the officer "without warning" as he approached Francis to conduct a drugs search.
Francis told the court: "We was rolling around on the floor for about a few seconds then he managed to get on top of me.
"He had one arm across my throat, my neck, and the other was holding one of my arms."
He told jurors he tried to push the PC off and added: "Then I nipped him in the ear because the push did not work.
"I was struggling to breathe, I couldn't even speak to let him know he was causing me harm."
He denied stamping on the officer's face during the 28 second incident after prosecutor Paul Fairley said: "The PC says almost like a parting shot a stamp on the head or a stamp on the side of the face as he tried desperately to hang on to your fleece."
Francis had admitted wounding PC Burton but denied doing so with intent outside a block of flats in Brixton, south east London.
Asked how he felt when he found out what he had done to the PC's ear he said: "I was upset, I was shocked within myself to know I actually achieved that.
"I regret my actions fully. I don't recalling spitting it out at all. There wasn't even a thought process, it just happened."
He fled the scene after spitting out the 2cm by 1cm piece of ear and was arrested two days later at his girlfriend's house.
He answered 'no comment' to all questions in two police interviews. The jury convicted him of wounding with intent.
Judge Nigel Seed QC told him: "You are now 23-years-old and you're clearly an intelligent person. You left school with 10 GCSEs.
"You came from a good and hardworking background – you have disgraced that family and those values.
"We have heard that you have undermined his confidence and those of his colleagues by mounting this attack while he was doing his duties."
His mother, an NHS administrator, cried in the public gallery as Francis was jailed at Inner London Crown Court.
Francis was on bail when he bit the PC and had a string of violent convictions starting from when he was just 15-years-old.
But his defence barrister Piers Mostyn, who had earlier compared the bite to a cat nip or scratch when it does not like being stroked, said: "His mother works as an NHS administrator and also runs a hair and beauty business in Brixton Hill."
The court heard Francis's father ran a courier business employing 48 people.
Mr Mostyn added Francis had a two-year-old daughter and planned to move in with her mother.
The amateur footballer had shown "promise with a potential career as a footballer" after leaving school but was planning to run his own plumbing business.
Speaking outside court, PC Burton added: "I'm the home beat for Brixton Hill. My 2017 was a dreadful time, my younger sister died of cancer, I got assaulted.
"The irony is that I asked for annual leave that day.
"I didn't feel like bottles and rockets being thrown at me which seems to be the tradition in Brixton Hill on Halloween.
"Because it's very close to November 5th our illustrious youth get hold of them and it's great fun to fire them at emergency services and shop keepers and anything that moves."
Detective Constable Caroline O'Shaughnessy, the officer in the case, said after the sentencing: "It saddens me that a young man acted in that way and has ended up with a lengthy prison sentence, but I do feel we need to send a strong message that violence against police officers won't be tolerated."
https://www.thelondoneconomic.com/news/blood-young-people-hands-former-police-officers-jaw-dropping-response-spike-young-violent-crime-needs-seen/03/01/

https://www.thelondoneconomic.com/news/knife-crime-increases-22-in-england-wales/26/04/