A giant dog which was so badly neglected vets couldn't tell what breed it was is ready to be rehomed following a miraculous four-month transformation.
Kenny was close to death when he was found cruelly dumped on a residential street, with people thinking he might be a wrinkly Shar-Pei.
The then 18-month old mutt was starving to death, had an appalling skin condition, serious issues with his eyes and could hardly stand.
Pennine Pen Animal Rescue in Oldham, Gtr Manchester, saved him, with images of the emaciated dog shocking kindhearted Brits who stepped forward to help with donations of food and money.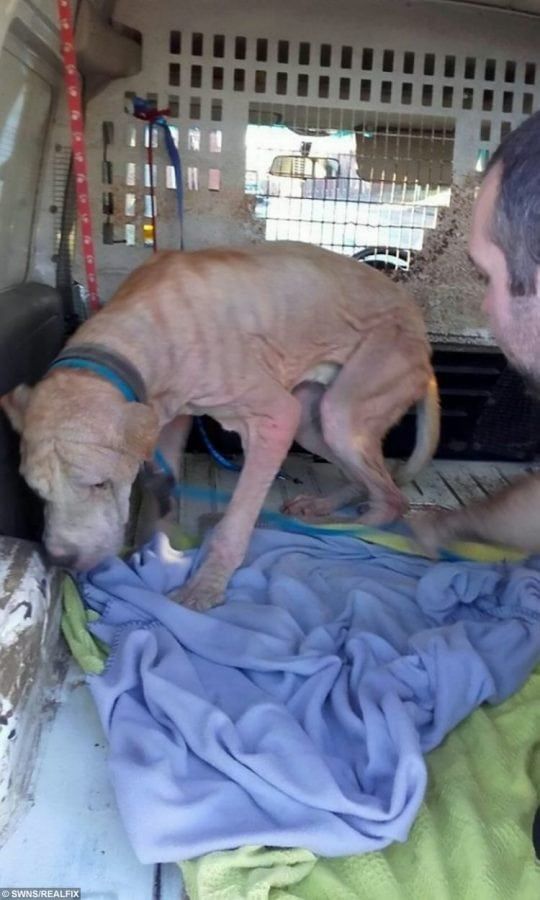 Michael Waugh, who runs Pennine Pen, said: "He was so emaciated and suffering from mange which was caused by mites. He couldn't stand for more than 10 seconds.
"He was dying and we think the only reason we found him is because his owner didn't want to have to deal with a dead dog of his size.
"It's horrible to think someone did this to him and they knew they were doing it. It happened over a period of time and I don't understand how they could watch him deteriorate."
Kenny was discovered at the end of November and takes his name from Kenyon Avenue where he was dumped.
He was eventually identified as a very rare Pakistani Mastiff which should weigh around 60kg.
Poor neglected Kenny before his transformation
Due to his condition, Kenny was too poorly to be put on the scales but it is thought he was less than 25kg when he was rescued.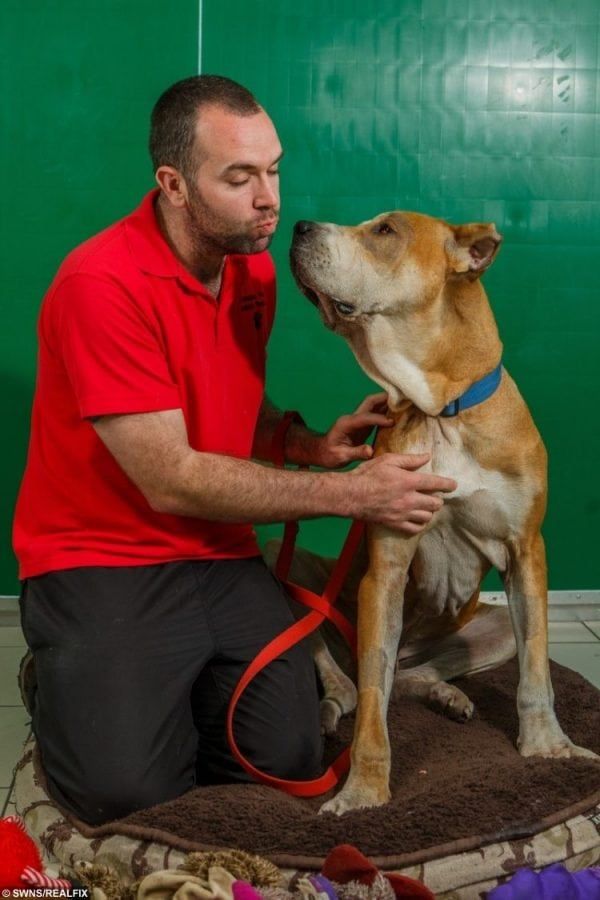 The shocking state of the dog led Tameside Veterinary Practice, which has been treating Kenny, to say it was the worst condition they had encountered in 20 years.
But over the next four months, dedicated staff at Pennine Pen have nursed him back to health.
He was on antibiotics for his infections and had to wear a special coat while recovering from mange. Vets have also carried out an entropion operation on his eyes.
Michael said: "He's like a cheeky puppy now, but unsurprisingly considering what has happened to him he was scared of everything.
"He wouldn't go out for walks but bit-by-bit his confidence has built up. He's a bit wary of strangers but he is a lovely dog.
"As his weight built up his character came through. He's 57kg now. He's a very big dog.
"He's a complete joy. Now when we take him out we can't go far without someone shouting 'is that King Kenny'? He's a real star."
Kenny's plight was highlighted on Facebook, leading to an incredible response from the general public.
The charity provided regular updates on his recovery and he is now in the position where he is ready to be rehomed.
Michael added: "When we put the pictures up on Facebook, it restored our faith in humanity.
"We're only a small rescue but we received so much support from the public.
"Every day van loads were turning up with parcels for Kenny and so many people were donating money.
"What happened to Kenny was horrendous but the support he has received from the public has been fantastic.
"He's now ready to leave and one family has been along to see him three times. It's going to be a slow process while Kenny gets to know them and he has to leave when he's ready. He deserves to be pampered."
Read "Charity can't find a home for dog that looks like Goofy" Click Here