EMPLOYED TO SERVE have revealed the video for latest track 'Good For Nothing', with the track getting its world exclusive debut play on the That's Not Metal (podcast) last Friday the 7th April. The single is out now on all streaming and downloading sites.
Guitarist Sammy Urwin says: "People have brought up many times that we are a band with a female vocalist, and that's not a problem but we have been included in articles and other publishings just because of the gender of our singer and not because of the music we make. Though the intentions for this are usually good we find this is really a backward mentality in the quest for equality. We're not interested in having a USP, we're just a band of people making music. Good For Nothing is about getting praise for something that is irrelevant and not because of hard work and ability."
The band will be releasing their highly anticipated, sophomore album 'The Warmth Of A Dying Sun' on May 19th through Holy Roar Records.
Produced by Lewis Johns (Gnarwolves, Funeral For A Friend, Rolo Tomassi), the band also released 'I Spend My Days (Wishing Them Away)' in February, which is available to stream and download now, and was given it's world debut on the Radio 1 Rock Show.
'The Warmth Of A Dying Sun' track-listing:
1. Void Ambition
2. Good For Nothing
3. Platform 89
4. Lethargy
5. I Spend My days (Wishing Them Away)
6. Never Falls Far
7. The Warmth Of A Dying Sun
8. Church Of Mirrors
9. Half Life
10. Apple Tree
Live wise, ETS just toured the UK with Black Peaks and Europe with Mare (through Jan and Feb 2017), will tour Ireland with Heck in April, play the Effigy all-day Festival in Bristol on 1st April, the ArcTanGent Festival in August and an album launch show at The Old Blue Last on May 19th. They have also been announced on the Palm Reader European tour.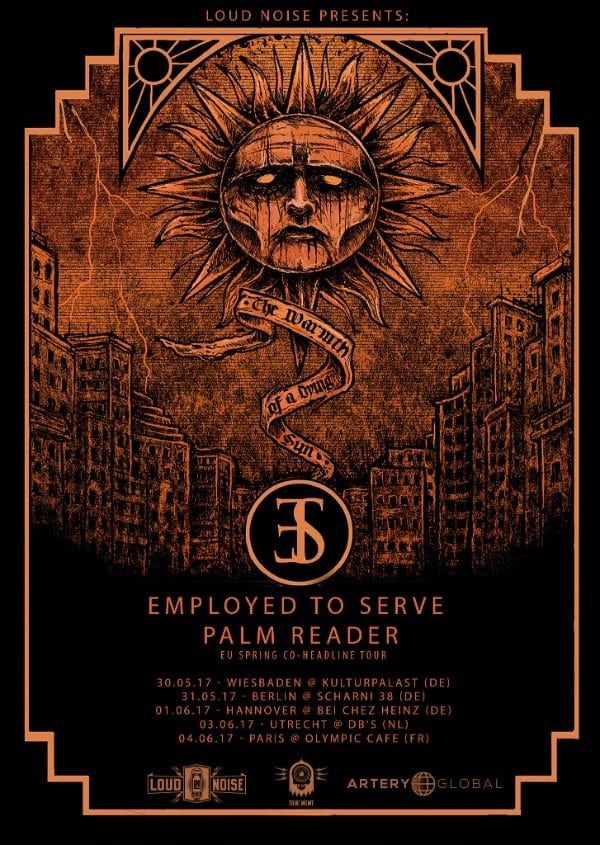 All other current confirmed and announced ETS live dates:
26.04.17 – Cork @ The Poor Relation w/ HECK
27.04.17 – Galway @ Rosin Dubh w/ Heck
28.04.17 – Dublin @ On The Rox w/ Heck
29.04.17 – Belfast @ Voodoo w/ Heck
30.04.17 – Kent @ Astor Theatre w/ Palm Reader & HOWLS
19.05.17 – London @ The Old Blue Last (FREE – ALBUM RELEASE SHOW)
30.05.17 – Wiesbaden @ Kulturpalast (DE) w/ Palm Reader
31.05.17 – Berlin @ Scharni 38 (DE) w/ Palm Reader
01.06.17 – Hannover @ Bei Chez Heinz (DE) w/ Palm Reader
03.06.17 – Utrecht @ DBs (NL) w/ Palm Reader
04.06.17 – Paris @ Olympic Cafe (FR) w/ Palm Reader
18-19.08.17 – ArcTanGent Festival, Bristol