A team of climbers scaling the world's highest mountain as part of a publicity stunt had to be rescued by helicopter – when they ran out of oxygen.
Four mountaineers reached the peak of the 29,000-feet-high Mt Everest where they buried around £37,000 ($50k) worth of cryptocurrency in the snow.
The team hide 500,000 ASKT tokens for other thrill seekers to find as part of a stunt arranged by social network ASKfm.
But as they made their descent they were forced to call for help after two members of the Ukrainian party got stuck above 23,000-feet with no oxygen in freezing temperatures.
The men – one of whom suffered snow blindness and hand injuries – were rescued by helicopter and are now recovering in Kathmandu, Nepal.
According to Ukrainian news sites, the team was led by Taras Pozdnii and Roman Horodechnyyand and included Dmytro Semerenko and Iryna Galay.
A spokesperson for ASKfm said: "The group left Everest base camp #4 On May 13th, 2018, at night local time, and headed towards the peak.
"For two days straight, they were so high up that there was no connection with them.
"For the final stretch of the ascent and the beginning of the descent, they couldn't be reached with cell phones, internet, or GPS.
"Of course, there were issues.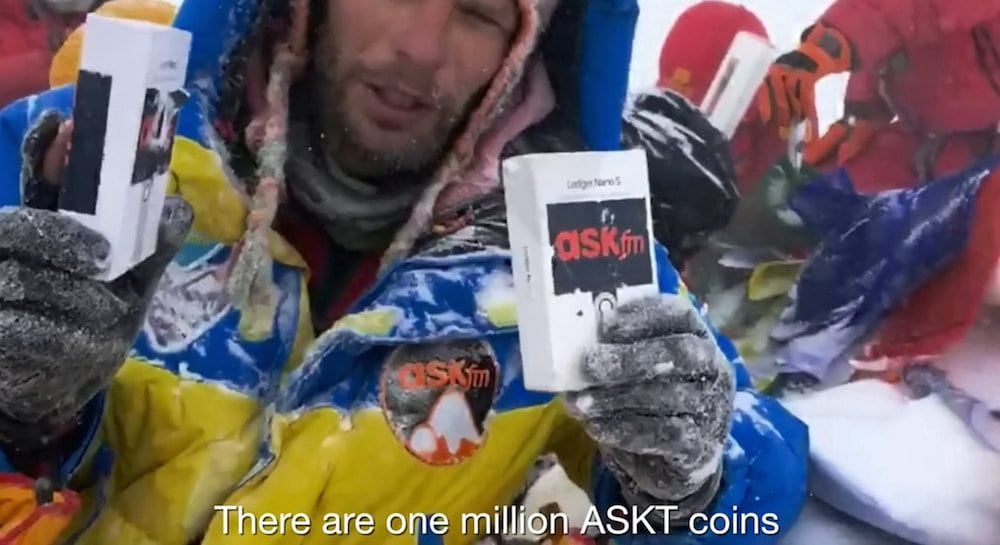 "Due to weather and health conditions two of the guys were stuck at above 7,000 metres with no reserve oxygen for all of that time.
"Under extreme temperatures and unable to descend, they had during the second day to call for a helicopter squad to rescue.
"Now they're both safe and receiving treatment. And strong having made such a move."
Posting on Facebook, Taras, who is from Kyiv, Ukraine, said they were rescued by helicopter at 6am on Wednesday before being taken to hospital by ambulance.
He shared a photo of himself showing his right hand and right foot covered in bandages and revealed that he lost 10lbs.
He wrote: "My eyes are coming back, my eyes don't hurt, but I see a little blurry," adding, "Don't worry, it'll heal quickly."
Another member of the climbing team posted that "the snow was crazy".
The alpine expedition was to mark the launch of ASKfm's new cryptocurrency and ICO – initial coin offering – campaign.
The company – known as a social network where users can ask one another questions – is attempting to transform into a "blockchain ecosystem".
As well as dropping $50,000 worth of ASKT tokens at the top of Everest, ASKfm is raffling another $50,000 USD worth of tokens as part of a giveaway.
They said: "While others try sophisticated marketing techniques, these guys go out there and put themselves right on top of the tallest mountain on the planet.
"An elegant way to boast ideological superiority to every other crypto. A method unexplored before.
"Even meme-wise, think about the closest starting point to reach the moon. It seems so obvious. Yet no one has done it."
https://www.thelondoneconomic.com/news/economics/bitcoin-in-a-bit-of-bother/20/03/
https://www.thelondoneconomic.com/opinion/bitcoin-bubble-going-end-tears/29/11/