A teacher unwittingly saved the life of a six-year-old pupil after urging her to get an eye test – which revealed a massive brain tumour.
Nia Ferris, 31, noticed something was wrong with Evie Hughes' vision and advised her parents to consult an optician in case she needed glasses.
But they were stunned to be told their daughter was completely blind in one eye because of a slow-growing tumour which had probably been there since birth.
Evie was rushed to Alder Hey Children's Hospital in Liverpool, where she underwent emergency surgery this week to remove the growth.
Nia, a teacher at Ysgol Morfa Nefyn school in Gwynedd, north west Wales, said she was shocked to realise the problem was down to a tumour.
"I spotted something in one of her eyes," she said. "I wouldn't say it was lazy – but it wasn't pointing in the same direction as the other.
"I let her father know when he came to pick her up that day and said he should probably get it checked out at the opticians.
"Obviously I was totally shocked to find out that it was a brain tumour."
Her parents Heather, 33, and Geraint, 36, have praised Nia for her actions.
Heather said: "Her teacher pointed out that one of her eyes was a little slower responding when she looked around. We hadn't noticed.
"We went to see the opticians on Tuesday to see if she needed glasses. We were then told that she was completely blind in her left eye.
"They told us the eye is probably going to stay like that because the optic nerve has gone completely pale because of the tumour.
"The doctors told us the tumour has probably been there since she was born, but has been slow-growing."
After a spell in Ysbyty Gwynedd Hospital in Bangor, Evie was transferred to Alder Hey Children's Hospital, in Liverpool, last Friday.
She is scheduled to undergo surgery to remove the tumour this week.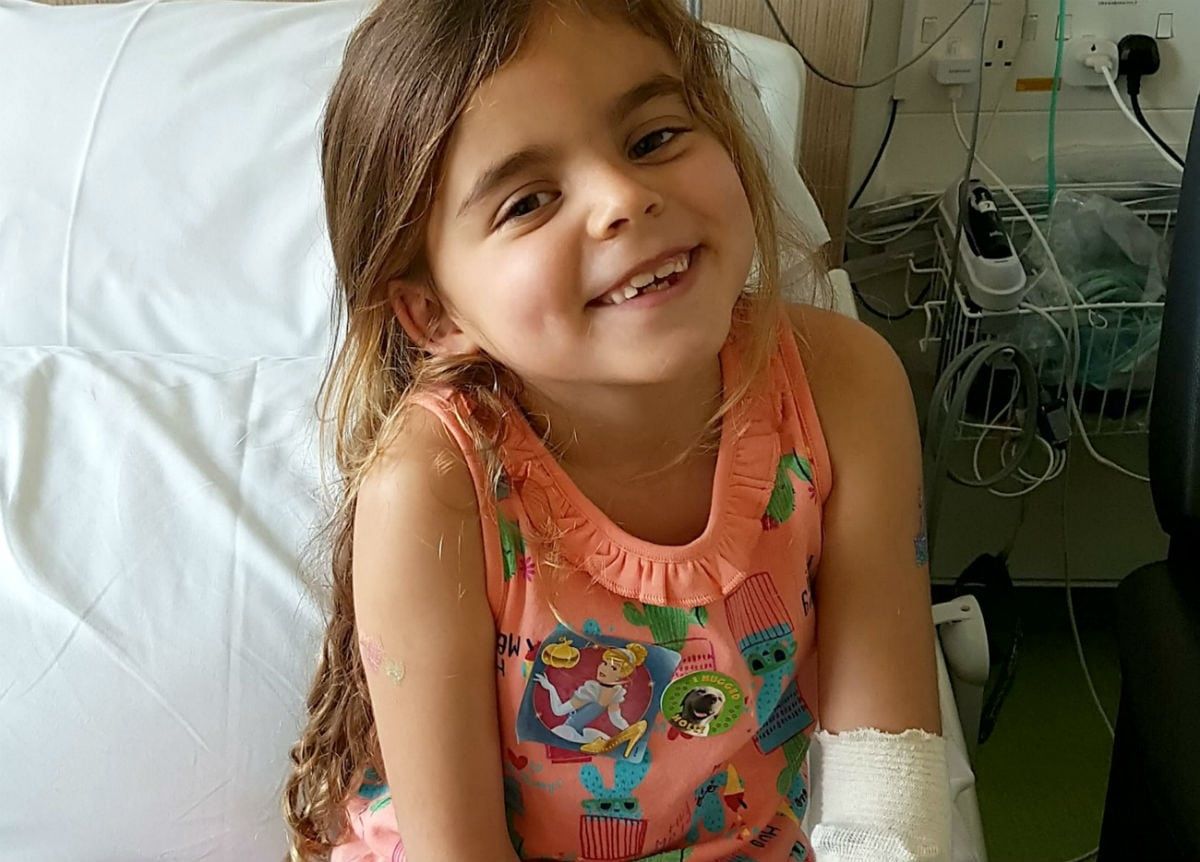 Despite the sudden change and the seriousness of the diagnosis, Heather said Evie has been "so brave".
"She is fine in herself at the moment," she said. "Then it is going to be a long road to recovery.
"The school has been superb. They have been sending us messages to check up on Evie every day and they alerted us to the problem in the first place.
"It could have been a lot worse had they not spotted it, so we can't thank them enough."
Within three days an online crowd-funding campaign had raised £755 to support the family, who live in Pen Llŷn, north west Wales.
Heather added that they had been left in disbelief at the level of response.
"We can't believe the response. Angela Jenkinson, who runs Rainbows Pwllheli [a girls play group], where Evie goes once a week, started the crowd-funding page.
"If, by some miracle, there is any money left after Evie leaves hospital, then we will donate it to Alder Hey and the Ronald McDonald charity.
Nia Wyn Williams, headteacher at Ysgol Morfa Nefyn, said: "As a school, we wish Evie a quick recovery and hope that she will be back at school soon.
"Evie is a very popular pupil and all the children and staff miss her smile and her lively personality."