The Vegan Festival of Britain runs from 20 May –10 June
The ambitious three-week Vegan Festival of Britain (VFOB) gets underway on Saturday 20 May, with events planned across the country from Aberdeen to Salisbury and Norwich to Truro.
Billed as 'the biggest vegan party in the world', the animal-free extravaganza will be launched at VegfestUK Bristol (itself the biggest single vegan gathering in Europe) by Kerry McCarthy, the UK's first vegan MP. A giant cake has been baked for the occasion and nearly 2000 taster portions will be distributed amongst the Bristol public.
The Festival has been organised by Animal Aid to mark its 40th anniversary and to celebrate the phenomenal rise of interest in vegan living. A 2016 Ipsos MORI survey of almost 10,000 people found that there are now more than 500,000 vegans in the UK – a rise of more than 350% over the last ten years.
Events already organised include food and lifestyle festivals, cookery demonstrations, restaurant promotions, vegan markets, a sponsored bike ride, an open day for a farmed animal rescue centre and an art exhibition. Talks and cookery demonstrations are being offered to every secondary school in the UK. And there will even be a specially brewed vegan-friendly festival ale on offer.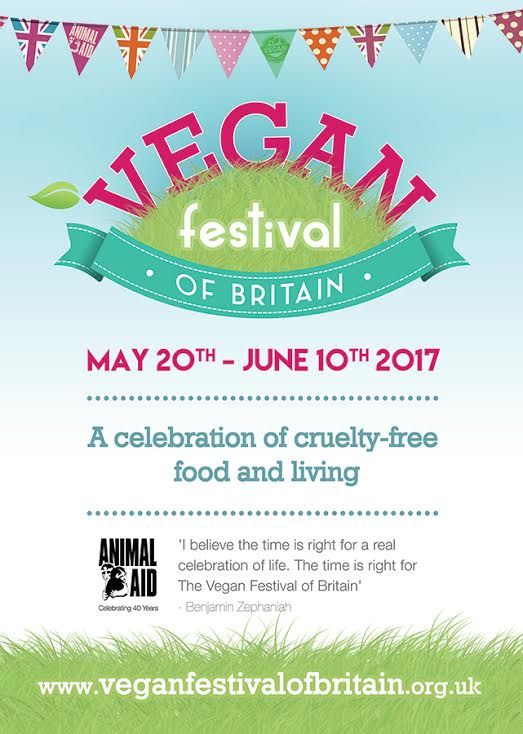 Festival organiser Mark Gold said today: 'The aim of the Vegan Festival of Britain is both to celebrate vegan living and to show how exciting vegan food can be. Across the country, there will be a chance for the public to try vegan versions of everything from a good old-fashioned full English breakfast to a luxurious champagne and canapé brunch; from healthy raw foods and sushi to naughty-but-nice cakes and cream teas. Animal Aid's message is simple: if you like fantastic food, care about animal suffering and want to see less human hunger and environmental degradation in the world, then why not give veganism a try?'
Festival supporter Benjamin Zephaniah added:'People all over the country are beginning to understand how becoming vegan can benefit themselves and the planet. We who care about the food we eat and the animals we live amongst have watched how over the years our compassionate approach to living has come from the margins to the centre…I believe the time is right for a real celebration of life. The time is right for The Vegan Festival of Britain.'
Read "I tried going Vegan and here's what happened…" Click Here
For more information on the Vegan Festival of Britain – including a full list of events and a history of Animal Aid…Click Here