Have you ever wanted to know what a 46 year-old single malt whisky tastes like? Scottish distillery Bunnahabhain has unveiled its oldest single malt to date; though one of the strictly limited bottles (198 worldwide) will set you back an eye-watering £5,000.
Also known as 'Eich Bhana Lìr' – meaning "the great waves of the God Lìr" – Bunnahabhain's 46 year old expression is named in tribute to God Lìr, the Gaelic God of the sea. According to Gaelic mythology, God Lìr would use his great white waves to wash ashore his most precious gifts. It's also no secret that the rugged north-eastern coast of Islay (where the distillery warehouses are located, close to the sea) is often swathed by raging seas during the winter months.
Fittingly, the 46 year old single malt is stunningly presented in a handcrafted bottle designed by renowned Italian glass blowers and metalworkers to evoke the waves of the Islay sea crashing into Bunnahabhain bay. Inside, the precious liquid is expectedly outstanding, having spent its full maturation process in the same second-fill Oloroso sherry butts since distillation in 1969. To bring some context, the whisky has been hidden away, casked in Bunnahabhain's warehouses since before NASA's first moon landing, Elvis' death, and the release of A New Hope – the first Star Wars film.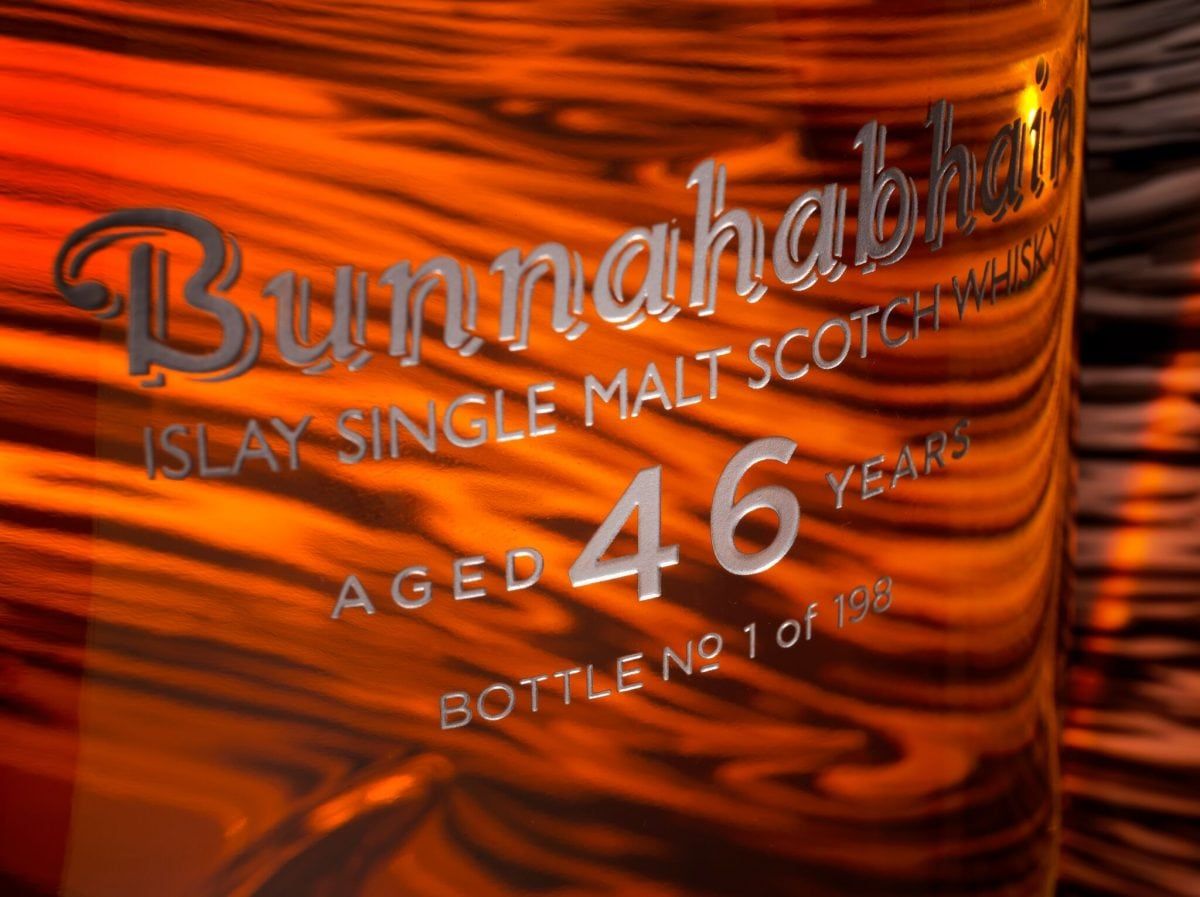 Speaking on the new expression, Derek Scott, Distell's Brand Director for Malts, said: "We are extremely proud to be able to showcase this truly unique and luxurious dram created in the most remote corner of Islay. The distillery's northerly location on the island exposes the casks, in our shore side warehouses, to the sea and elements, making it an idyllic place for the whisky to mature. We are passionate about the uniqueness of Bunnahabhain's special malts and the 46 Year Old Eich Bhana Lìr, features the full depth of flavours, aromas and character that makes Bunnahabhain a consistently award-winning single malt."
Bottled at 41.8 per-cent ABV, Bunnahabhain's 46 year old expression is deep gold, with an elegant, complex bouquet. Base notes of leather, beeswax and manuka honey are initially prevalent, complete with some candied orange peel. These are succeeded with aromas of dark chocolate, plum, cherry and spiciness of cinnamon and nutmeg are accompanied by slight rosy notes of Turkish delight, with high notes of roasted almonds. As expected from a whisky aged for almost half a century, some woody heat is recurrently present, with some natural sweet vanillin whiffs, but isn't overpowering – as is the case with many long-aged whiskies.
On the palate, the whisky is predictably silky, with a pronounced richness and refined balance of malt, citrus and roasted nuts. Elsewhere, in addition to the liquid's thick mouth-feel, subtle flavours of ginger, heather honey, black pepper and further chocolate are distinguishable, plus very subtle violet. The finish is then exceptionally smooth; lingering with savours of gentle spice.
An outstanding whisky, Bunnahabhain's 46 year old Eich Bhana Lìr is like no other. It's by no means the most accessible whisky available, nor does it intend to be. Instead, it's a remarkable addition to the assemblage of any serious whisky collector or investor – though it's far too good to store away.
Limited to just 198 bottles, Bunnahabhain 46 year old Eich Bhana Lìr is available worldwide. RRP £5,000, 70cl. Further information can be found at bunnahabhain.com.
RELATED
https://www.thelondoneconomic.com/food-drink/bottle-whisky-sells-11450-150-times-original-price/14/08/
https://www.thelondoneconomic.com/food-drink/the-haig-club-clubman-room-fakers-gonna-fake/23/10/