Showcasing more than 100 paintings, sculptures and drawings, The EY Exhibition: Picasso 1932 – Love, Fame, Tragedy is the Tate Modern's first ever solo Pablo Picasso exhibition. As well as offering much insight into the artist's personal life, the exhibition intensely magnifies Picasso's astounding prolificacy; with all of the featured works having been produced over the space of just one year.
On the ninth floor of the new Blavatnik Building, the Tate Modern Restaurant is currently offering a set lunch menu, available alongside the exhibition. A celebration of Picasso and his overt love of food, Head Chef Jon Atashroo's two-course menu draws inspiration from specific regions and restaurants that the artist visited during his lifetime. Upholding the rustic warehouse style embraced by the rest of the building, the restaurant is airy and bright. Moreover, the restaurant also boasts some of central London's best views, with the skyline unspoiled by the Blavatnik. While peaceful at lunch, the lofty ceilings and lack of soft furnishings may wreak havoc with the acoustics at dinner when open on Friday and Saturday evenings. Otherwise, the atmosphere is comfortable and service is casual but professional.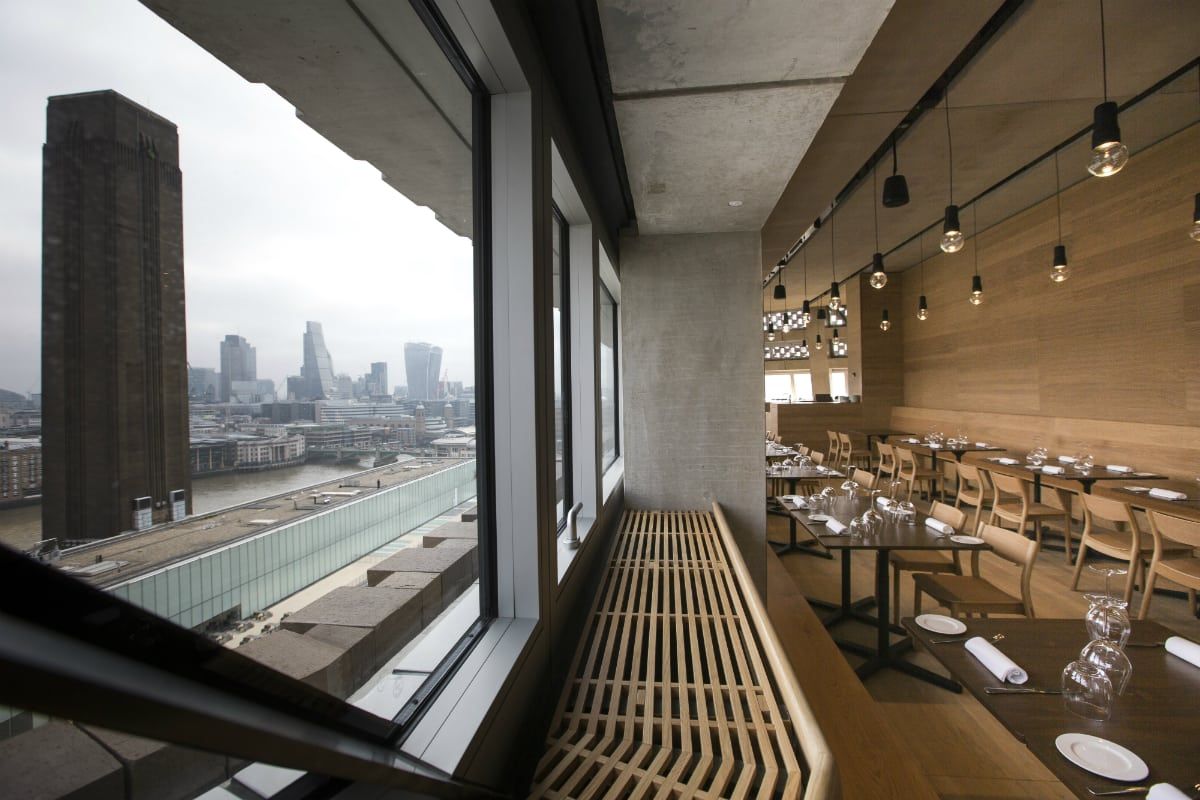 From the Picasso-inspired set menu, dishes include the likes of crapiaux (thick pancakes) spiked with smoky bacon; three of which are joined by scraps of Andouillette. An ingredient rarely found outside of France, Andouillette sausages, generally made using pigs' intestines, have an acquired taste. Here though, the menu is vague in its description, cleverly disguising the ingredient so sadly out of favour in Britain. Past the mildly faecal stench and miasma of puppy breath, the sausage is ludicrously rich, with staggering depth of flavour, accompanied by a globule of fierce English mustard: the ultimate pairing.
On the other hand, Brandada is a Catalan favourite enjoyed by Pablo Picasso in the Els Quatre Gats Tavern in Barcelona – the refuted birthplace of Cubism- featuring Bacalao (salted cod). An emulsion of salt cod and olive oil, this version has the texture of mashed potato, served cold and crowned with an orange egg yolk that gushes across the plate like a sunrise, when broken. Alone, the egg yolk acts as a sauce but is also joined by Samfaina sauce, made with peppers and courgettes.
From the mains selection, a dish of seared squid, black rice, peppers and almonds is a true celebration of fresh seafood. Picasso famously enjoyed seafood around the beaches of Catalonia, with artist friends Isidro Nonell and Carlos Casagemas, then many years later, after escaping to the French Riviera with Franćoise Gilet. A generous serving of black rice, infused with squid ink, is topped with heaps of well-cooked squid and lightly acidic red and yellow peppers. A scattering of almonds adds pleasant crunch, contributing to a rousing interplay of textures.
Best of all is a hearty dish of roasted rabbit, inspired by Picasso's explorations of red Spanish soil with fellow artist Manuel Pallarès. The pair would regularly hunt game to bulk their survival on chickpeas and rice. A near perfect rabbit leg lulls across a bed of chickpeas and sweet tomatoes, red as the artist's Garçon à la pipe, painted in 1905. Deeply comforting, like French cassoulet, but with plenty of saffron which – with the chickpeas – contributes to the dish's colonial North African slant.
An exceedingly rare gallery restaurant that serves enjoyable, unpretentious food; the Tate Modern Restaurant's menu designed to complement the new Picasso exhibition is tasteful, without exploitative, insincere gimmicks. And at £39.50 per person, which includes entry to the exhibition (costing £25 with a voluntary donation), the offer is abnormally reasonable. This is a delightful way to spend an afternoon, celebrating the life and work of the 20th century's most influential artist.
Tate Modern Restaurant can be found at Level 9, Blavatnik Building, 9 Bankside, London, SE1 9TG.
Taking place on the last Thursday of each month, the upcoming 'Easter Special' Tate Tap Takeover will see Tate Modern welcoming their neighbours Fourpure Brewing Co to takeover the beer taps this month. Having collaborated with Tate for the Tate Switch House Brew, the brewery will showcase six of their new Brew House Beers on Wednesday 28th March. Further information on the event can be found here.
Header photograph: Katie Wilson
RELATED