If you're going to insist on opening a restaurant specialising in one specific dish, it's a matter of good manners to do that one thing properly. As a result, I'm constantly flummoxed at the news of so many London steakhouses celebrating double-figure anniversaries.
To order a steak in a non-specialist restaurant can seem like a cop out; generally included on menus as the sole reserve of the unadventurous, "well-done please", picky eater. But when done well, in the right setting, there's plenty to love. Macellaio RC, with various outposts across London, does steak properly; as does Heliot Steakhouse at the Hippodrome Casino on Leicester Square (perhaps surprisingly), although it can all be a bit TGI Friday's. Sophie's Steakhouse is another victor, with a new restaurant in Soho. Taking over a site once occupied by an adult cinema, the new restaurant follows another in Chelsea – having operated successfully for the past 16 years.
Owners Sophie Bathgate and Rupert Power's largest project to date, the huge new Soho site is fronted with a large central bar and a casual dining space. This area has space for 125 covers, plus an extra 120 in the main New York-inspired steakhouse tucked around the corner. Festooned with industrial Brooklyn loft-esque accents, the steakhouse is placated by a cast iron 'infernillo' grill, separating the dining room from the open kitchen and displaying large hunks of meat slowly cooking over the fire pit.
The atmosphere at Sophie's is generally relaxed, bolstered by competent but casual service. A recent lunch began with a glass of juicy Italian red, quickly followed by a trio of beef rib croquettes encasing shredded short rib that's breaded and fried: some of whose richness was spliced by mayonnaise flecked with capers, not unlike tartare sauce. I could happily eat these beef nuggets all day long. Sea bass carpaccio, on the other hand, featured paper thin slivers of fresh raw fish with its unequivocally clean flavour, simply lashed with plenty of lime juice, completed with a fair hum of fresh chilli.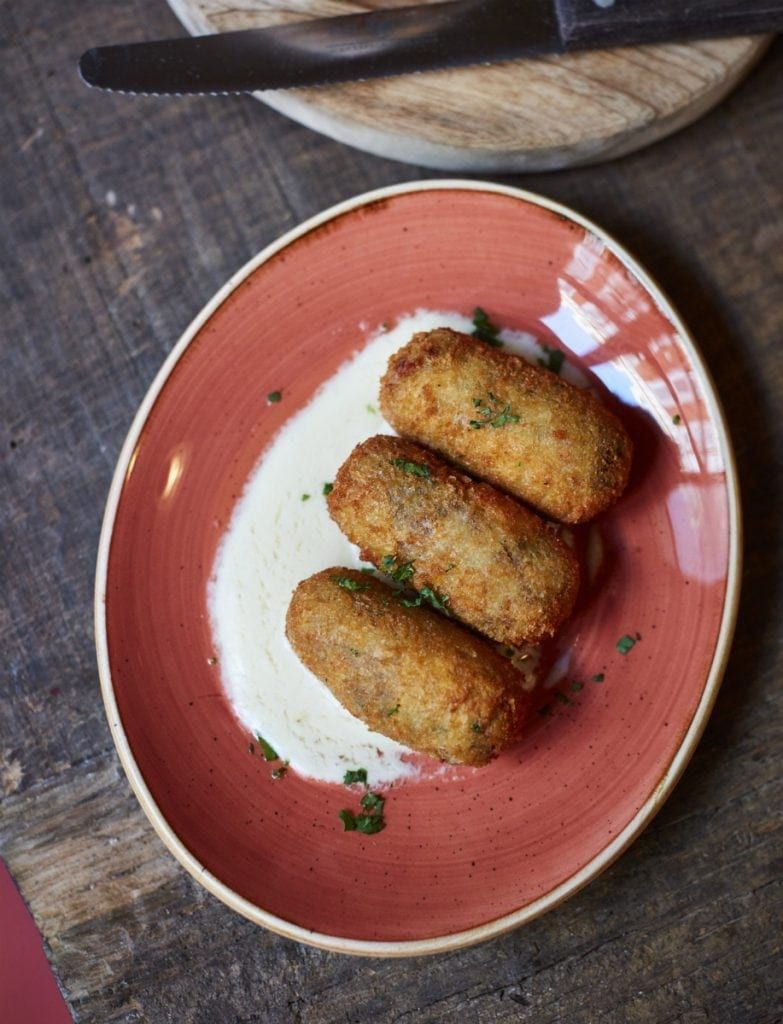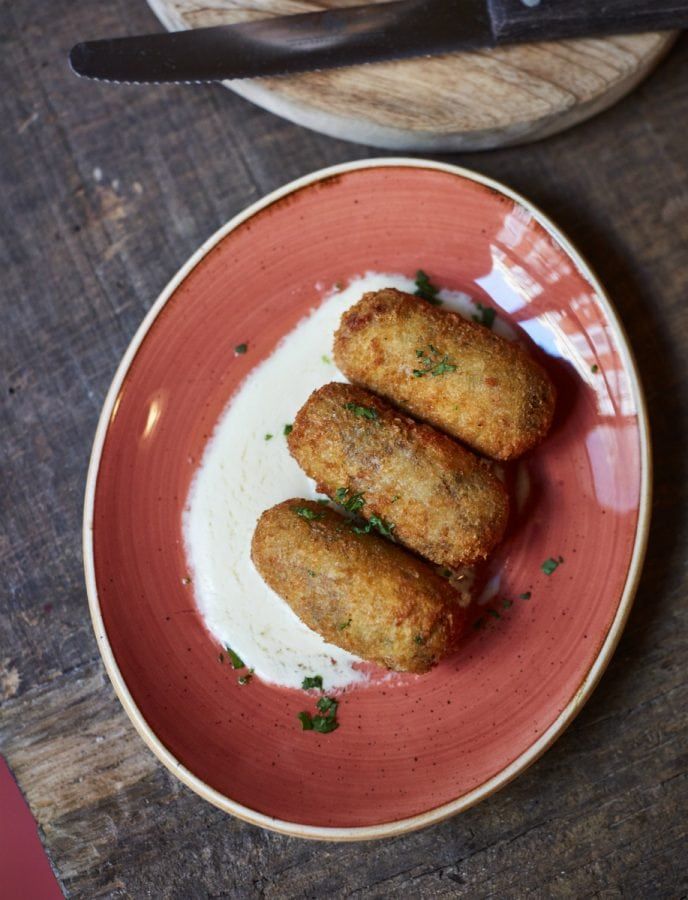 Then came the steak. Sourced from Philip Warren butchers in Cornwall, all of the beef served at Sophie's is native breed, dry aged and butchered in house, keeping costs down. Classic steaks such as sirloin, fillet and ribeye are all available alongside a selection of larger cuts (porterhouse, chateaubriand, et al.) and fish and vegetable dishes such as chargrilled tuna steak; grilled octopus; smoked cauliflower with hummus tahini and pomegranate; or Hispi cabbage with curried lentils. However, the prime rib of beef is clearly the main draw – laboriously cooked over a fire pit.
Slow-cooked for five hours, the prime rib is vast at 35 ounces: plenty for two ravenous adults. Perfunctorily cooked to a degree of medium-rare that's actually closer to the latter, rather than cooked to order (given the size), the beef is explicitly tender, rife with the taste of smoke which prevails from the steak's outer char to its blushing core. The fat is also well-rendered, harbouring pungent flavour from the dry-ageing process. This is served with a heavily smoked head of garlic, each clove adapting the texture of toffee, while peppered bone marrow gravy is essentially the most decadent peppercorn sauce – reinforced with insalubrious bone marrow that's both unnecessary and transcendently delicious. Desserts at Sophie's are generally classic, featuring the likes of caramelised pineapple with coconut sorbet, or American-style baked cheesecake with tart rhubarb.

At £60 for two people to share, the prime rib boasts tremendous value: averaging at £1.70 per ounce, compared with £2.12 charged for the same cut at Hawksmoor, £2.85 per ounce at Jamie Oliver's Barbecoa, and approximately £2.69 per ounce for a standard ribeye at Goodman in Mayfair. Critically lamented Smith & Wollensky also serves a similar cut (Tomahawk), priced at £2.34 per ounce. As such, the prime rib at Sophie's isn't merely one of central London's best steaks – it's also one of the most sensibly priced.
Sophie's Steakhouse Soho can be found at 42-44 Windmill Street, London, W1D 7NB.
RELATED
https://www.thelondoneconomic.com/food-drink/disappointing-steakhouse-london/09/06/
https://www.thelondoneconomic.com/food-drink/macellaio-rc-battersea/07/09/
https://www.thelondoneconomic.com/food-drink/restaurant-review-heliot-steakhouse-hippodrome-casino/05/04/