Originally exclusive to the country's wealthiest, Chinese poetry and music sources suggest dim sum was first enjoyed over 2500 years ago. While dim sum is most commonly linked with Cantonese cuisine, the first dim sum is said to have been made in northern China, eventually served in tea houses along the famous Silk Road. On discovering that tea aids digestion, these tea houses began to serve bite-sized snacks to "touch the heart" (the most common translation of 'dim sum') rather than to sate the appetite. Over time, the ritual has changed considerably, with so many high-end, contemporary creations so readily available. Some restaurants also buck the tradition of serving dim sum in the morning and at lunch by including various snippets on their dinner menus. In London, Royal China has become particularly renowned for its traditional dim sum.
With the first restaurant having opened on Queensway in 1996, the group has since opened five additional London restaurants. On the banks of the River Thames at Westferry Circus, Royal China's Canary Riverside restaurant is a stone's throw from Limehouse – an area considered London's original Chinatown during the 1930s, before a tide of Chinese restaurants settled for the west-end. Inside, the restaurant décor has narrowly avoided being dragged kicking-and-screaming into the 21st Century, though plenty of natural light floods the restaurant via floor-to-ceiling windows vaunting views of the water. An outdoor terrace is also on hand for warmer days.
A recent lunch visit began with a stubbornly hostile welcome from a waiter struggling to locate the booking. Fortunately, the charming dim sum from the heavily photographed menu made up for this rough start, while service was otherwise friendly enough. Shortly after ordering a pot of tea, a bamboo steamer basket filled with char siu bao (£4.30) was the first to arrive with a steamed, pillowy outer harbouring hunks of pork in a sweet barbecue sauce. Deep-fried yam paste dumplings (£4.30) were even better, similarly filled with pork and the addition of dried mushroom, encased with wrappers boasting pleasing texture from yam root mashed into the dough, like golden brown bird nests.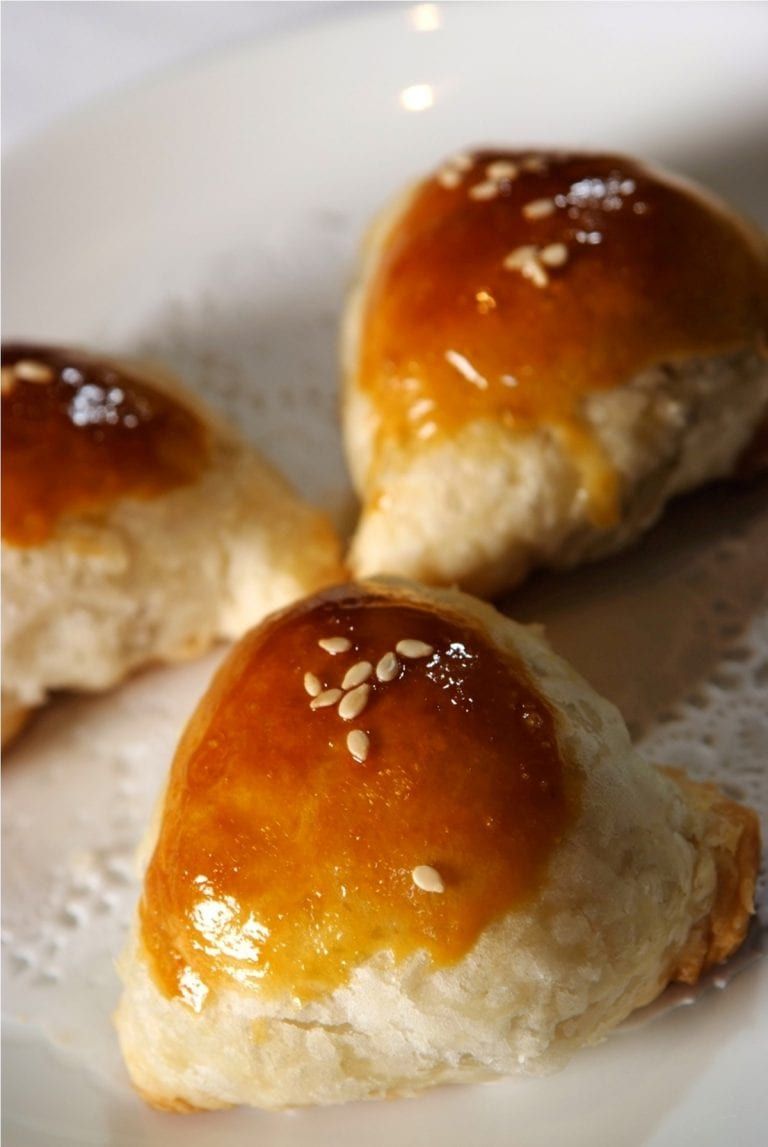 "This is a good time to be adventurous", another waiter insists on suggesting both har gau (£4.90) and siu mai (£4.60): two of the most perfunctory dumpling variants available in British Chinese restaurants. Three har gau were plump and skilfully wrapped but with wrappers thicker than usual, concealing an under-seasoned filling of minced prawn. Siu mai were better, however, with unctuous pork joining even more prawn. The restaurant's chicken feet (£4.30) are a definitive menu highlight, on the other hand. A delicacy often overlooked by British self-proclaimed Sinophiles, these particular claws are meaty, unlike so many scraggy alternatives offered in London restaurants, rampant with black bean, chilli and soy, like gelatinous chicken wings but with far superior depth of flavour.
Three paper-thin xiao long bao (Shanghainese soup dumplings) provided another highlight (£4.60): skilfully wrapped and harbouring marbles of unctuous pork undulated with volcanically hot soup fragrant with ginger. More prawn came with traditional cheung fun (£5.90), another recommendation, featuring thick rice noodle tunnels jammed with prawn, lashed with a slightly sweet soy sauce; while honey roast pork puffs (£4.30) displayed superlative puff pastry embellished with a torrent of sesame seeds. A large tureen of sticky rice followed (£6.60), studded with poached chicken strips, ultimately bolstered by slices of cured Chinese sausage to touch the heart before a concluding tart featuring similar pastry to the pork puff, but filled with egg custard carrying welcome nuances of salt (£4.30). While the dim sum at Royal China doesn't necessarily push boundaries like that at A Wong or Yauatcha, it doesn't pretend to. Purists will, instead, revel in the expertly crafted, reasonably priced, strictly traditional lunchtime treat.
Royal China Canary Riverside can be found at 30 Westferry Circus, London, E14 8RR. 
RELATED
https://www.thelondoneconomic.com/food-drink/best-chinese-restaurants-in-london/13/02/
https://www.thelondoneconomic.com/food-drink/best-street-food-chinatown-in-london/23/11/
https://www.thelondoneconomic.com/food-drink/restaurant-review-a-wong/04/07/