People's stances on luxury high-end timepieces range anywhere from total obsession to thinking these accessories are totally overrated and not worth spending hard-earned cash on.
Whatever your take is, this microcosm called original luxury watches is an integral part of the luxury goods market, and it's seen a steady rise recently. And this is some piece of knowledge you don't wanna neglect even if you're one to misunderstand all the fuss around luxury wrist-wear- instead of hunting for your new piece of time-telling excellence, you may consider investing in shares in the time-resistant market of luxury watch manufacturer giants.
Signs of recovery in this niche have been around for 2 years. The Deloitte "Global Powers of Luxury Goods 2018" report shed some light on the current situation with the luxury watches market- the rise has been steady, and China has established itself as the No1 importer. The outlook for the future seems to be bright as surprisingly, between high-tech digital watches and original luxury watches the Millenials predominantly opt for the latter.
With that said, the annual Salon International de la Haute Horlogerie fair in Geneva, that claims to have attracted around two dozen thousands of visitors, has presented some of the newbies looking to grace wrists all around the globe, so let's have a look:
HMoser&Cie's Swiss Alp Watch Concept Black
What can happen in the span of just one minute? Look at the one-minute flying tourbillon on the dial of this amazing sleek model that pays homage to the manufacturer's elegant, minimalist style. Learning the actual time takes to activate the minute repeater to chime the exact time on demand.
HM6 Space Pirate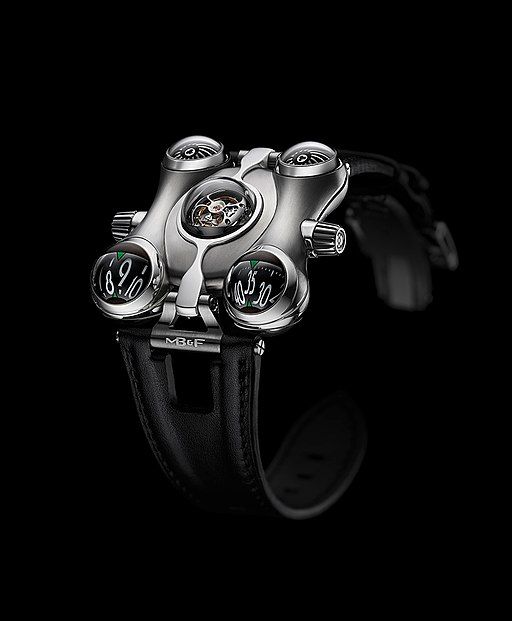 Launched in early 2014, this unique piece has already undergone several phases of modifications, and today's revelation makes it unworldly, in a manner.
This HM6 Final Edition watch boasts a biomorphic case crafted with stainless steel, with finely polished grooves to emphasize the curves of this timepiece and an extensive central dome that results in a better panoramic view of the flying tourbillon. Predicted to be one of fan favorites in 2019, this watch is definitely worth a closer look both by investors and watch-lovers.
Vacheron Constantin's Calibre 2460 R31R7/2
Moist, midnight blue or golden glitter? Vacheron Constantine's Calibre edition extends into every realm, and 2460 R31R7/2 is all about elegance in details, and glitter at its finest.
Its 276 components are carefully crafted into 5.4mm making it a work of art and a watch collectioner's obvious target.

Jaeger-LeCoultre's Rendez-Vous
Ocean blue is the warmest color for Jaeger-LeCoultre's Rendez-Vous collection and one of its most prominent models.
This watch is a perfect showcase of rare gem-setting abilities of master jewellers
The Montblanc Heritage Pulsograph Limited Edition
Want to experience what it feels like to be the owner of one of only 100 manufactured pieces of one of the finest watches around? Then, time to hunt for The Montblanc Heritage Pulsograph Limited Edition – a collector's dream at the purest, a reason for the heart to skip more than a beat.
These are just a couple of items from our wish and watch lists for 2019. With many more awe-inspiring models on their way, the year promises to be challengingly inspiring for both watch lovers, collectors and investors across every continent, just decide on your take!
This rare collection item has a cool Minerva vibe of the 1950s. With Montblanc Manufacture monopusher chronograph calibre MB M13.21 and Swiss perfection incorporated into every millimeter of its body, this item includes includes a doctor's pulsograph indication graduated for 30 pulsations.