Earlier this year, at a ceremony live streamed from Paris, A.Wong was awarded a second Michelin star. While the Michelin guide's stars have lost their sparkle to so many, they remain a crucial badge of honour amongst chefs, especially with so much competition in the world of fine dining – even without a global pandemic to contend with. Chinese restaurants have been hit particularly hard by the Covid-19 outbreak, largely due to xenophobia related to the pandemic's origins, with anti-Asian hate crime continuing to rise in the UK. Receiving two Michelin stars is a rare achievement, but was particularly special for A.Wong this year, becoming the first Chinese restaurant outside Asia to receive the honour. Some much needed good news to follow the permanent closure of Kym's, owner Andrew Wong's second restaurant.
Opened by chef Andrew Wong and his wife Nathalie in 2012, the restaurant has become renowned for showcasing the diversity of China's food culture and its 14 international borders, with dishes that are contemporary and boundary-pushing, yet respectful of origin. As expected from a two-Michelin-starred restaurant, in addition to the food the service is impeccable. Polished but never pretentious. Staff are extremely welcoming and accommodating, and while food from the a la carte dim sum menu arrives quickly, the experience never feels rushed. Customer safety is also at the forefront of the restaurant operations, with temperatures taken on arrival, hand sanitiser offered at the door, tables well-spaced, and plates and cutlery sanitised with a hi-tech wand as soon as they're placed on the table.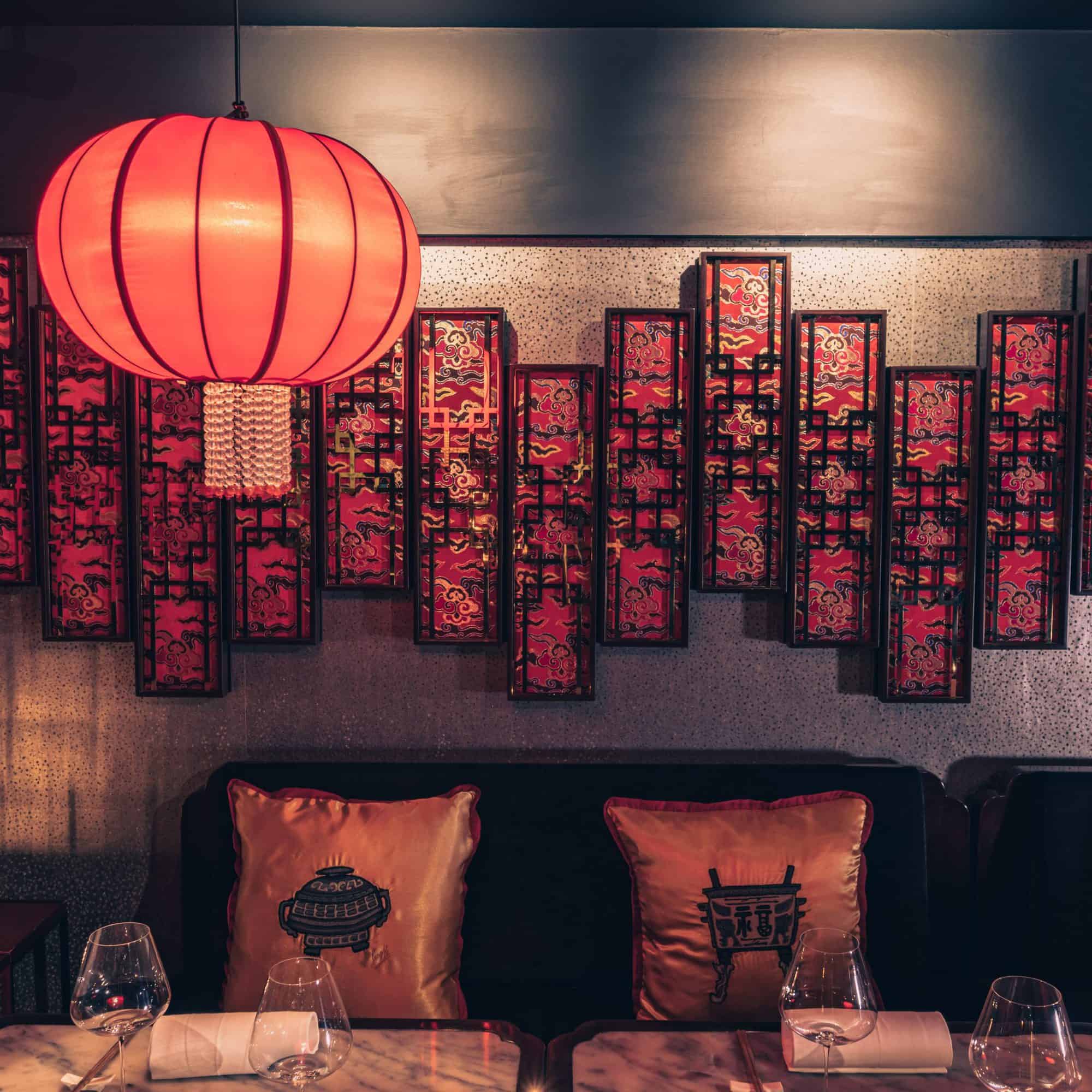 During A.Wong's first indoor service with two Michelin stars, the restaurant's atmosphere was palpable, electric even, with the bustling open kitchen filled with chefs, most seats filled, and staff keen to welcome guests back. Teething problems are to be expected during these uncertain times, but during the two-hour lunch I'm struggling to recall one instance when standards slipped. With such a strong bond between the kitchen and front-of-house, the entire visit ran so smoothly, it was like a rigorously choreographed dance routine.
For the reopening, the space has also been decorated, with new plush velvet dining chairs, large oak tables with resin motes, and a large, covered outdoor terrace. It's all far more comfortable than the previous incarnation, with the soft furnishings also working to absorb the noise levels from the kitchen more efficiently.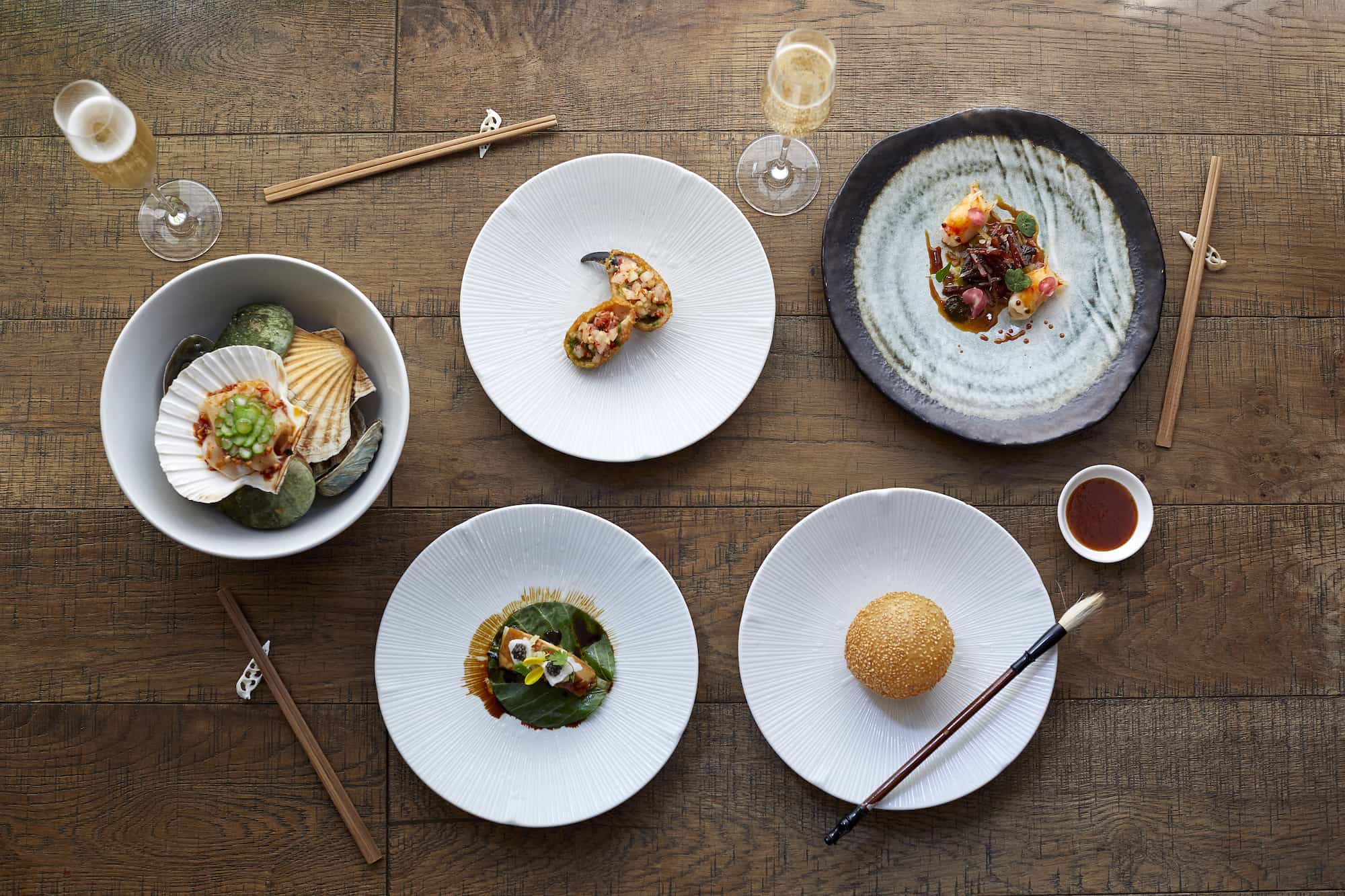 As for the food, the dim sum menu served at lunch time offers an a la carte selection of dishes, available in individual pieces, as opposed to typical sets of three. Serving food that's genuinely quite sublime, one of A.Wong's best strengths is the dedication to menu development. While many chefs rest on their laurels, open more restaurants than they could possibly visit, and ultimately become sloppy, Andrew Wong's dedication to elevating his repertoire of already brilliant dishes is commendable. The a la carte dim sum menu's scallop puff, for instance, once resembled a hibiscus flower. It seemed faultless, but has now been levelled-up, featuring scallop wrapped in a very delicate cylinder of '999 layer' puff pastry, with dried scallop oil and pickled daikon (£5). Like all of the dim sum dishes it's a celebration of attention to detail.
A brand new addition to A.Wong's lunchtime dim sum menu, an abalone tart featured an ingot of the prized marine snails, slow braised and served on top of a flaky pastry base, aesthetically similar to a pastei de nata. The abalone's taut texture can be challenging, and while it's not for everyone, food geeks such as Andrew Wong and I will appreciate the use of ingredients, although pricey at £15.
Elsewhere, the Laughing Buddha bun arrived at the table resembling a very classic char siu bao, yet the pillowy dough was filled with deeply umami vegetable gluten in place of pork (£3). Xiao long bao – Shanghainese soup dumplings – on the other hand, were one of the key standouts with their thin wrappers just strong enough to hold the rich pork and gelatinous soup filling, rampant with ginger (£3.50). They're one of the least expensive things on the menu, and easily some of the best xiao long bao in London, if not the whole of Europe.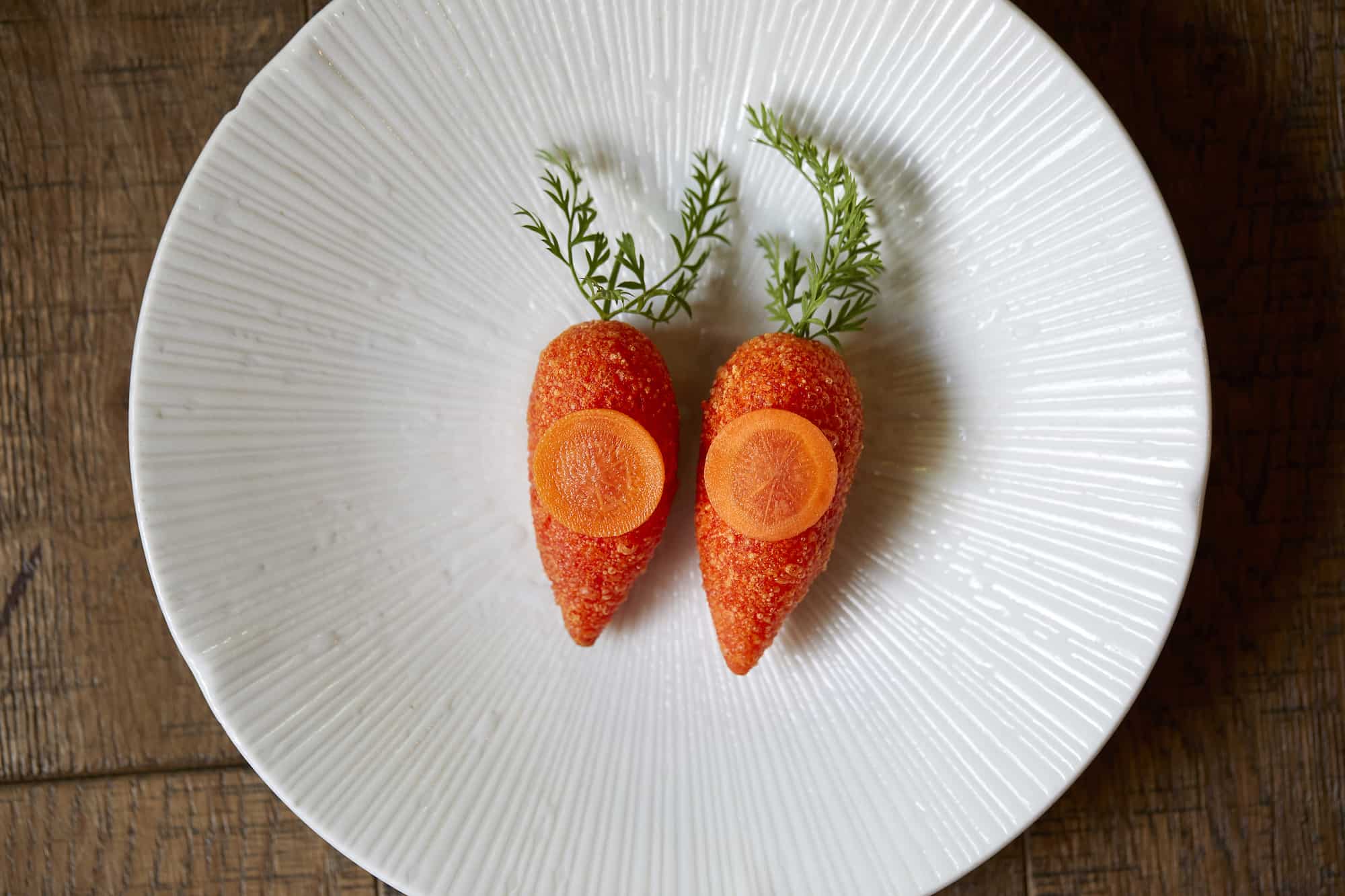 Other standout dishes included bite-sized tartlets with paper-thin pastry, Wagyu beef, and vibrant green peas (£3.50); Chengdu street tofu, like a set custard rife with soy sauce, sesame oil, and peanut (£6); and rabbit and carrot glutinous puffs (£3.50). Shaped like a carrot, the glutinous rice flour dumplings were filled with a complementary blend of rabbit and carrot, with a sliver of pickled carrot bringing just enough acidity to tame the dumplings' richness. Wild mushroom and truffle dumplings were also adventurously presented, with soft buns resembling large chestnut mushrooms, dusted in dark chocolate powder which worked remarkably with the filling's earthiness (£3.50).
Best of all, A.Wong's salted duck egg custard buns may well be the best, most Death Row worthy dessert in London. Less sweet than typical of its style, the soft, steamed buns were filled with an outrageously rich, mouth coating custard, while the lightly fried base brought textural depth to the dish, ultimately providing exceptional balance to the dish (£5.50). I ordered three for myself, but could easily have eaten at least six. A perfect end to a pretty perfect meal.
A.Wong can be found at 70 Wilton Road, London, SW1V 1DE.