It's generally accepted that the best Turkish food in London can be found north of the river.
Over the past two years, three "authentic Turkish restaurants" have opened contiguously in Greenwich, just around the corner from my house. As well as promising to be authentically Turkish, another thing these venues hold in common is the inane ability to cook astoundingly bad food yet manage to entice herds of customers.
When I think of great Turkish food in London, I think of the 81786 restaurants on Green Lanes (between Newington Green and Winchmore Hill), or Kervan in Southgate – a meat-driven restaurant essentially an Eastern-Mediterranean Bodean's. Even cutting edge restaurants like Black Axe Mangal in Highbury are using Turkish cuisine as a foundation to create contemporary crowd-pleasers.
The location for Yosma, towards the Oxford Street end of Baker Street, seems comparatively peculiar. Set up by the restaurateur duo behind the Good Food Society, the venue is remarkably vast. While the space has been given an upmarket makeover, there are flourishes of the North London Turkish Mangal grill restaurants. Yet instead of posing as space for families to grab cheap, traditional dinners – it's a slightly Anglicised Turkish restaurant that's clearly had thousands of pounds pumped into it. Visiting for an early dinner in the middle of the week, the first thing that's noticeable (apart from the size) is the club-like darkness of the place, sparsely illuminated by a large open kitchen. Yosma is not so much a Mangal grill house, it's an upgrade – a palace. The food however, with Executive Chef Hus Vedat in control, is mostly impressive.
Soon after we take our seats, a waiter appears and talks us through the menu's concept, describing mezze as if it's some new fangled invention exclusive to Yosma. At least he's helpful, recommending a selection of seven or eight dishes to share between two. We begin with flatbread that's clay baked and brushed with lashings of lamb fat then sprinkled with za'atar – a blend of Middle Eastern herbs. Standard flatbread, this is not – the lamb fat, as well as being a deliciously devilish addition, transcends the simple dish to something quite outstanding.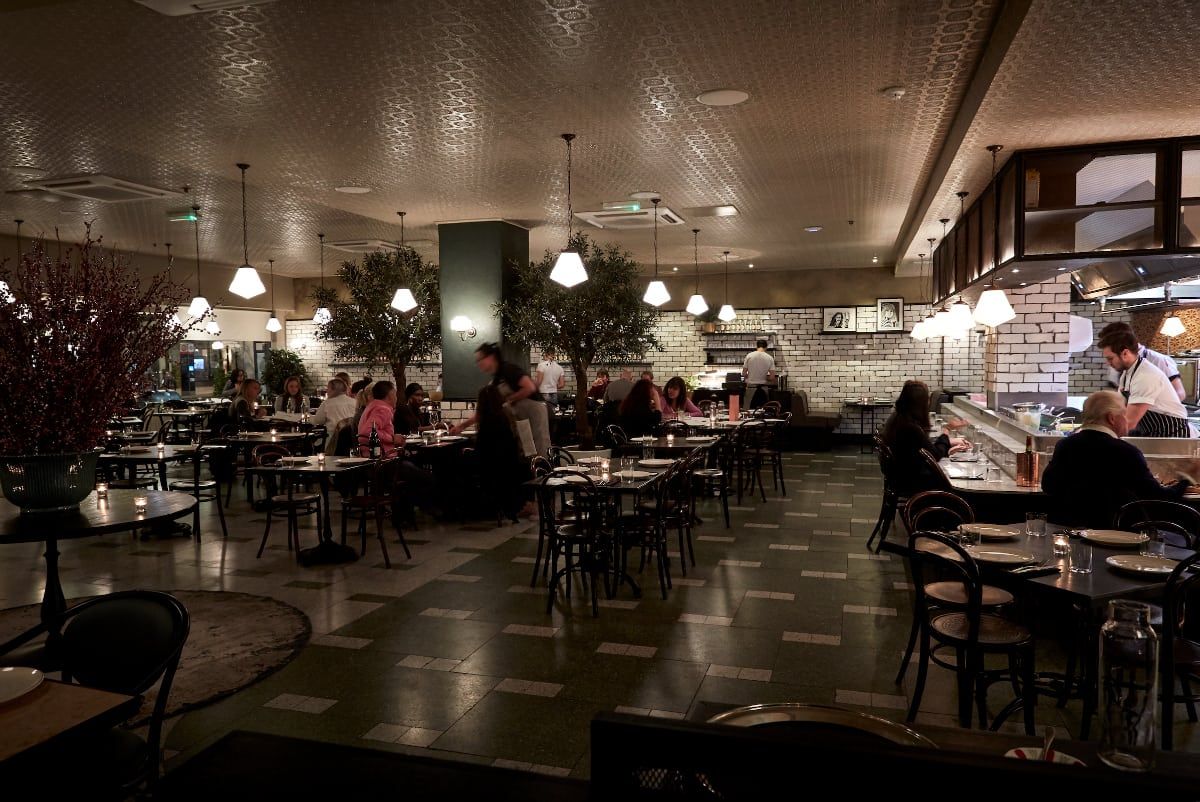 From the cold mezze offering, pit roasted golden beetroot (£5) is cooled and sliced into paper thin slices before being layered onto the plate in a manner similar to carpaccio. Contrasting the charred outer, the beetroot has intense sweetness complemented by a drizzle of garlic-infused oil. Two blocks of feta cheese, on the other hand, are fine but taste as though they've left the fridge just a matter of seconds before they're dressed and brought to the table. Again, the cheese's lactic acidity is so potent it manages to completely overpower any other flavour on the plate.
Another overwhelming smack of lactic acid comes with the manti (Turkish dumplings). Thick pastry casings filled with lamb neck (£8) obviously require vast levels of skill and time to make, but they're smothered in so much yogurt that all efforts seem redundant. Far better are crisp filo tubes of Börek (£9), stuffed with a pleasing balance of spinach and feta cheese, topped with pine nuts.
'Uykuluk' (£6), a dish of braised, slightly spiced lamb sweetbreads with tomato, onion and heavy-handed smattering of sumac is simply exceptional. The thymus glands are cooked to a perfectly soft consistency, while the portion size of sweet grilled tomato is well-balanced. Had the main dishes not arrived by the time we finish, I'd happily order at least two more portions, gluttonously yaffing each chunk of offal to myself.
Following the Uykuluk, the lamb rump (£16) is amongst the best thing we eat at Yosma. A cut from the leg is well-seasoned and grilled. While it's cooked a little more than medium-rare, as ordered, all can be forgiven given the balance with everything else on the plate. Nothing is here without purpose. A 'burnt tomato' is thankfully small, bringing some sweetness to the dish, a puree of smoky aubergine is similar to baba ganoush, spiced with plenty of cumin and fenugreek. The accompanying yogurt, on the other hand, is fortunately minimal. In addition, a grilled Turkish chilli served on top of the lamb has an umami explosion, warmly redolent of pickled chillies – the best part of any perfunctory kebab house salad.
To finish, Yosma's cheesecake (£6) is made with an ungodly helping of rose water. There's an obvious reference to Turkish delight, yet it ends up tasting like a bar of Yardley soap. Infinitely better is the Kűnefe (£7) – nutty pastry with the texture of shredded wheat, surrounding a molten core of white cheese soaked with lemon syrup. A perfect balance between sweet and savoury, this dish is absolutely worth the fifteen-minute wait for it to be prepared. The overall experience at Yosma is generally very good. Though the restaurant is quiet during our visit, lacking atmosphere, the service is efficient and friendly. What's more, give or take a few dishes, the food is generally brilliant.
On the surface, the kebab shop references may seem punitive, but the whole evocation of nostalgia is the essence of good food. Any chef worth their salt can perform the generic cooking by numbers and recreate classic haute dishes to a reasonable standard, but to create something that simply inspires such sensory motivation, such emotion? That's the sort of cooking that takes real skill. It's this nostalgia that makes food special on so many levels and such a delight to eat. It's like therapy, but cheaper.
Header Photo: Patricia Niven
Yosma can be found at 50 Baker Street, London, W1U 7BT.
–—