Even in your wildest dreams, could you honestly imagine ever opening a restaurant called 'Plum Plum'? Merging the Chinese ('Mei') and Japanese ('Ume') words for the firm, juicy stone fruit, Mei Ume is the latest restaurant to open within the Four Seasons at Ten Trinity Square, joining La Dame de Pic. The hotel space is glorious, yet the location is frankly bewildering – somewhat disconnected from nearby landmarks the Tower of London and Tower Bridge.
Instead of fruit, though, the word 'plum' – to me, at least – bizarrely evokes memories of Cluedo. Recollections of Professor Plum; a cumbersome, red-faced man who may or may not have done unspeakable things to Colonel Mustard, with the candlestick, in the Billiards Room. At Mei Ume, however, there doesn't seem to be a single plum in sight – except for the restaurant's colour-scheme, with concrete grey accents. Inside, the dining space is large and surprisingly quite unstuffy, with windows above seat level that admit light. The dark colour scheme, however, does feel somewhat Gotham City, as if Heath Ledger's fitful Joker were to takeover The Ned, just down the road. 
Before we come to the food, the service at Mei Ume should be mentioned. Our waitress is friendly and charming, happy to choose a selection of dishes for us to sample. In this instance, I'm emancipated from the need to trawl through the lengthy menu – gluttonously selecting a deluge of dishes that make me feel as though I'll eat like a God, but actually end up becoming overexcited and deplete the kitchen's entire stock. This also provides extra time to slurp tropical Taiwanese whisky cocktails served only in kitsch Tiki vessels.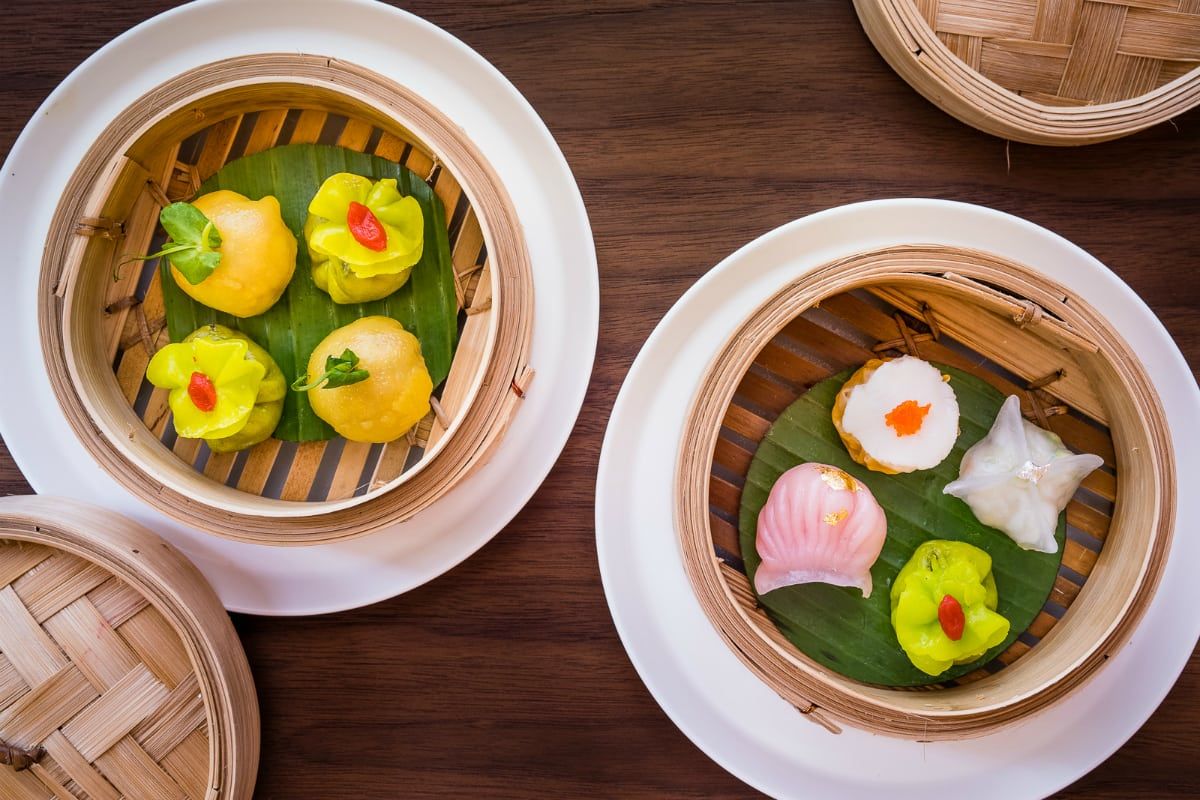 First, a platter of sashimi (£28) features precisely sliced, fridge-cold salmon, tuna, sea bass, scallop and fatty O-toro tuna from the fish's belly – which once warmed to room temperature has an outstanding flavour profile. Mei Ume's steamed dim sum platter (£18), on the other hand, includes two of each classic har gau (stuffed with pork and prawn); a decadent, earthy parcel of truffle and wild mushroom; siu mai that favours scallop instead of traditional pork and prawn; and a champagne dumpling. The siu mai's use of expensive scallop is understandable, but tastefully inferior to fatty, unctuous pork. The champagne dumpling – also harbouring scallop – works surprisingly well, however, in uniting the two complementary flavours of crisp Champagne and sweet scallop.
An all-time favourite ingredient of mine, the soft shell crab (£17) served here is lightly battered and deep fried, served with mango. Though the seasoning has a suspicious whiff of Old Bay, the crab is virtually greaseless, with pickled daikon cutting through any trace excess oil. Possibly the best thing eaten at Mei Ume, San Pei chicken (£22) is one of the cheapest main courses. Born out of a one chef, three cups philosophy, the popular Jiangxi dish features a sauce of soy, sesame oil and rice wine, classically embellished with sugar, garlic and chilli. Here, the chicken has absorbed most of the sauce and has soft texture, melting on the tongue, benefiting from a smack of dried chilli and fragrant Thai basil that acts to amicably wed the dish's bold flavours.
Shanghai golden crispy sea bass (£32) comes coated in a light batter – served simply alongside lashings of lemon sauce that looks like hot, coagulated Amoxicillin. The fish is cooked tremendously, although I'm not in love with the sauce. My companion, however, is more enamoured – thus allowing me to ravenously snarf even more of the San Pei chicken. Another main course, crispy shredded veal is a divergence from the twiglets of Anglicised shredded chilli beef served in many Cantonese takeaways – and so it should be for £21. Slivers of menially tender veal are slowly cooked then finished in the fryer, complete with sweet hunks of mango and contrasting chilli. Needless to say, this amplified version of a dish we're so used to in the UK is an absolute triumph: I could eat a whole calves' worth, though I probably shouldn't.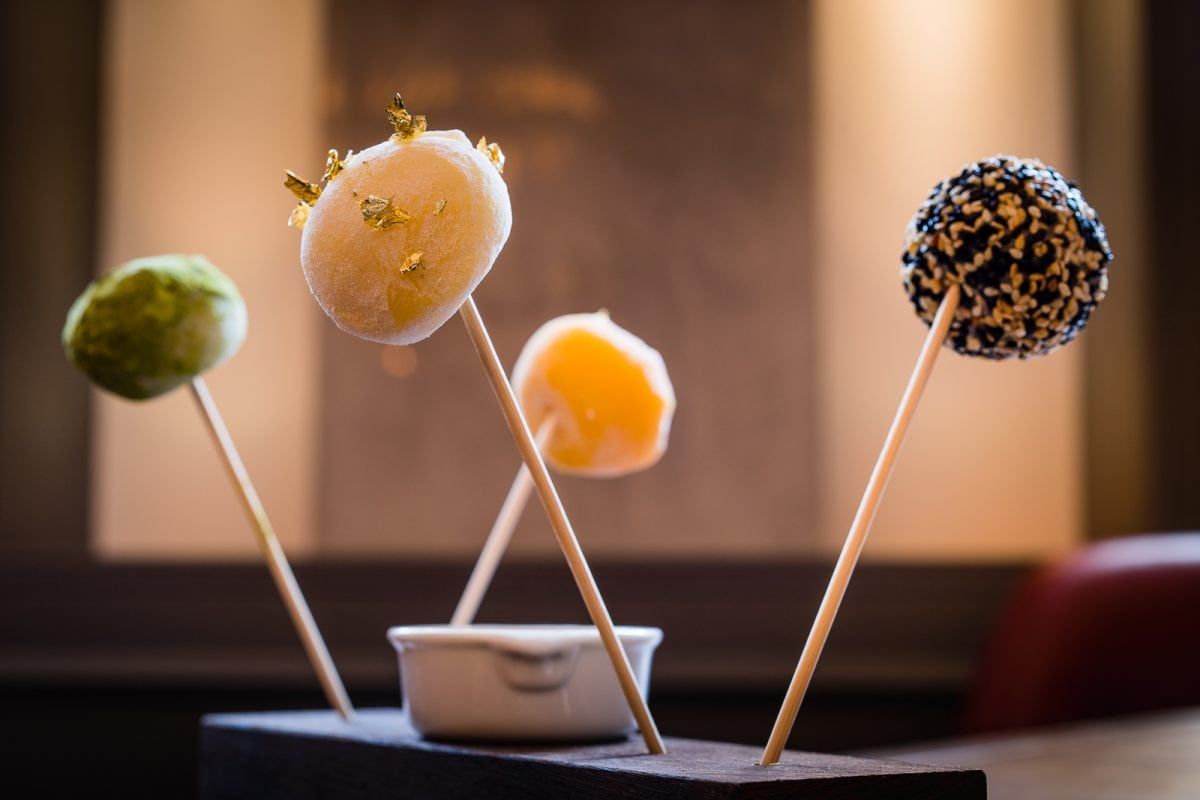 To finish, a selection of four iced mochi balls (£9) are flavoured with each matcha, coconut, mango and yuzu. The ice cream is revitalising, but the taut, perineal, flaccid skin has unpleasant texture with alarming familiarity that doesn't belong in the dining room. Better is the chocolate moelleux coated in green tea powder (£9) with its molten centre, with a Vesuvius eruption across the plate. An even better conclusion though, are the fine selection of green teas – perfectly brewed in the kitchen, refreshing with caffeine to sate diners having inevitably indulged on ludicrous portions of Mei Ume's mostly enjoyable Chinese and Japanese food.
Mei Ume can be found at Four Seasons Hotel London, 10 Trinity Square, London, EC3N 4AJ.
RELATED