Although London became quickly proliferated with Chinese, Indian and French restaurants after the Second World War, Japanese restaurants were slow to catch on. Opened in 1974, Ajimura is documented as London's first Japanese restaurant, eventually succeeded by a boom in popularity surrounding sushi. By the mid-1990s, sushi had become big business in London, notably showcased via futuristic conveyor belts. Established in 1994, Moshi Moshi was the UK's first restaurant to employ a hypnotic conveyor belt, yet YO! Sushi's strand of bastardisation is undoubtedly the most popular: opened in 1997 as Britain's first sushi chain restaurant.
With this increased popularity, however, authentic Japanese food was only available for a select few outside of the scarce chain restaurants – generally expensive and only available from flashy, upmarket establishments. Other prominent elements of Japan's unique culinary dexterity were also overlooked. Fortunately, some of comfort food synonymous with Japanese izakayas has been explored further in recent years. Named after a breed of chickens renowned for their robust flavour and freshness in Japan, Brett Redman and Natalie Lee-Joe opened Jidori in Dalston at the end of 2015, championing yakitori typically found on the menus of so many Japanese izakayas and casual Yakitori-yas. A brand new Covent Garden restaurant soon followed – quietly opening earlier this year – taking over a Georgian townhouse on Catherine Street.
Literally translated as "grilled chicken", yakitori traditionally favours chicken – with a distinctive nose (beak) to tail approach. The new Covent Garden restaurant continues to focus on yakitori yet head chef Shunta Matsubara's menu carries some new additions. Chicken remains a key focus, no less, using free-range birds sourced from Yorkshire. Moreover, the restaurant also has a specialised karaoke booth. While, in Britain, karaoke booths are where our favourite songs go to die: it's a tremendously popular social activity in Japan. After dinner, I hear the feint murmurs of 'Mr Brightside' being caterwauled from downstairs, like a discordant football chant.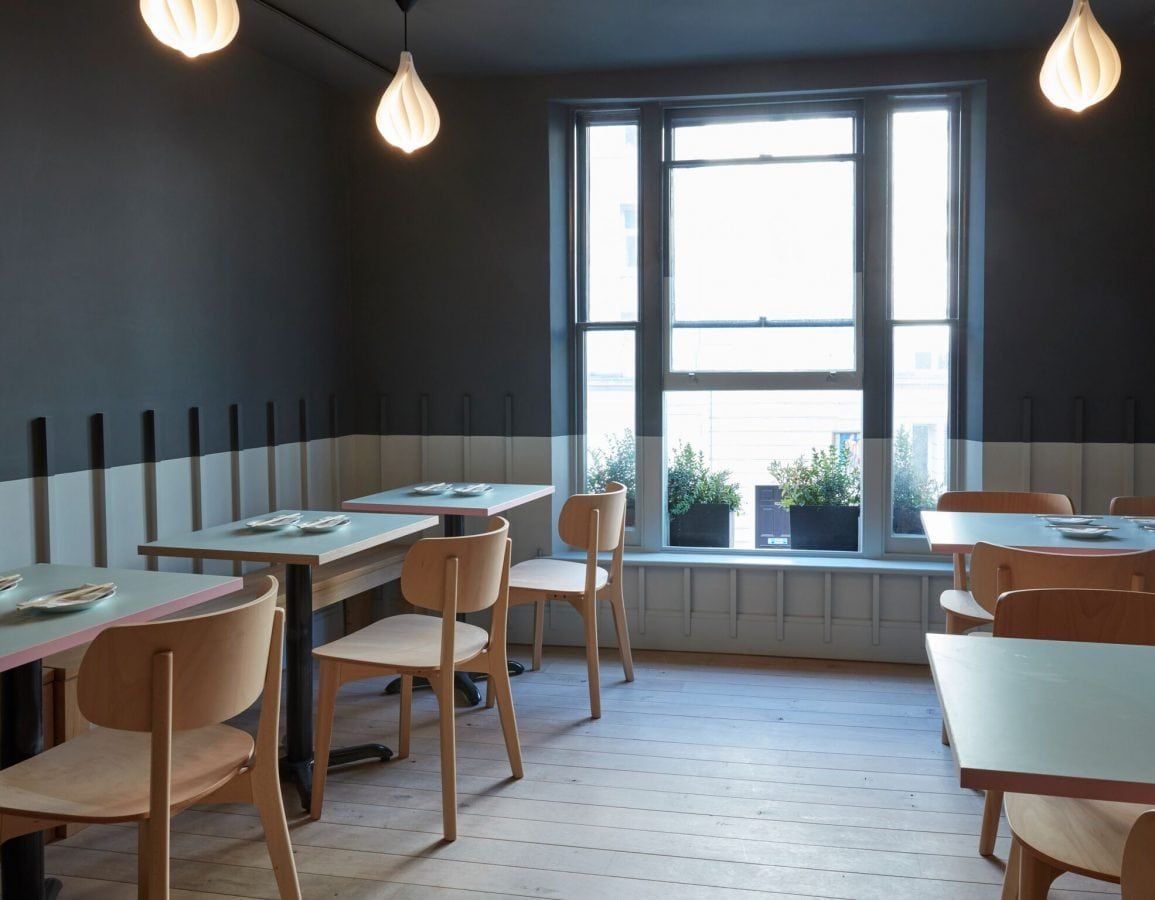 Like the Dalston restaurant, Jidori 2.0 has sleek, minimalistic décor, festooned with hard, light wood furnishings, pastel table tops and walls painted with a dark palette of navy blue and charcoal. Conversely, the main dining area is light; cosy but amply spacious. Service is casual but appositely attentive. To drink, the wine list is concise with just one of each white, red and rosé wine – though the sake menu is reliably solid.
As for the food, the yakitori served at Jidori aren't necessarily the jewel in the menu's proverbial crown – unusually. Instead, the katsu Scotch egg is an assured highlight. A play on a constantly revised British classic, Jidori's cricket ball of panko-crusted sausage meat and soft-boiled egg harbours a soft yolk which acts as an ambrosial accompaniment to the katsu curry sauce rife with honey and garlic. A simple dish of mussels cooked in sake boasts a revelatory alternative to white wine: plump, well-seasoned and properly cooked, highlighting the importance of great produce which shines when untroubled by cheffy excess. A selection of pickles (carrot, celery, daikon, mushroom and radish) also celebrates ingredients. Although the radishes bestow an unpleasant waxy smell – not unlike Babybels – the pickling liquor has enough acidic, palate cleansing fervour to become excited about. Koji chicken features thighs dredged in crisp batter, properly cooked and showered with bottle green nori salt.
Cooked over a custom made Kama-Asa Shoten grill, sourced directly from Tokyo, two yakitori variants sampled are both fine. Paired with smoked bacon, chicken hearts have profound flavour but they're bereft of the necessary, meticulous attention to detail in their preparation; still veiny and visibly arterial. The depth of flavour achieved with the tare – an intense sauce of sake, soy and mirin – is compensatory, nonetheless, with it's balance of sweet, savoury, umami notes. Aubergine yakitori, on the other hand, isn't exactly authentic yet packs more tremendous depth of flavour. The aubergine flesh is slightly smoky, bolstered by lashings of miso butter to deliver lasting umami punch.
Jidori's take on panna cotta is served in a glass, perhaps suitably. The unset cream's liquid texture is faltered even further by the topping of shaved ice which melts at a pace that's impossible to keep up with. Fortunately, the much celebrated ginger ice cream is also served at the new Covent Garden restaurant. A scoop of ice cream has mild ginger flavour, complemented by sweet miso caramel, black sesame and sweet potato crisps which add pleasing depth of texture. A modern take on classic izakaya fare, Jidori's eastern drinking food continues to posit there's far more to Japanese food than superfluous sushi.
Jidori can be found at 15 Catherine Street, London, WC2B 5JZ.
RELATED
https://www.thelondoneconomic.com/food-drink/kikuchi-serves-londons-best-sushi/07/08/
https://www.thelondoneconomic.com/food-drink/restaurant-review-sticksnsushi-victoria/07/03/
https://www.thelondoneconomic.com/food-drink/restaurant-review-sushi-tetsu/17/01/