Consisting of 54 countries, Africa is the world's second largest continent. Over the past few decades, African culture has made an immeasurable impression on world culture (art, music, fashion), but so many of us still continue to struggle when discussing the Land of the Sahara. Remember when Kanye West referred to Africa as a "country", in a tweet to Mark Zuckerberg?
Still, as we begin to delve further into deep exploration of regional Chinese and Indian cuisine in London, we have difficulty in escaping the broad, unhelpful 'Africa' label when pinpointing national African cuisines. In 2018, however, this is slow beginning to change, with numerous London restaurants championing local cooking from countries and regions. And it's about time. South of the river, Kudu in Peckham has quickly garnered a solid reputation, flying the flag for South African cuisine. Elsewhere, Hammer & Tongs advocates braai cooking in Farringdon, Khamsa in Brixton specialises in Algerian and Zeret Kitchen in Camberwell has an Ethiopian focus. Residing within the new St James' market development, Ikoyi also opened last summer. Named after a wealthy neighbourhood in Lagos, the restaurant serves a menu of Nigerian-inspired dishes, showcasing West African flavours reimagined with a fine dining edge. Impeccably refined, but occasionally expensive.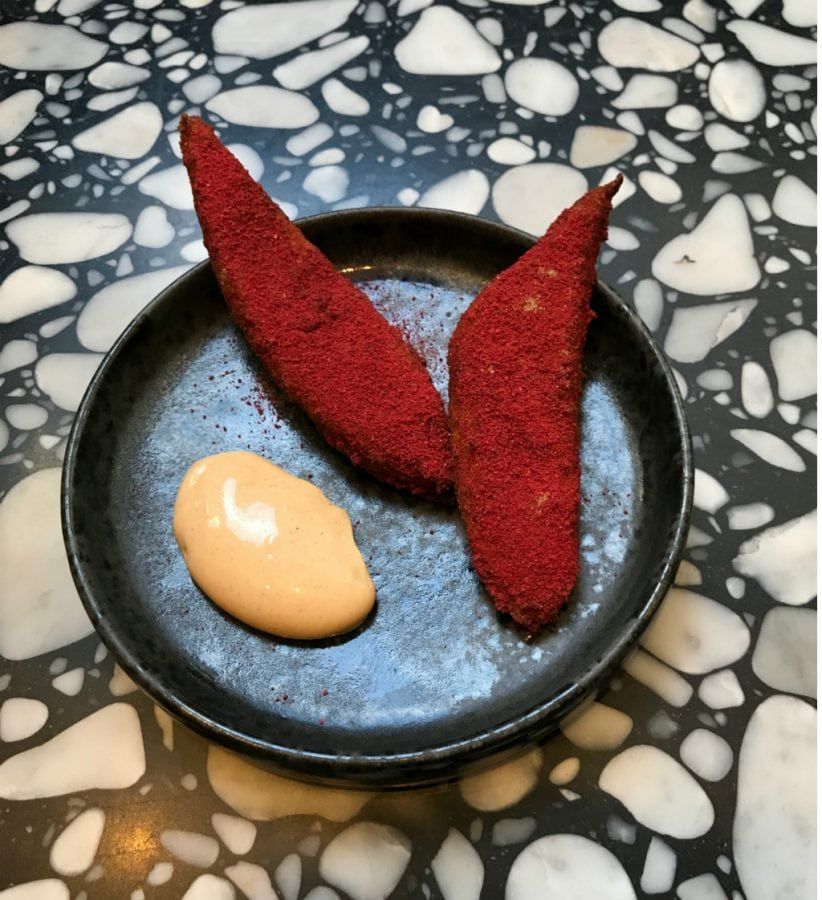 On a back street near Piccadilly Circus, Ikoyi is cosy, making full use of its windowed façade which allows light to flood the room festooned with light wood tables, verdant foliage and heavy cowbell light pendants that hang low enough to strike anybody taller than 5'4''. The room is impossibly stylish but comfortable (even though the tables are crammed in like sardines). Service is equally sharp, charming; and then there's the food. Dinner begins with two bite-sized tarts of bone marrow whipped with crème fraiche and sprinkled with Dambu Nama – Nigerian dehydrated beef (£6.50). Although delicate, the tarts have outrageous depth of earthy flavour, prevalent alongside insalubrious bone marrow. Roasted plantain (£5.50), dusted with raspberry powder and served alongside a daub of smoked Scotch bonnet-infused mayonnaise, also has explosive flavour. Spicy, sweet and smoky, the dish awakens the palate for what's yet to follow.
A starter of octopus (£15) features two tentacles, perfectly griddled to achieve buttery texture, joined by smoky calçot onion and thick green Ndolé sauce. Next, a plump duck breast (£30) is served impeccably pink, though the skin is still flabby. With the duck, a smattering of candied bacon and pungent selim pepper compliments the duck and bitter chicory leaves, completely elevating the dish. A dribble of sauce would be appreciated, nonetheless. Another showcasing Wagyu beef (£35) vaunts some tremendous meat-cooking skill. Here, the breed's definitive intramuscular fat is well rendered, yet the beef is served medium-rare. On the side, a glop of smoked eel is alas subtle, overwhelmed by the brackish, acerbic flavour of Iru (fermented locust beans). Elsewhere, broccoli spears are served firm, contrasting the giving hunks of beef.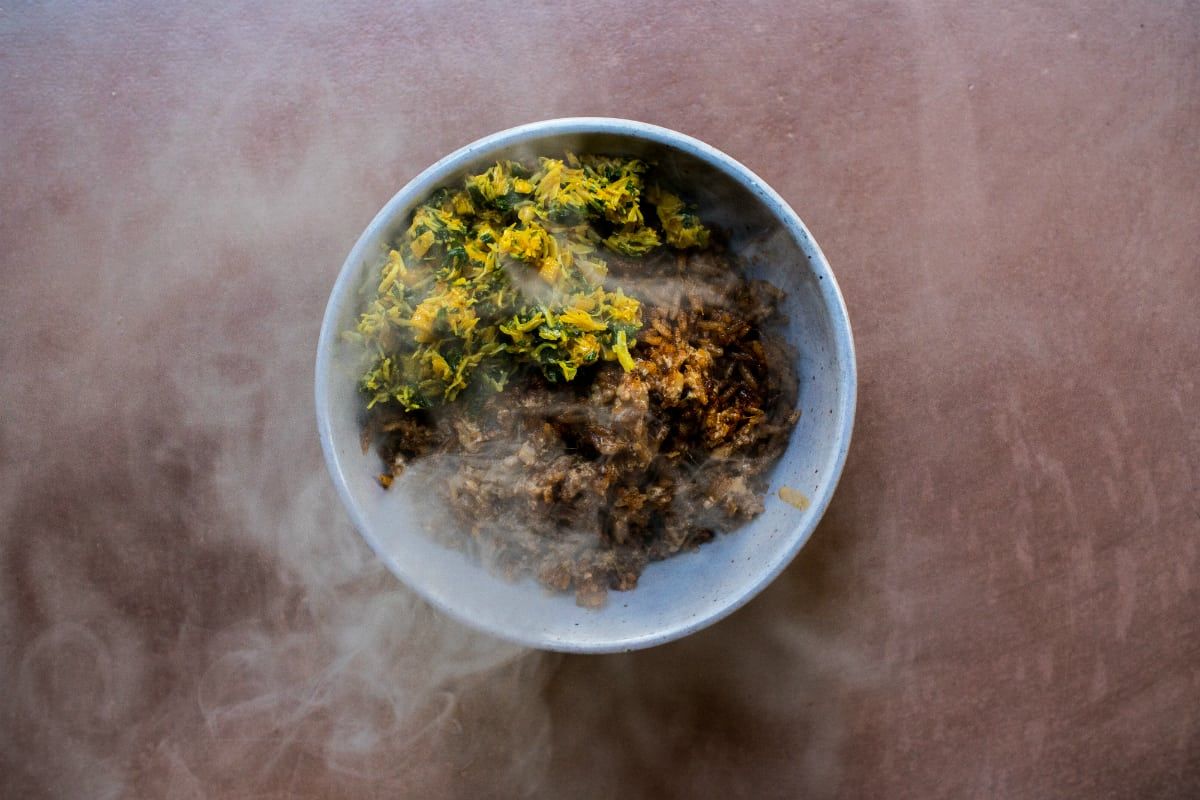 Alongside the mains, Jollof rice arrives in a tureen, uncloaked at the table to produce a plume of pungent smoke. Having caused controversy since opening, Ikoyi's Jollof rice isn't necessarily authentic, but it's enjoyable and remarkable well-executed, nonetheless. Initially toasted, the rice is then cooked in reduced chicken stock alongside burnt onions, ginger and Scotch Bonnet chilli. On the side, the well-cooked rice is paired with some shredded white crab meat flecked with apple, harbouring a smoky flavour that's pleasant but slightly overwhelms the delicate crab meat, otherwise fantastically spiced.
Highly recommended ("it tastes like peanut butter and jelly") 'Groundnut & Zobo' (£8.50) is a peculiar conclusion. Silky ice cream tastes like peanut butter, unsurprisingly delicious with a crowning jam element, served over hard meringue. Unsurprisingly popular, this is a fine end to a memorable dinner at one of central London's most exciting new restaurants.
Ikoyi can be found at 1 St James's Market, London, SW1Y 4AH.
Header photo: Thea Lovstad
RELATED
https://www.thelondoneconomic.com/food-drink/restaurant-review-hammer-tongs-farringdon/02/05/
https://www.thelondoneconomic.com/food-drink/restaurant-review-rigo/21/03/
https://www.thelondoneconomic.com/food-drink/review-tate-modern-picasso/23/03/