Damien Hirst's Pegasus centrepiece has been the subject of much publicity since Caprice Holdings announced plans to open Brasserie of Light in Selfridges at the end of last year. But with the crystal-studded instillation and its 30-foot wingspan dominating the restaurant, it's perhaps unsurprising that some of the food served seems like a slight afterthought.
The final part of the department store's £300 million investment into its London flagship, Brasserie of Light is the latest from Richard Caring's Caprice Holdings, joining the likes of Scott's, Sexy Fish, Daphne's and The Ivy. Set across three floors, the restaurant is accessible through the menswear department on the first-floor, or via its own dedicated entrance on Duke Street, allowing the restaurant to remain open once the store has closed. At lunch time, a Brasserie of Light doorman is on hand, which seems unusual given the close proximity to the Selfridges-employed doormen within spitting distance.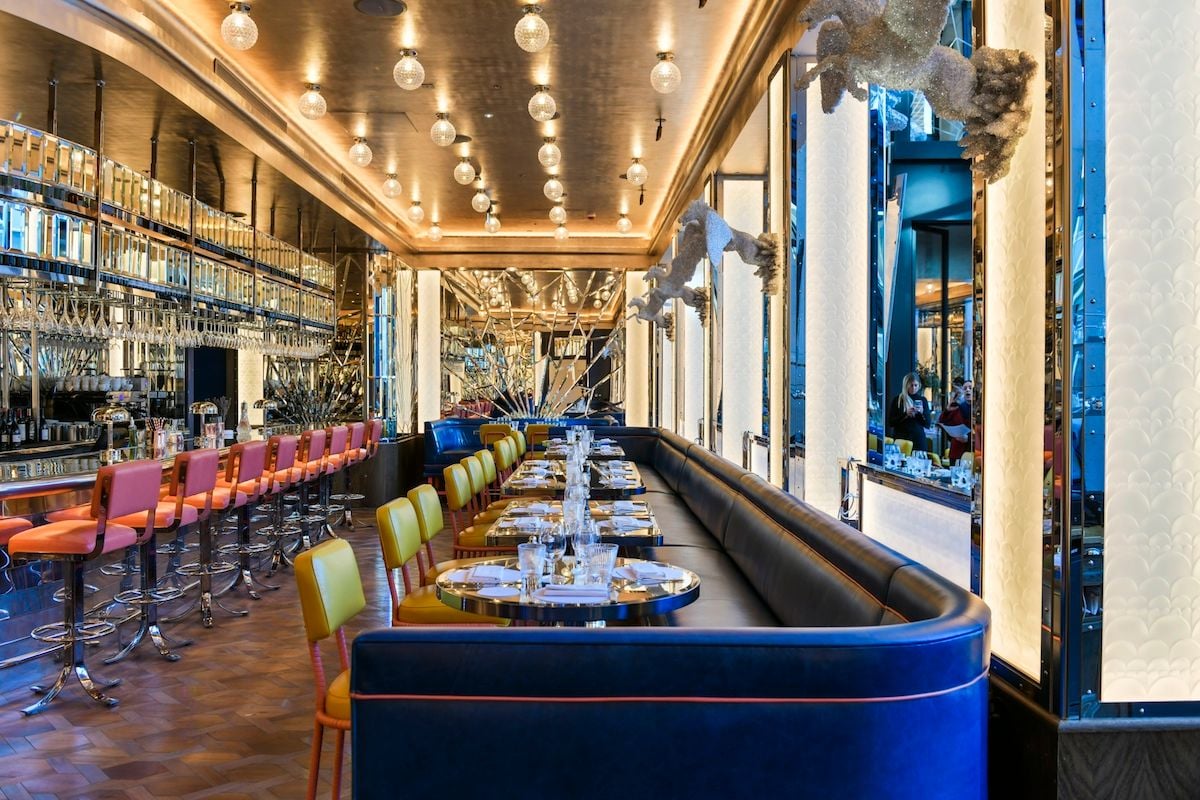 Inside, the space with its double-height ceilings has a bold Art Deco theme, designed by Martin Brudnizki (also behind private members' club Annabel's recent facelift). Art Deco mirrors are joined by etched glass room dividers, plush leather banquette seating with a colour scheme of aquamarine and English mustard, closely-packed mirrored tables and the omnipresence of Hirst's Pegasus, galloping in mid-air. Fitting the restaurant's name, floor-to-ceiling windows look out onto St. Christopher's Place, allowing natural light to flood the dining room at lunch time. Waiting staff are formally dressed, while sequinned Pegasus brooches chime in with the restaurant's vociferous glamour.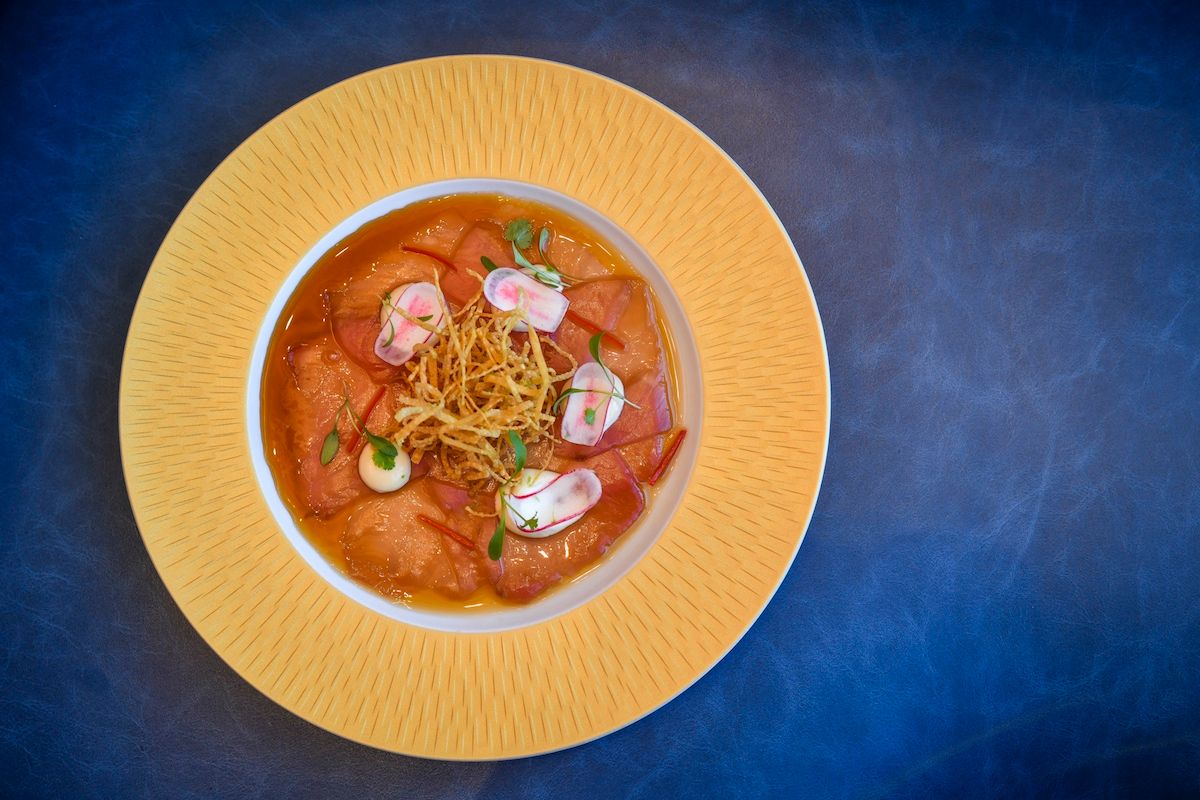 As for the food, the majority of the menu continues to champion the upscale comfort food championed by The Ivy, with former Balthazar chef Emanuel Machado heading up the kitchen. Brunch is also served, as well as afternoon tea. The menu's numerous vegetarian options (not restricted to uninspired halloumi or mushroom burgers) is also notable – refreshing, even. Seated in the shadow of the Pegasus centrepiece, lunch begins with tuna carpaccio (£9.50), comprising thinly-sliced slivers of fridge-cold fish harbouring a hum of iodine, slick tangles of crispy onion and blobs of wasabi mayonnaise, slightly overwhelming the rest of the dish. Better is the sesame fried chicken (£7.95), cloaked with craggy batter and a slightly parsimonious smattering of sesame seeds, decorated with fronds of coriander. The chicken is fine, though the accompanying avocado features a bullying element of jalapeño which clashes rather than complements.
More chic avocado features in a shrimp burger that's served solo on a silver platter, expensive at £16.95. Here, a glossy potato bun ensnares ribbons of white radish and pickled fennel, plus a patty of prawn and avocado, pepped-up with a whisper of chilli, not unlike a crab cake. Fries are available as an add-on with a supplementary charge of £3.95: satisfactory, but in desperate need of seasoning. Lobster spaghettini (£29.50) has been touted as a signature dish of the restaurant, and unsurprisingly so. Al dente spaghettini is rampant with a generous amount of lobster bathing in a sauce of blistered tomatoes and a suggestion of chilli.
View this post on Instagram
Dessert at Brasserie of Light is the menu's key spectacle. 'Orbit' (£8.75) is attractively presented, causing neighbouring tables to audibly gasp, easily ample for two. A black, wide-rimmed bowl is decorated with cheffy swirls of sugar work and popping candy, while the dish features a sphere of white chocolate that's sprayed silver, entombing dark chocolate mousse, hazelnut praline ice cream and honeycomb, surrounded by a pillow of flavourless milk foam – an indulgent end to lunch and a sugar-fiend's dream.
With at least 30 tables and fewer than five members of waiting staff on the floor, service (albeit friendly) becomes slow throughout the duration. The food, on the other hand, has its moments and is generally fine (better than it needs to be, in fact), if not deliriously exhilarating.
Brasserie of Light can be found at Selfridges, 400 Oxford Street, London, W1A 1AB.

RELATED
https://www.thelondoneconomic.com/food-drink/restaurant-review-pharmacy-2/07/03/
https://www.thelondoneconomic.com/food-drink/review-le-pont-de-la-tour-launches-the-cheese-room/18/01/
https://www.thelondoneconomic.com/food-drink/restaurant-review-baby-bao-haymarket/11/01/