With Michelin-starred restaurants Galvin at Windows and Galvin La Chapelle, chefs Chris and Jeff Galvin's set-lunch menu offers some of the best value fine dining in London. The same can be said for each of the other restaurants in the pair's constantly growing restaurant empire (Galvin HOP, Bistrot de Luxe, etc.) within their respective price brackets. Speaking to The London Economic in a recent interview, Chris Galvin said: "Both of us [Chris and his brother Jeff] feel strongly that when you visit an establishment such as La Chapelle or Galvin at Windows that there should always be great value entry levels."
Furthermore, the brothers are currently celebrating summer with a unique summer sale taking place at each of their London restaurants. From the 'pub deluxe' conjoined to Galvin La Chapelle – Galvin HOP's summer sale menu offers four courses and a drink for the princely sum of £25. Although physically attached to Michelin-starred La Chapelle, HOP is intentionally less refined. A casual spot, designed to reflect a city pub, which serves simple, high quality pub food in a casual setting on the outskirts of the square mile.
With the choice between a glass of house wine, or a half pint of Pilsner Urquell brought weekly from the Czech Republic, the unpasteurised pilsner is housed in copper tanks above the bar. Brewed with the same recipe since 1842, the effervescent beer is clean and refreshing with a modest hop bitterness and caramel sweetness. Here, the summer sale menu begins with a tarte flambée, served on a seafood platter stand, without cutlery or serving plates – demanding to be taken in hand. With its crisp dough, the large Alsatian pizza is plentiful for at least three, topped with a smothering of cream cheese, finely diced onion and lardons of bacon with deep smokiness.
Next, a mezze of summer vegetables compensates, in taste, for what it lacks in creativity. Some of the hunks of raw Mediterranean vegetables are superfluous, and pickled button mushrooms have a somewhat unpleasant texture, yet the broad bean houmous tastes sensational. Taking an under appreciated ingredient in the height of season and running with it, the houmous is silky with the depth of flavour from often under appreciated broad beans highlighted by fistfuls of pungent garlic. The fluffy pitta bread and wedges of lightly-brined artichoke are perfect accompaniments. Better still, Galvin at Windows head chef Joo Won's Korean fried chicken is surprisingly succulent, considering it's completely boneless. Properly cooked and lightly breaded, the chicken is generously slathered with sweet, sour, spicy Gochujang sauce and topped with sesame seeds – Queen of seasoning.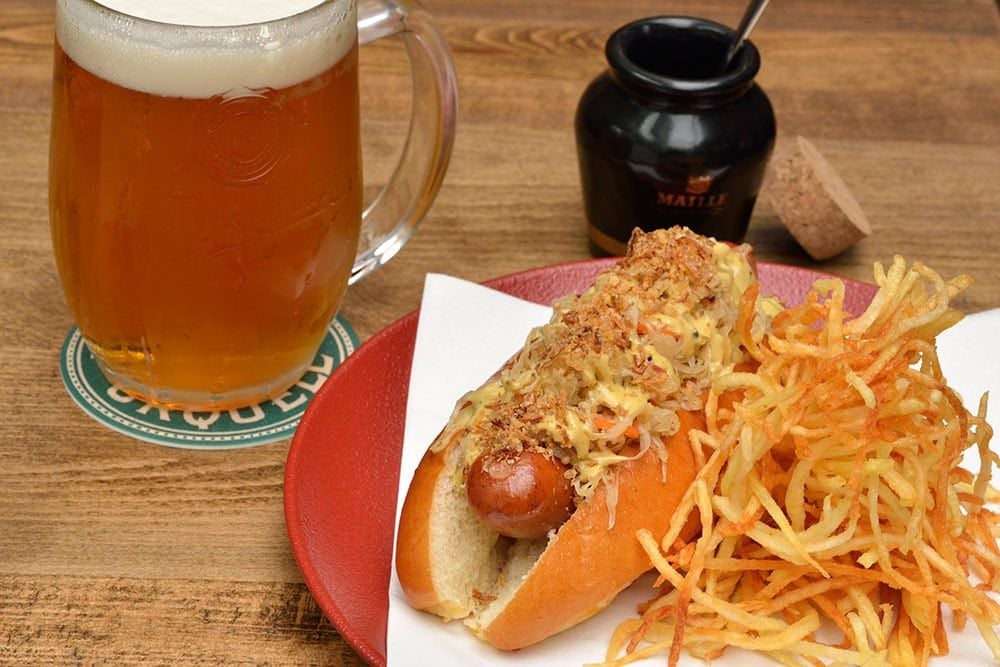 For mains, the "Best of HOP" menu features either the Galvin Dog Deluxe, Galvin Burger Deluxe, or HOP Seafood Pasty. Recommended over the burger, the hot dog is served in a glazed brioche bun and features a smoky frankfurter with piquant tones of red chilli. On top of the sausage, fistfuls of sweated onions are drizzled with a mustard-mayonnaise sauce flecked with decadent truffle, making this one of the most refined hot dogs currently available in London. The seafood pasty, on the other hand, has thick pastry, which contains chunks of monkfish, cod and prawns all coated in a rich creamy sauce. Though dense, the pastry is cooked properly, as are the filling components. On the side, brown crab mayonnaise is puissant with crab, plus ambrosial salinity redolent of the sea.
To finish, banoffee pie is delicate, topped with lime zest, but somewhat forgettable. The Galvin doughnut, however, is (perhaps wrongly) gratifying: insalubrious, thick, filled with set custard and glazed with a flood of sickly caramel. With each bite I can feel years dwindling from my natural life span. The kitchen here is "very proud of the doughnut", by all accounts. I'm proud of myself, in fact, for being able to demolish the whole thing without the necessity of a defibrillator-wielding paramedic.
At Galvin HOP, the quality of produce served is ineffably high, the atmosphere is refreshingly informal, and the service is thus appropriately casual. Until 4th September (2017), you're also unlikely to find a four course dinner, with a drink for just £25 – regardless of value – elsewhere in London at the moment.
Galvin HOP can be found at 35 Spital Square, London, E1 6DX.
–

RELATED
https://www.thelondoneconomic.com/food-drink/restaurant-review-galvin-la-chapelle/04/05/
https://www.thelondoneconomic.com/food-drink/chef-chris-galvin-talks-french-cuisine-family-bastille-day/12/07/