This week we ventured over to 1766, the new front of house bar and restaurant at the historic Old Vic Theatre in Bristol.  Turns out, we were in for a real treat.
1766 Bar & Kitchen is set in the stunning front of house redevelopment of the historic Bristol Old Vic Theatre. The theatre's multi-million-pound revamp only opened its doors at the end of September 2018. It's fair to say that the makeover is impressive.
On arrival to the venue, guests are met by the original 1766 theatre façade wall, which is now fully exposed as the front of the building has been spliced open. The mix of contemporary and historic is beautifully amplified by theatrical lighting.
Although the restaurant and bar acts as the perfect pre-theatre destination, it's open to everybody, serving breakfast, lunch and dinner throughout the week.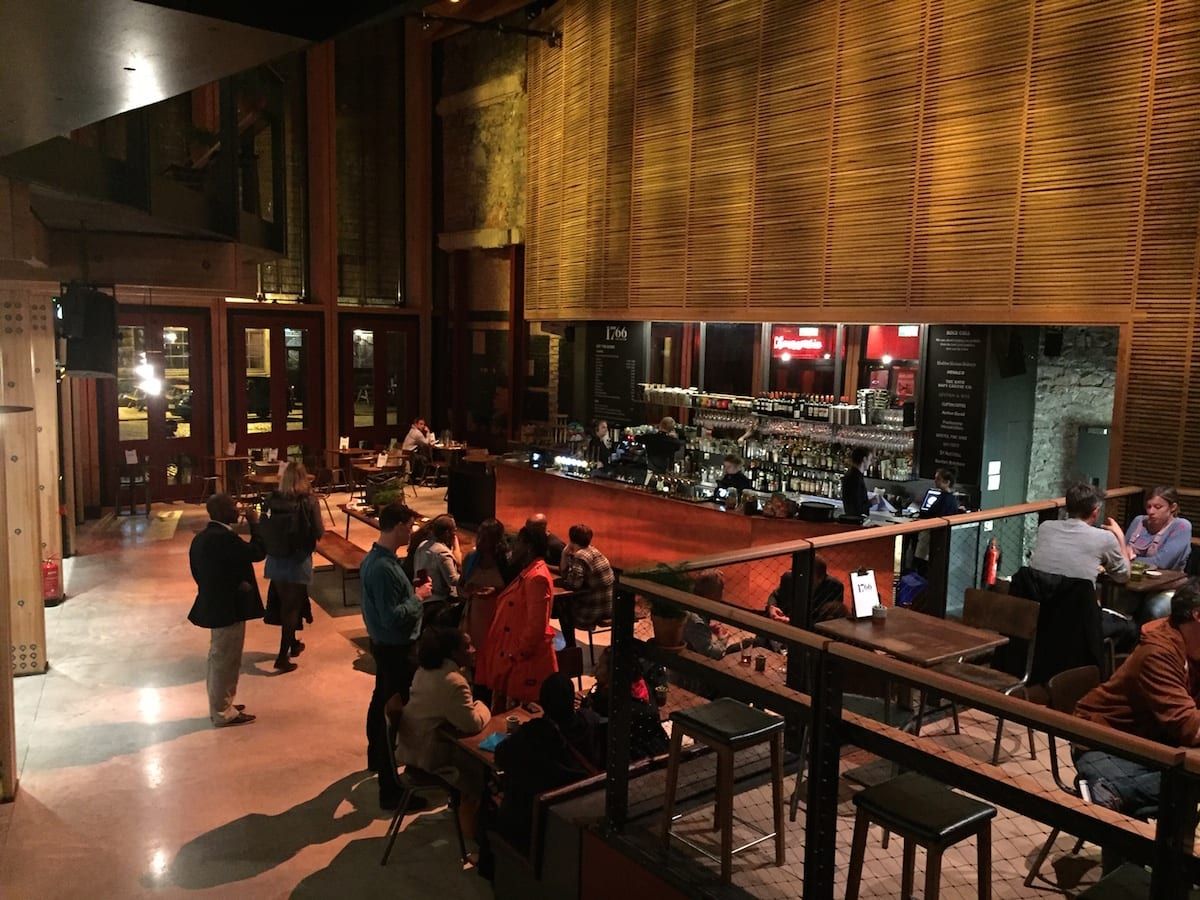 Pre-show dinner menu
In the evening, Theatre goers and walk in diners can choose from a full seasonal menu and pre-show dinner. 1766 offers two courses for £15.95 and three courses for £19.95.
The menu was wonderfully put together so choosing from the many tempting dishes was tricky. For starters we plumped for the Deep fried Homewood Cheese ewes curd, kale, chick pea and beetroot (v) and the Smoked mackerel rillette, pickled cucumber, dill and toast. Both dishes were excellent.
For mains we sampled the Miso glazed salmon, served with black rice noodles, vegetable salad, bonito flakes, sesame and soy, and the Crisp confit duck leg, served with Puy lentils, kale, quince compote and jus. This was washed down with a pint of Bath Ales' Sulis English larger.
The meal was rounded off by sharing two deserts, a sticky toffee pudding, butterscotch and double cream, and a Riz au lait, coconut, lime and vanilla, orange and toasted sesame.
Theatre Dinner Menu – Don't wait for tickets
Our advice is, don't wait until you have theatre tickets before visiting 1766 Bar & Kitchen.
As reviewers we're extremely lucky to taste great food on a regular basis. However, it's rare to try such good food at such astonishing value.
We were impressed by the overall quality of the dishes. Every course was well constructed, expertly delivered, hearty, and delicious. This is truly great food, using the best ingredients, at affordable prices. To deliver three courses of this quality for under £20 is astonishing. 
Italian born Head Chef Coco Barone has worked magic by putting together a mouth watering menu that can be a weekly treat, rather than an annual one.
Upon enquiry were informed that Coco has worked in restaurants across Europe as well as the Glassboat and Rosemarino restaurant in Bristol. Coco's Italian roots mean she strongly believes in using high quality, local and seasonal ingredients prepared simply to bring out flavour. Mission accomplished here.
1766 is run by General Manager Barbara Wragg who received 2 Rosette recognition in 2012 with the Glassboat. Since then Barbara has been
managing the huge team at Bambalan. It's no wonder that 1766 is off to a flying start. Long may it continue.
Breakfast, lunch, dinner and Sunday roast
Not only does 1766 serve breakfast, lunch and dinner, on Sundays diners can enjoy a choice of three roast meats accompanied by duck fat, rosemary & garlic roast potatoes, Yorkshire puddings, seasonal veg and gravy. There is always a vegan roast option available too.
The bar boasts an array of wines and a variety of beer on tap and by the bottle. There is also a comprehensive list of cocktails, with names inspired by the theatrical setting. 
1766 Bar & Kitchen is a warm and welcoming all day dining destination in the historic heart of the city with the buzz and creative vibe you'd expect within a celebration of the arts.
The Head Chef and General Manager have delivered a mouth watering menu in a special venue. Best of all, it won't break the bank.