Sir Douglas Bader's grandson has created a revolutionary flying team – staffed exclusively with disabled pilots.
After three years in the making, organiser Charley Bicker has selected Britain's first team of disabled pilots in memory of the WWII fighter.
Sir Douglas was a famous Spitfire ace who defended the UK during the Battle of Britain – despite being a double amputee.
His grandson Charley came forward with the idea of a flight event as a memorial and to boost the lives of the disabled.
The team-of-three will fly Piper PA-28 Cherokee planes over Blackbushe airfield in Hampshire for a 'technical air display' on September 5.
During the flight, the pilots are expected to perform skywriting manoeuvres using smoke – with their 'specially designed' hand controls.
Charley, 38, said: "Big ideas don't happen overnight, and this is a very ambitious project – we began with thirteen disabled pilots.
"The whole point of this project is to change the perception of disabled people – this is something that will amaze people.
"This is potentially very dangerous and we knew that only the best and most experienced pilots would make the final team."
Out of the pilots shortlisted for the flight, just three made it to the final stage, which will see the team perform a series of aerobatics.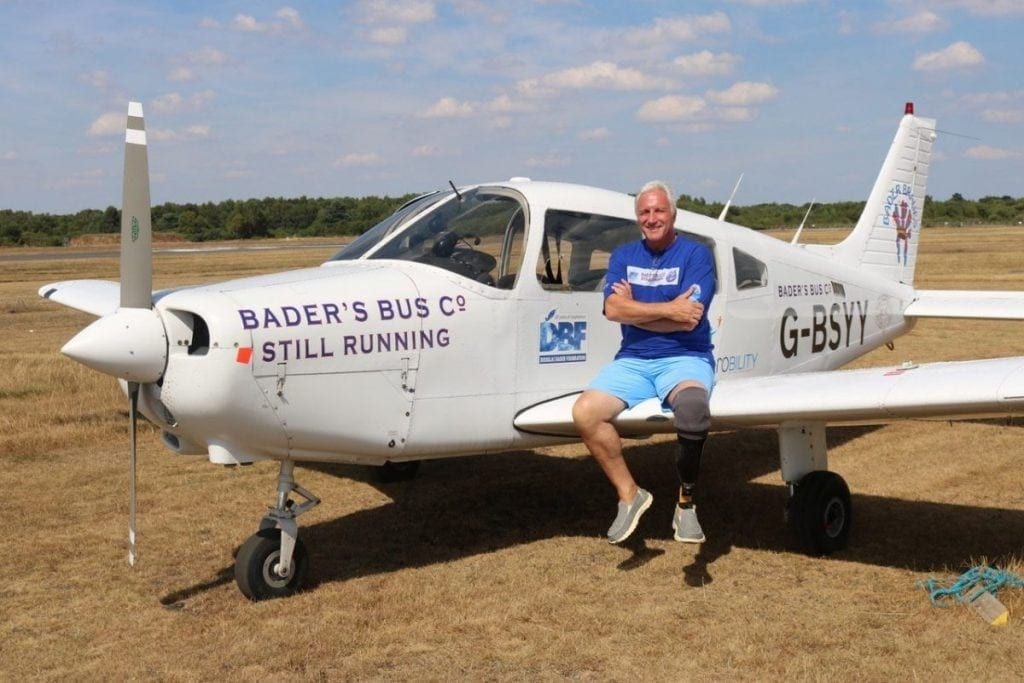 Over the past three years, a diverse team of disabled people enjoyed flight training – but just three made it for the final call.
The pilots have a mixed background, but all share a background in overcoming the mental hurdles associated with disabilities.
Team captain Mike Wildeman lost his left leg and described the preparation for the show as 'the most exciting thing he has done in his life'.
The 56-year-old will be leading a team of three pilots who have suffered spinal damage and injuries during combat in Afghanistan.
None of the pilots have previous formation flying experience, which challenge disabled pilots Alan Robinson, 38 and Barry Hobkirk, 68.
The team has called itself 'Bader's Bus Company' – after the transmission the spitfire ace once gave when he reached the shores of France in WWII.
It became so well-known that Johnnie Jonson and other spitfire pilots painted their Spitfires with the slogan 'Bader's Bus Company – still running'.
Charley added: "I want to remind people of my grandfather's story because it is too important to be forgotten.
"His determination to never give up, never give in, no matter what life throws at you has been a source of hope and inspiration to so many and I would like that to continue for many years to come."
The flight is funded by the Douglas Bader Foundation – which seeks 'to advance the physical, mental and spiritual welfare of the disabled'.
CEO of the foundation David Bickers said that he could not be more excited about the prospect of the flight, as a way to honour the famous pilot.
He said: "I certain that the creation of the first British air display team is a legacy of which Douglas would have been extremely proud."