"You're staying at the Aphrodite?!" my girlfriend's step-mum shrieks, when I tell her we're off to Cyprus for a few days. According to her, it's the best hotel on the island.
My old man's reaction is similar (less shrieking, more bitterness). Cyprus is where he took up golf – probably to get some rest bite from three raucous kids – when we lived there in the 90s. Back then, he played on what he describes as 'browns' – essentially dusty, muddy fields fashioned into golf courses.
But things have changed since those days. And Cyprus is now home to a PGA-approved golf course at the Aphrodite Hills Resort – a holiday village located around a twenty-minute drive from Paphos airport. It has just undergone a €2.5 million refurbishment so I'm invited to check it out.
The resort
Nestled at the top of a rocky cliffside above the Mediterranean sea, the resort is made up of luxury holiday villas and a contemporary hotel. The entire portfolio spans across 2.3 million square metres of craftily pruned agricultural land.
The hotel and well-scattered apartments are accessible by 11km of winding roads, which snake gracefully through lush green fairways, steep, stony ravines, as well as acres of olive trees and vibrant flowers.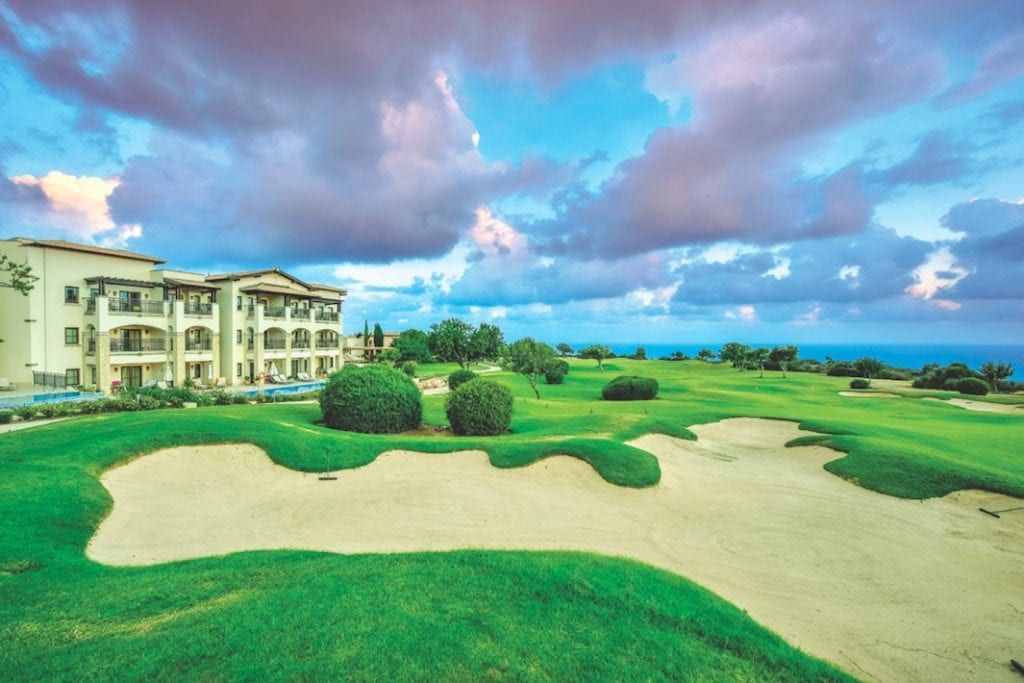 The digs
Guests choose between a suite in the Aphrodite Hills Hotel, owned by Atlantica Hotels, or a holiday villa (more suitable for families). One to four-bedroom apartments are available depending on the number of guests or budget. Sea and golf course views come with a greater expense, as do those private pools. Although all apartments come with communal pool access.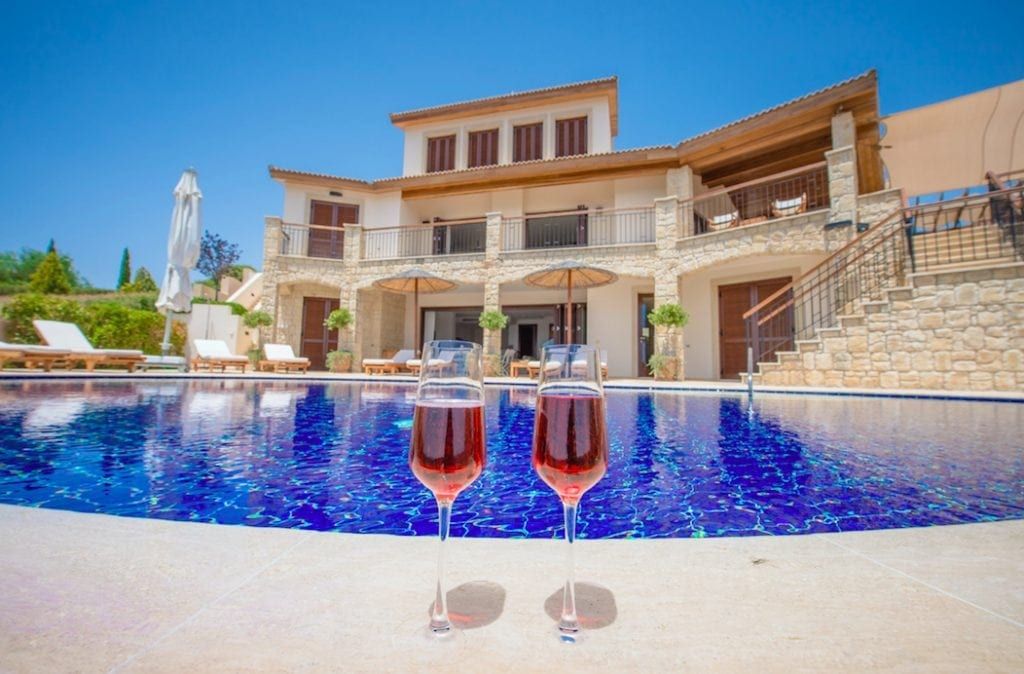 The pristine, sandy buildings on the resort sit naturally into their surroundings, like exclusive LA-hills-style condos. New properties must not deviate from the original architect's design brief to ensure consistency and style are maintained.
Villa interiors minimalistic, not unlike a Californian beach house, only with English sockets. All villas are air-conditioned (and heated for the offseason) and contain jacuzzi baths, well-equipped, self-catered kitchens and flatscreen smart TVs (with Netflix and satellite TV).
The hotel on the complex is five-star opulence with a family feel. There's piano bar with live music, eight restaurants, a gym and an indoor/outdoor pool, plus plenty of places for children to play. Rooms are decorated in keeping with the rest of resort – tasteful yet practical.
The grub
During the offseason, the eight restaurants are condensed to three. In summer months dining options range from Asian and a la Carte to local kebabs and a British-inspired pub.
Food in Elonas, the main restaurant, is classic all-inclusive fair catered towards British families (who make up 50% of the clientele). Sadly, it falls short of five-star cuisine. Less tradition Cypriot dishes and more burgers, pasta and pizza (usually with mayonnaise and tomato ketchup as an automatic accompaniment).
However, the breakfast is plentiful, wholesome and worthy of its high rating. Fresh juices, smoothies, a health bar and both hot English and continental breakfast are available, as well as freshly made crepes and waffles.
The hotel is also blessed with an extremely talented pâtissier who makes desserts worthy of Paul Hollywood himself.
Things to keep you busy
The facilities at the resort are most impressive of all. There are clay and hard tennis courts, a football pitch, 30-odd swimming pools, parks, horse riding facilities, an award-winning spa, Costa Coffee and most-impressive of all, a PGA-approved golf course.
After a recent refurbishment, completed earlier this month, it is the beacon of not only Cyprus' golf but Europe's too. Having been named the No.1 golf course on the continent for 2018. It's postcard-worthy views, impeccably-tended greens, and bleached white sand – imported from Egypt – make it a must-play course for any golf enthusiast.
English-speaking coaches and pros offer tennis and golf lessons year-round for all age ranges and abilities. They are good value and seemingly effective (I shaved two shots off my handicap after one lesson). Kids clubs and elite sports camps are also available during summer and winter times.
The people who look after you
The staff at Aphrodite Hills Resort are everything you want from a resort – charismatic, friendly and attentive (but not overly) with no hint of pretentiousness. Quality customer service is an art form and those at the resort (from the waitresses, bartenders, coaches and groundskeepers) are the Picasso's, Gaudi's and Ennio Morricone's of their respective industries.
This lovely resort is an ideal winter getaway for couples and groups and the perfect spot to take the children are any time of the year. It's secure, easily-accessible and there's that much to do you won't ever have to leave the resort.
Flights: Flights from London Gatwick to Paphos with EasyJet available for £70
How to get to the hotel: Local taxis available from the airport for around €20.
Accommodation cost: A private room in a two-bedroom villa with private pool starts at €200 per night (rates vary)
Spa costs: Treatments from €45
RELATED
https://www.thelondoneconomic.com/travel/hotel-review-hilton-cabo-verde-sal-resort/31/01/