Ras al Khaimah, the northernmost emirate of the United Arab Emirates, is looking to attract adventure tourists following the opening of the World's longest zip-line.
Thrill-seekers will travel at speeds of up to 120kph to 150kph at a height of 1,680 metres above sea level on top of Jebel Jais mountain.
The zip-line is 2.83 kilometers long – the equivalent to over 28 soccer fields – and features a cable weighing in at over six tons.
It was opened by HH Sheikh Ahmad bin Saud bin Saqr Al Qasimi with Guinness World Records officials in attendance.
"This is a great achievement for Ras Al Khaimah's international tourism ambitions," said Haitham Mattar, CEO of Ras Al Khaimah Tourism Development Authority.
"We are now receiving our largest-ever number of visitor arrivals and are confident that Jebel Jais Flight: the world's longest zipline, will earn the UAE's emirate of Ras Al Khaimah considerable recognition on the local, regional and global stage and propel the destination into the major leagues of global adventure tourism.
"The Jebel Jais Flight will become Ras Al Khaimah's flagship tourism product and will cement Jebel Jais as the adventure tourism hub of the Middle East.
"We are expecting to see an increasing number of adventure tourists coming from across the globe to try this bucket list experience."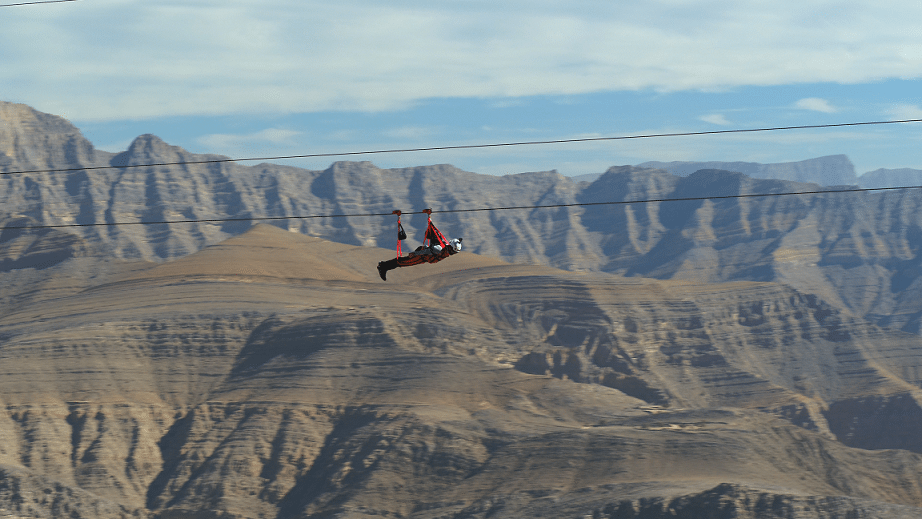 Delivery of the zipline, which features a steel cable weighing more than six tonnes and is suspended 1,680 metres above sea level, has been in the planning phase for over a year.
The process involved extensive feasibility studies, master-planning, comprehensive surveys, soil tests and construction simulations.
Maintaining sustainable environmental practices within all construction acts, strong anchor holes were drilled into the rugged Hajar Mountains that alone took over six months.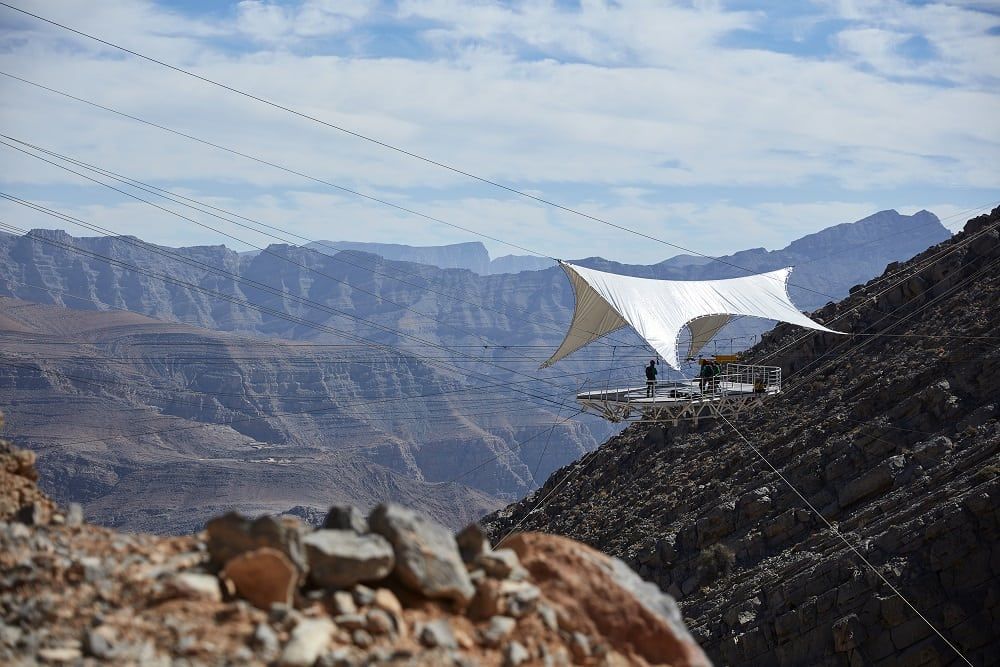 Thrill-seekers will be suspended above the mountain as they prepare to take the flight headfirst in a 'superman' style position.
The experience will see participants fitted with a special suit and equipment for the adventure, with the longest flight itself taking approximately two to three minutes.
Once completed, guests will finish the bucket list flight on a suspended landing platform – unique in the world – where they will be transferred to a second line, measuring in at 1 km, to complete their journey back to the ground.
"It actually comprises two main zipline cables, allowing friends and family members to experience and race together, adding to the fun and competitiveness of the facility," explained Jorge Jorge, CEO of Toro Verde RAK.
"Zipline pilots will experience a flight like never before while being secure and safe.
"While the time and speed they complete the flight in is dependent on weight and weather conditions, the whole experience is expected to last around two to three minutes, with top speeds reaching between 120 and 150km per hour.
"We anticipate the attraction accommodating a rider every five minutes on the two zip lines, equating to approximately 200 people per day, and around 100,000 per year.
"We also believe given its location in Jebel Jais, which is traditionally 10 degrees cooler than average UAE temperatures, we can operate during the summer months."
RELATED
https://www.thelondoneconomic.com/travel/how-have-cabin-crew-uniforms-changed-over-the-years/15/02/
https://www.thelondoneconomic.com/travel/humans-allocated-less-space-flights-animals-way-slaughter/16/02/