By Pat Levy
There's an allure to Greece that can't be found anywhere else. But put aside the sun-kissed islands, beautiful as they are, in favour of relatively undiscovered places on the mainland and accessible via modern, uncongested highways which make our overcrowded motorways look so last century.
The place is the Peloponnese and the more precise spot is Costa Navarino, the realisation of a dream of a local fisherman turned shipping magnate who spent his later years buying up more than a thousand tiny plots of land, 130 hectares in all, in order to create a holiday destination that would give employment to people living in the area. The result for visitors is an un-garish resort where the outré is outlawed but modern facilities and amenities abound.
There are two major hotels, two putatively eco-friendly golf courses, olive groves and gardens and glorious white sandy beaches where the sea and sky morph into one paradisal scene. The Westin Resort Costa Navarino is sensitively designed: stone walled buildings, gardens and winding paved walkways straight out of traditional Greek architecture. Rooms are spacious, designed for privacy, all enjoying sea views and many with private pools. On arrival guests are given a map of the campus and you'll certainly need it until orientation settles in.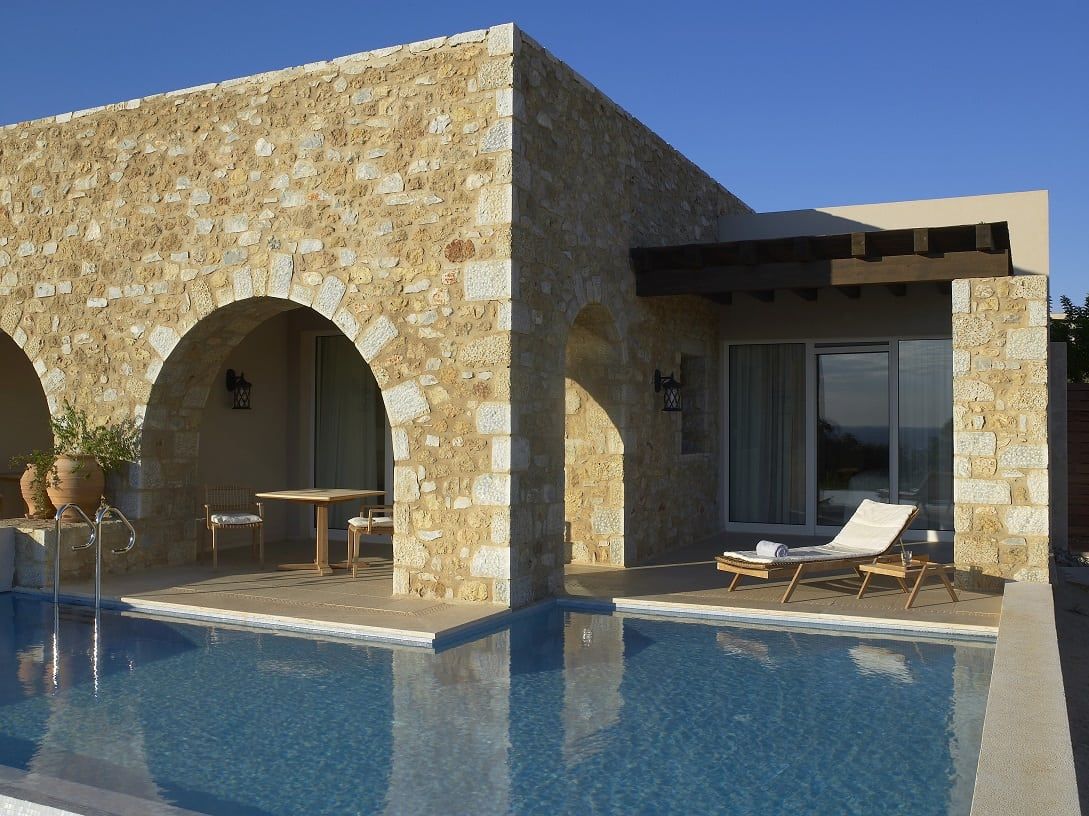 The hotel is family-oriented with superb facilities for children but – mercifully – the playgrounds, daily activities, staffed nursery, paddling pool and cinema are all quietly tucked away from grown-ups.
Child-free guests have their own fun activities, from biking to philosophy walks, golfing. Learning, or perfecting, the skill of kite surfing is an attractive option for beach time and it's good to know that no motorized water sports are allowed – a prohibition appreciated by the turtles that come to lay their eggs on the sand.
For maximum privacy and child-free serenity there is, to use its grandiose name, the Romanos Hotel A Luxury Collection Resort. Its visual distinctiveness is marked by the use of marble instead of stone but both hotels share an array of 20+ bars and restaurants, shops, spa and bowling alley.
Costa Navarino's landscaped grounds are testimony to the consideration that went into the resort's design. Ancient olive groves, amounting to over 15,000 trees, had to be removed during the construction process but they were preserved and duly replanted when the time came to populate the place with greenery. Citrus, mastic, fig, mulberry and pomegranate trees have been added, along with thousands of drought-tolerant plants like rosemary, tamarisk, lavender and thyme. There is a small kitchen garden where some of the food for the restaurants is grown but most of what you eat and drink comes from local farms and wineries.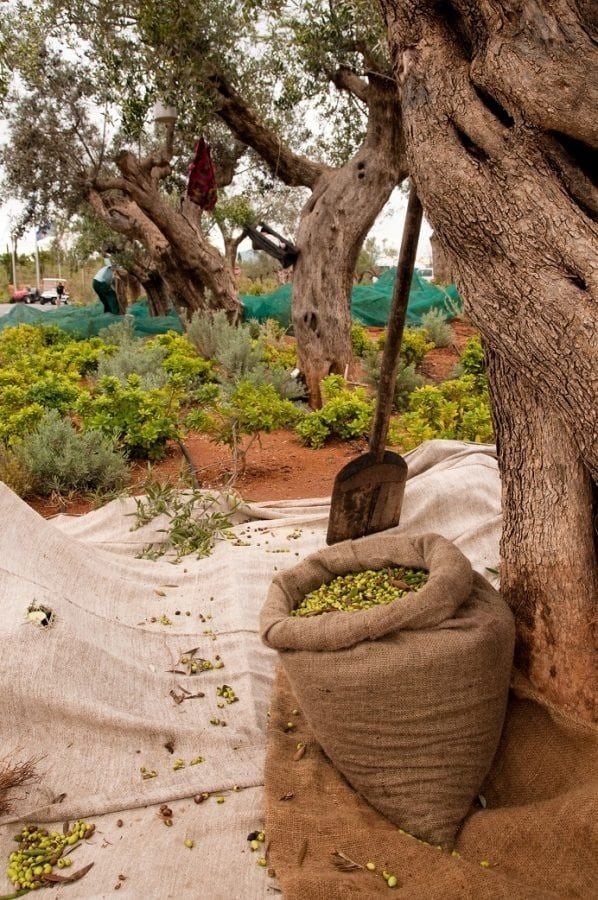 There are sound reasons for being cynical about environmentally-friendly golf courses but the resort does make an effort to reduce its impact on scarce water reserves. Rainwater and river water as it enters the sea is collected and recycled, photovoltaic energy is collected and more than a hundred kilometres of geothermal pipes provide heating.
Of the myriad places to eat in the resort the best for lunch has to be the Barbouni which sits on the beach, little boardwalks leading to sheltered tables with views of the sea and ballets of kite surfers filling the horizon. A simple Greek salad and a glass of ouzo with the breads and olives makes for a healthy repast or for more substantial fare there is grilled calamari; food doesn't come much fresher than this.
Slipping off the sandals and shorts, a more formal evening affair awaits at the Flame restaurant, with soul-settling views of the setting sun over cypress trees. The table and chairs in the lobby as you enter the building were carved from ancient olive trees that failed during the transplant – nothing wasted here.
Costa Navarino lies close to the Gialova wetland, a lagoon protected under European law and famous for its birdlife, including the endangered African Chameleon and flamingos in May.Paul Sherry's Birds of the Mediterranean (Christoper Helm) is a helpful guide.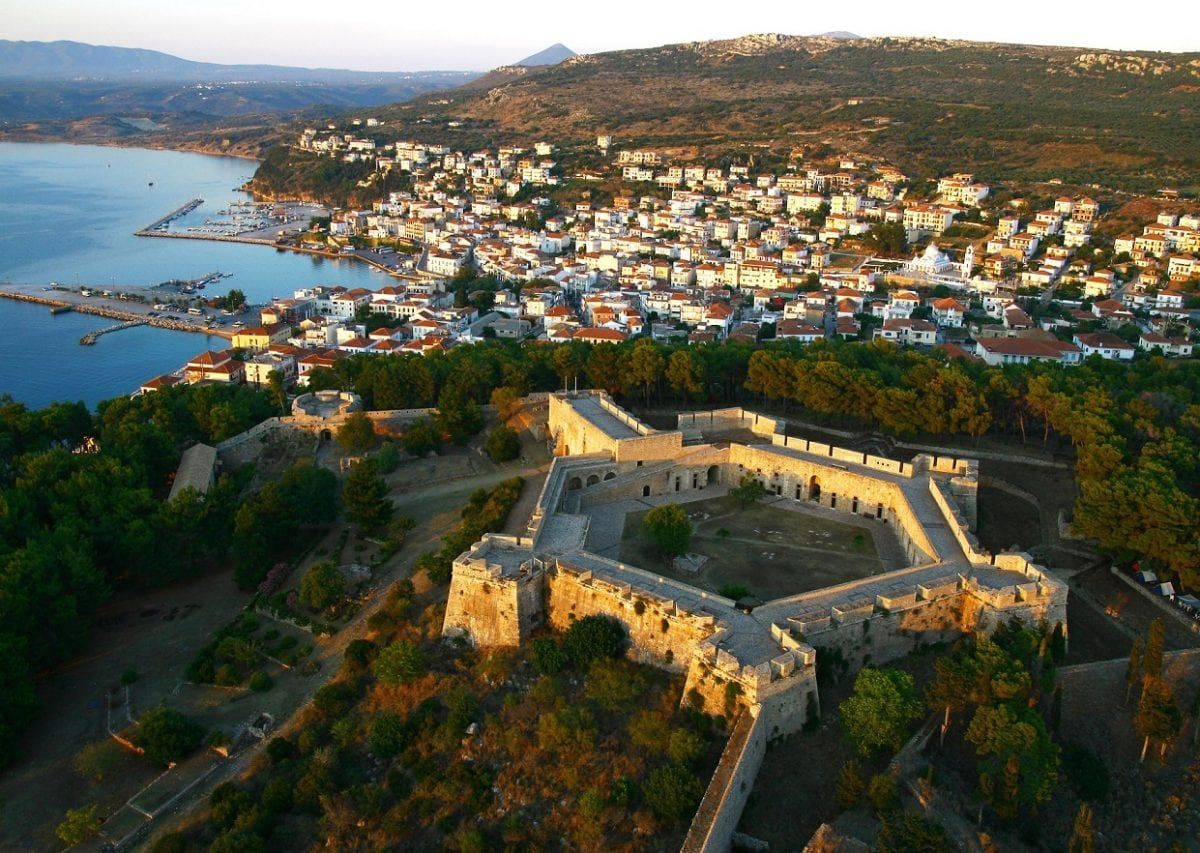 A short drive from the resort brings you to Pylos, a old-style Greek town where locals sip at extra strong coffee and snack on meze in the town square sheltered by an ageing plane tree. An Ottoman fort built in 1573 is home to a perfectly sized archaeological musuem complete with holographic linear B transcriptions (Pylos is mentioned in Homer's Odyssey).  On the road to Athens is the Palace of Nestor, an archaeological site set on a bare hillside surrounded only by pomegranate and olive trees and as bare of visitors as the Acropolis is heaving with them.
Aegean Airlines has several flights daily to Athens from where a smooth drive in less than three hours will bring you to Pylos and Costa Navarino. With bad deal/no deal Brexit looming, the idea of owning a villa in the Peloponnese has an increased appeal. For reading to keep you in a Greek mood, pack a copy of Peter Levi's The Hill of Cronos or Dmetri Kakmi's Mother Land (both published by Eland).
RELATED 
https://www.thelondoneconomic.com/travel/best-places-stay-chennai-puducherry/12/06/
https://www.thelondoneconomic.com/travel/beyond-invictus-toronto-must-see-sports-enthusiasts/05/10/
https://www.thelondoneconomic.com/news/worlds-botanic-gardens-contain-third-known-plants/25/09/