Hamburg has long been known as Germany's music capital and with countless events and festivals each year by the city's waterfront area – known as the urban shore – it's easy to see why.

At Hamburg's waterside, a multitude of exciting events and activities ensures a continuous flow of inspiration. Because at Hamburg's urban shore, people get together as a community. Whether it is at the MS Dockville, the ELBJAZZ Festival, the Elbfest, the popular Port Anniversary festival or the concert screenings of the Elbphilharmonie: this is where people of all ages get together to celebrate and enjoy the unique energy of Hamburg's event culture.
Hamburg's festival scene
Hamburg's Metropolitan Region hosts over 100 lively festivals each year and with the iconic Elbphilharmonie Hamburg concert hall featuring in TIME Magazine's "World's Greatest Places", the Hanseatic City is now more than ever a thriving music capital.

With so many festivals to choose from and many now in the process of announcing their 2019 line-ups, here are festivals set to attract many visitors this year: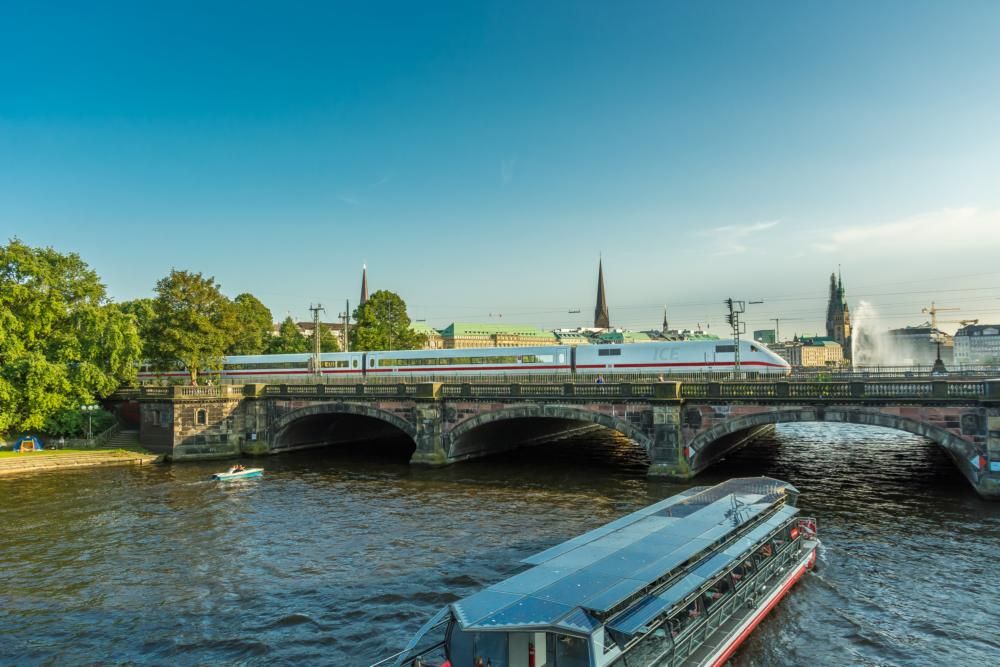 Vogelball – 3 August 2019
Vogelball is an electronic music festival with a twist, where festival goers dress up with glitter and feathers to celebrate all things birds. The festival's ethos is to let your hair down, forget your woes, and shake your tail-feathers in amongst the scenic backdrop of the MS Dockville site on the river Elbe. Now in its ninth year, the festival is becoming well known for its open mind, acceptance, and diversity which are championed at Vogelball with a lineup of artists as myriad as the festival-goers. A heady combination of outstanding electronic music and exuberant party-people brings warmth and wonder to the heart of Hamburg.

Reeperbahn Festival – 18-21 September 2019
The Reeperbahn Festival will present more than 900 events, spanning a range of genres across 90 venues in locations around Hamburg's lively Reeperbahn district. The area will see over 40,000 visitors over the four days. Since its debut in 2006, the Reeperbahn Festival has grown to become one of the most important meeting places for the music industry worldwide, and as Europe's largest club festival, it boasts a broad spectrum of emerging and more established artists. In addition to some 600 concerts by international artists held in a wide variety of venues, the festival programme includes events in the fields of fine art, film, literature, and education.
Wacken Open Air – 1-3 August 2019
The world's largest heavy metal festival takes place in Hamburg with metal music fans from around the world flocking to the city for three days filled with endless music. First held in 1990 as a small event with about 800 visitors and six local German bands, the festival has now grown immensely with a loyal following. 2019 will be the festival's 30th edition and set to be the biggest one yet for their anniversary year.
The Elbphilharmonie
The Elbphilharmonie concert hall has been a popular attraction from the get go and has cemented itself as a striking part of the city skyline and into the hearts of locals and tourists alike. The architectural and cultural landmark has breathtaking acoustics and a diverse programme, with tickets that are almost impossible to get your hands on. Visitors to Hamburg unable to get their hands on tickets can still enjoy the Plaza, a viewing platform which runs around the whole building, showcasing the city from all angles.

Hotel and waterside packages start from £105 (€116)
Experience the incredible offerings on Hamburg's urban shore with accommodation packages from Hamburg Tourismus as an easier way to book a trip to this Hanseatic city.

The price includes a two-night stay at a hotel including breakfast, one Hamburg CARD for free local public transport and reduced rates at numerous tourist attractions, a 1-hour harbour tour on the Elbe between the warehouse district and the Port of Hamburg, a 1-hour cruise on the Alster, plus 1 sightseeing tour on a red double-decker through the city. Click here to book your package deal.

Want to find out more?
For more information about visiting Hamburg or to book a trip visit www.hamburg-travel.com. Don't forget to share your stories on social media too, using the hashtags #urbanshore and #visithamburg.