A Scots footballer, who was the only man in history to captain both Everton and Liverpool, has finally been given a marked headstone 78 years after his death.
Andrew Hannah captained Everton to their first league Championship success in 1891, then led Liverpool to Lancashire League Division Two titles.
The fullback died on May 29, 1940, at the age of 75 and was buried in an unmarked grave at Kilbowie Cemetery in Clydebank, West Dunbartonshire.
But now, nearly 80 years on, the defender lies in a marked grave after the Everton Heritage Society and Everton football club intervened to pay tribute to one of their greatest ever players.
On Saturday, March 24, a ceremony organised by the EFC Heritage society, in conjunction with Everton Football Club celebrated the life of the footballer.
Andrew Hannah's granddaughter May McKenzie was delighted with the way the stone turned out.
The 86-year-old from Clydebank said: "They made a great job of the stone and the beautiful wreath they had put on it.
"My father would've been delighted if he had lived to see it. My grandfather was a very nice person who loved his kids.
"It was nice to know what Everton had done and they handed every one of us a rose to put on the grave."
Andrew Hannah was born on 17 September 1864, in Renton, Dunbartonshire.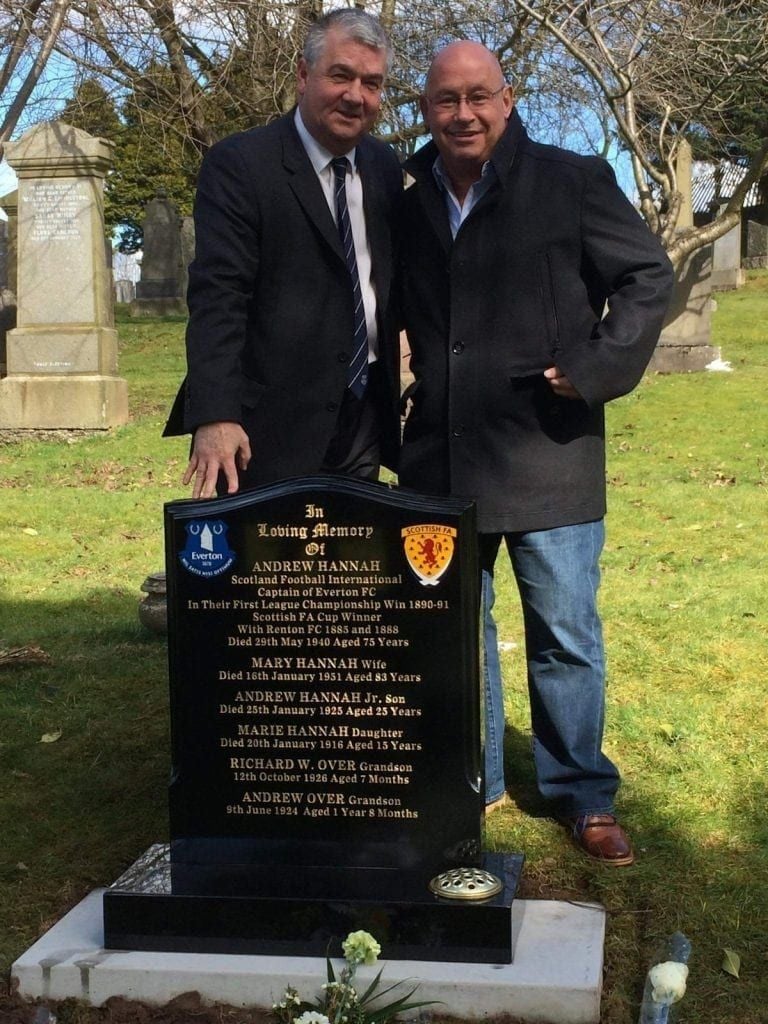 He won the Scottish Cup twice in his career, helping Renton beat Vale of Leven 3-1 in the 1885 final before winning 6-1 against Cambuslang in the 1888 final.
On March 23 1889, he arrived in Liverpool with Renton for a game against Everton which drew a crowd of over 12,000 spectators to Anfield.
The Toffees won 2-1 but Andrew must have impressed in the match as he signed for Everton shortly afterwards.
He was appointed club captain and in his second season, he missed just two league matches as he captained Everton to the Football League championship.
Andrew had taken part in 42 league FA Cup games for the club.
He returned to Renton for one more season and was then persuaded to join the newly formed Liverpool Football Club.
The fullback star captained his new team to both the Lancashire League and Football League Division 2 championships but tasted the bitterness of relegation before returning to Scotland.
Brendan Connolly, chairman of EFC Heritage society, compared the achievements of Andrew to those of some well-known footballers in Scottish and English football.
He said: "If you look at his achievement with Renton, I'd compare him to Billy McNeill, then he captained Everton, similar to Wayne Rooney, and Liverpool, like Steven Gerrard.
"To try and understand how important he was in modern football terms you roll those three players into one."
Brendan organised the ceremony with Tony Onslow, also of EFC Heritage Society, and the event was attended by more than 25 people – including former Everton player Ian Snodin, family members May, Michael Munro and Colin Downie and supporters of both Merseyside clubs.
Brendan added: "It was a good atmosphere.
"We had a piper who played a few tunes and then I said a few words at the graveside.
"One of the things we were taken to do is take account of the family's wishes and make sure that everything was right for them and give them as much ownership of the event on the day."