A gunman firing down at an outdoor country music festival from an upper floor of a nearby Las Vegas hotel has left over 50 dead and 200 injured according to the Las Vegas Metropolitan Police Department (LVMPD).
He has been named Stephen Paddock, a 64-year-old local man.
The mounting casualties from last night make the tragedy the deadliest peacetime mass shooting in United States history.
Last year 29-year-old Omar Mateen murdered 49 people and injured 53 injured in Orlando, Florida, storming into a packed gay nightclub having legally purchased a Sauer SIG MCX semi-automatic rifle and a 9mm Glock 17 handgun.
"At this time there is in excess of 50 deceased and over 200 injured individuals," said the LVMPD.
In harrowing footage below, automatic gunfire can be heard at the Route 91 Harvest Festival as singer Jason Aldean performed, and festival goers can be seen ducking for cover, screaming, before thousands fled the scene.
Armed response SWAT teams arrived at the Mandalay Bay hotel and casino soon after the shooting was reported at  10:08pm Las Vegas time, but ducked behind their cars, pinned down by gunfire.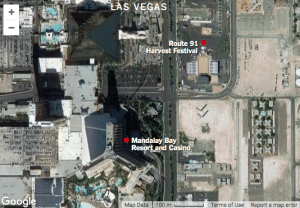 A SWAT team used a controlled explosion to blow down the door of a 32nd floor room at the Mandalay where Paddock was holed up. He appears to have shot himself dead.
The LVMPD said there were no more suspects, though they named his companion, Marilou Danley a person of interest, though the search for her was later called off.
A number of rifles were discovered in Paddock's hotel room, and his house will be searched today.
Two on-duty LVMPD officers were injured during the shooting. One is in stable condition after surgery and the other sustained minor injuries.
The LVMPD asked for families looking to locate missing loved ones to call:  1-866-535-5654.
In video of the mass shooting captured nine seconds of rapid-fire can be heard, before a pause, then at least two more rounds of gunfire. (WARNING SHOCKING FOOTAGE)