As the latest poll shows Labour widening the gap in voting intention to 9 Points Ahead of Conservatives, a senior Conservative has suggested that his party make an electoral pact with the Brexit Party.
In the European elections this month Nigel Farage's new party despite being only a few weeks old is set to get treble the votes of the Conservative Party – already smarting after record losses in the local elections.
And in a poll based on responses 9th – 13th May 2019 the Conservatives have fallen even further in national election voting intent.
The poll by Kantar has the Tories down 7% at 25%; Labour -1% at 34%; the Lib Dems +4% on 15%.
UKIP polled just 4% (down 3%); SNP stuck at 5%; the Green Party -1% at 3%; Plaid Cymru up 1% to poll at 2%; Other: 2% and when respondents named The Brexit Party and Change UK as their "other" answer they polled 10% and 1% respectively.
Such an election result would see senior Tory MPs vying to replace Theresa May such as Boris Johnson and Amber Rudd possibly losing their seats.
The poll also found that almost half of the public is now in favour of a referendum on the final Brexit deal whatever it is, and remaining in the EU, revoking Article 50 is the most popular option now for the British public.
If a new referendum was held on the UK's membership of the European Union, how would you vote in this referendum?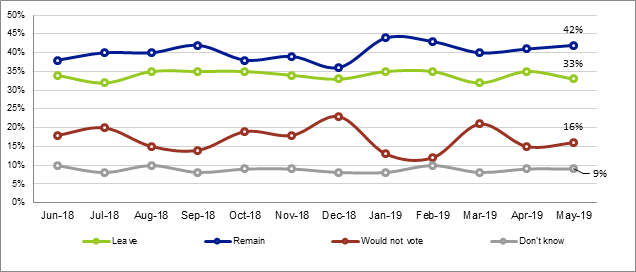 And with talks between the Prime Minister Theresa May and Labour Leader Jeremy Corbyn now at an impasse with top Conservatives vowing to oppose a permanent Customs Union, a Brexit deal parliament can agree on looks more impossible than ever.
So with the Brexit party poised to clean up disaffected Brexiteers in the European elections, Crispin Blunt, a former chair of the foreign affairs committee, admitted on Newsnight "we have not delivered" and Tories would be decimated in the European elections.
"In my judgment, we are going to have to come to an accommodation with the Brexit party," Blunt insisted.
"The Conservatives, as a Brexit party again, being very clear about their objectives, are almost certainly going to have to go into some kind of electoral arrangement with the Brexit party, otherwise Brexit doesn't happen."
The Tory MP suggested that Conservative MPs should stand uncontested by the Brexit Party in constituencies they hold, with the Brexit Party fighting in other seats.
The Conservative MP for Reigate added: "Listen to what Nigel Farage said today. He would 'do a deal with the devil' to get Brexit over the line.
"The Conservative party is very far from being the 'devil' in this.
"80% of the membership of the Conservative party are very keen to make sure that Brexit happens, will be in a position to enthusiastically support leaving the European Union with no deal, and if we are then able to agree a position to put to the country, I think we would hit the ball out of the park."
In a poll by BMG of European Election Voting Intention, based on research carried out between 7 – 10 May, the Brexit Party is on 26% (+26); Labour: 22% (-3); Lib Dems: 19% (+12); Tories: 12% (-12); Green Party: 10% (+2); Change UK 4% and UKIP: 3% (-24).
Interestingly, while the Brexit Party has surged ahead, No Deal Brexit parties command 29%; the main parties which mainly support a Brexit Deal or Deal with a confirmatory public referendum have 34% of the votes and Remain parties 33%.
The Kantar voting intention polls (9th – 13th May 2019) also asked voters how likely they would be to vote for a candidate from The Brexit Party if they stood in their constituency, 24% of people said very / somewhat likely (+1), including 49% of those that voted for the Conservatives in 2017. One-in-five (20%) would consider Change UK (-7 vs Apr 2019), including 28% of 2017 Labour voters.
The research found that remaining in the EU/ Revoking Article 50 remains the most popular outcome for the public, with over one in three saying this is their most favourable scenario (36%, +3 vs Apr). Leaving the European Union with 'No Deal' is the preferred outcome for two in ten Britons (22%, -2 vs Apr). One in ten (10%, -2 vs Apr) want to Leave the EU with Theresa May's deal, and 13% want Britain to leave the EU but remain in the Single Market / Customs Union (-2 vs Apr). One in five (19%) are unsure.
Almost half of Britons are in favour of any final deal or agreement reached by the government being put to a public referendum (47%, -4 vs Apr). 29% of Leave voters and two thirds of Remain voters (68%) say they want any agreement to be put to a public vote. 1 in 3 Britons (28%, -4 vs Apr) do not want any final deal put to a public vote and one in four say they do not know (25%, +8).
Over 7 in 10 Britons (71%, nc vs Apr 2019) rate the government's management of the Brexit negotiations as poor and 17% (+2 vs Apr 2019) rate their handling of the negotiations as well.
Do you think leaving the EU will make things better for you or make things worse?

When asked about the impact Brexit will have on jobs, NHS care, schools, living costs and peoples' local area, 43% (+2 vs Apr 2019) of the British public believe that Brexit will have negative effects with no positive effects and just 23% (-2 vs Apr 2019) believe Brexit will have positive effects with no negative effects.
How important in a Brexit agreement is a customs union with the EU so there are no checks on goods at UK/EU borders (including with Ireland)?