Youthful Conservative MP Ben Bradley has come a cropper for online posts before, for instance making up a claim that his local council spent thousands on a call centre in India or suggesting that unemployed people should be sterilised.
The fresh-faced MP for Mansfield can boast the most-shared tweet by a Conservative MP when he was forced to tweet an apology to Jeremy Corbyn and make a donation to a homeless charity and foodbank in his constituency or face libel action for a false accusation on Twitter that Corbyn had"sold British secrets to communist spies."
Sadly for the former Vice Chairman of the Tory Party, who resigned his Vice Chair For Youth position in protest at Theresa May's Chequers Brexit plan, an appeal for a video editor to cut "slick and engaging" video for him appeared to backfire on Friday afternoon, with Ben Bradley roundly mocked and deleting his Twitter account completely after an angry rant.
In a post the Mansfield MP since deleted, he asked for a videographer who could work free of charge, and the response was overwhelming – though mainly consisted of people pointing out the irony of his request as Bradley sits on the All-party Parliamentary group for Skills and Employment.
But rather than apologise, Bradley tweeted a series of bad-tempered responses, attacking any suggestions he should pay for his services as "bollocks" and "faux outrage of the left."
The Tory MP even compared his call for a video editor to work without pay to volunteering at a soup kitchen, fuming "if anyone wants to help, they can. Do they think the guys who volunteer at the soup kitchen are exploited?" before deleting his own Twitter account.
But perhaps the most hilarious reaction was that of video editor Ewan Michael Riley who responded to the raging Tory MP's appeal by making this"slick and engaging" video – which is now going almost as viral as Ben Bradley's infamous apology to the Labour Leader:
"When I saw that Ben Bradley MP had put out a call for a video editor to make him a 'slick and engaging' film for no money whatsoever, I leapt at the opportunity,"Ewan told The London Economic.
"If the unpaid time I spent working on this film manages to raise Ben Bradley MP's profile on social media, then it will have been unpaid time well spent."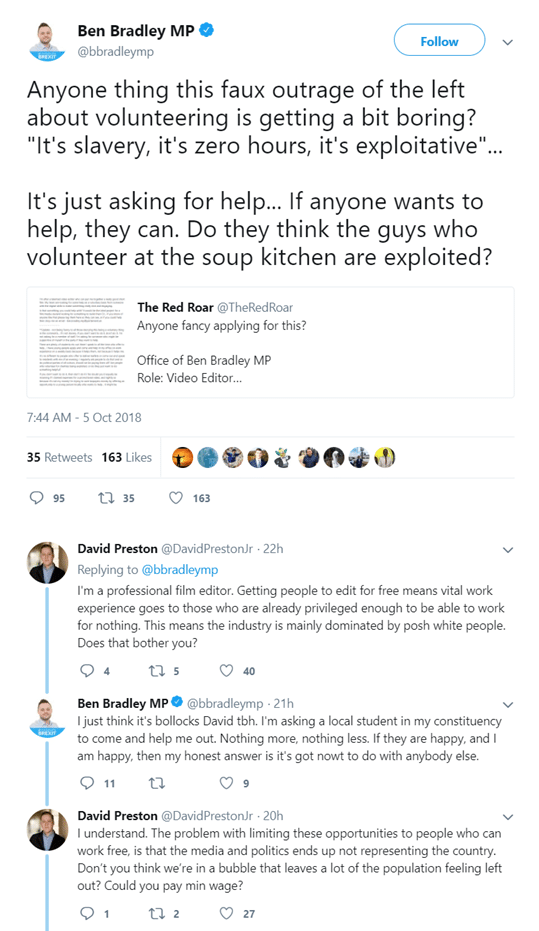 ( Official Portrait of Ben Bradley MP (c) Chris McAndrew )