Boris Johnson and health experts have urged people to exercise caution when they head to pubs and restaurants as the lockdown eases despite concerns about the spread of an Indian coronavirus variant.
It comes as Johnson's dithering over Indian variant means newfound freedoms are 'couched in uncertainty.'
Although ministers believe the vaccines will be effective against the highly transmissible Indian variant of concern, there are worries about the impact of its spread on those who have refused to have a jab or not yet been offered one.
The Prime Minister urged people to treat the latest easing of restrictions with a "heavy dose of caution" while Business Secretary Kwasi Kwarteng warned against excessive drinking for those returning to bars.
June 21
Mr Kwarteng insisted the June 21 date for the ending of restrictions in England was still likely to be met.
He told Sky News that "people should have common sense, they should use judgment and I think if we act in a reasonable way, there is no reason to suppose that we can't reopen the economy entirely on June 21".
On LBC Radio Mr Kwarteng he said: "We need to be cautious because if we get too carried away and the mutant variant spreads too quickly, that could endanger our ability to open up on June 21."
However, Kwarteng was grilled on GMB this morning about the speed of dealing with the Indian variant of Covid making it to the UK.
The MP said: "The point that I tried to make that you have not addressed is actually that the vaccine rollout has actually made people very safe against the Indian variant."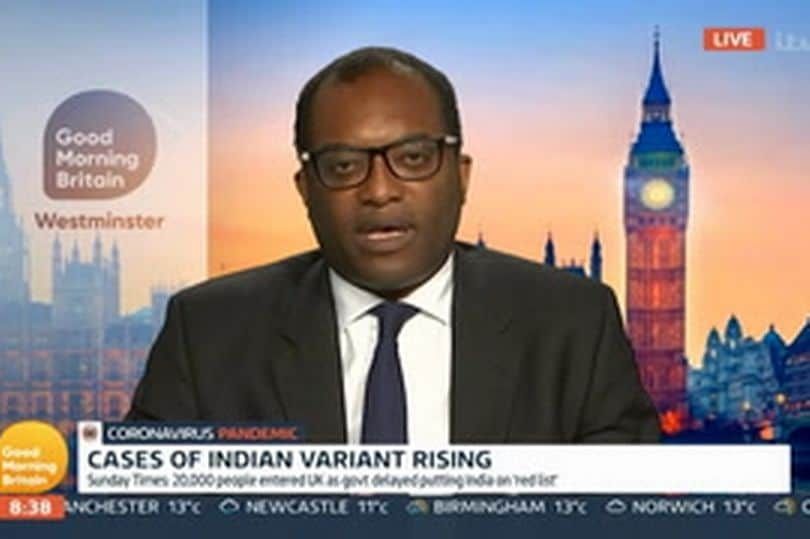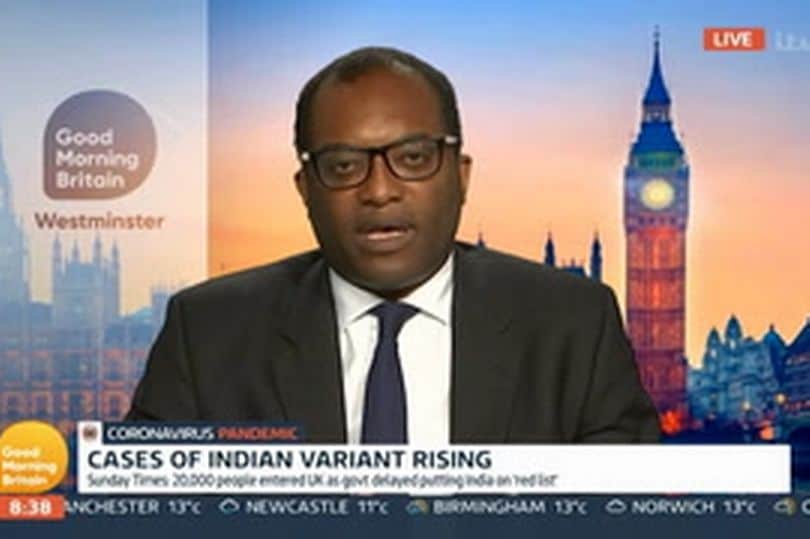 Not accept that
Adil Ray was not letting that comment go, he replied: "No hang on Kwasi, I am not going to accept that. You are saying the vaccine makes people safe against the variant so in that case, why are we even having red list countries at all then?
"Let's look at Pakistan with far lower cases than India – why don't we say, well hang on, we won't put Pakistan on the red list because our vaccine rollout is strong?
"It seems to me you are making excuses for a catastrophic error you made on India rather than accept that you made a mistake. If you are going to talk about vaccinations, you can say that and make that point about any country in the world right now.
Susanna said: "You were just too late at every stage."
"I disagree with that," he replied.
Watch
Why did the government not put India on the red list sooner when COVID rates were rising?

Business Secretary Kwasi Kwarteng says the vaccine roll-out 'makes people safe' against the Indian varient. pic.twitter.com/24SP8wQ7BY

— Good Morning Britain (@GMB) May 17, 2021
Related: Tickets to free Farage 'Comeback' tour bought up by people with no intention of going