It was, almost literally, handbags at dawn, as Nigel Farage and Alastair Campbell laid into each other on morning TV.
Campbell, Blair's ex-spin doctor, told Farage Britain would be a "laughing stock" when Article 50 is invoked this week, as both men featured on ITV's Good Morning Britain.
It was all a bit much for a Monday morning, but this shows the importance of Brexit, and both men come from polar opposites on the issue.
Right-winger Mr Farage first annoyed Mr Campbell by telling him: "The war is over. Come out of that fox hole."
Mr Campbell said it was "an act of economic and political suicide".
Mr Farage hit back: "How is it political suicide to make your own laws in your own country? Do you loathe democracy so much? What is wrong with running your own country?"
He added: "We're now getting our independence back, our pride back."
Mr Campbell rolled his eyes to the heavens and replied: "Pride back? Sorry, we're gonna be a laughing stock!"
Mr Farage said: "I'll buy you lunch!"
Mr Campbell was in no mood to eat with the ex-UKIP leader and said: "I don't want lunch, because lunch to me would be a waste of time when I could spend my time trying to stop this madness."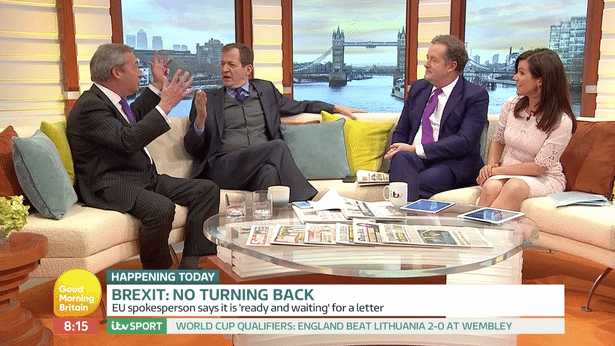 Mr Farage insisted: "You're not going to stop it, it's all over, it's done."
But Mr Campbell said: "Believe me, Brexit can be stopped."
It didn't seem to go down very well with the hosts or the general public.
The angry exchange left hosts Piers Morgan and Susanna Reid looking uncomfortable, as if I might end in physical violence.
Ms Reid tweeted: "At one point I thought the GMB bouncers were going to have to make an appearance."
A Tweet said the two men, were "acting like absolute children".
Tory MP James Cleverly said: "They really are as bad as each other."
 Watch video here