Hard Brexiteer Jacob Rees-Mogg has responded to the Beano comic's legal notice to "decist in your ongoing impersonation" of Dennis The Menace's arch enemy Walter "The Softy" Brown.
The Beano's letter accused the right-winger tipped by his young Moggmentum followers to take over the Tory party of infringing their copyright in impersonating their snooty prim character pampered by his wealthy parents.
Their cease and decist letter posted on Twitter accused the Conservative MP  whose upper-class mannerisms and reactionary views have caused him to be dubbed the "Honourable Member for the 18th century," of copying Walter The Softy.
Mike Stirling, Head of Beano Studios Scotland accused the MP for North East Somerset of copying the character's attributes such as "hair parting and style"; "choice of spotty ties and vintage apparel"; "bullish behaviour with peers and stopping others from having fun"; "insistence to remind others of his father's successful career"; and "snootiness."
He added: "we would prefer the public gets its Walter fix in the pages of our comics and on beano.com, rather than played out on the political stage. In other words, bog off Rees-Mogg!"
Many have spotted Rees-Mogg's comic book resemblances before. Including satirical website The Thump: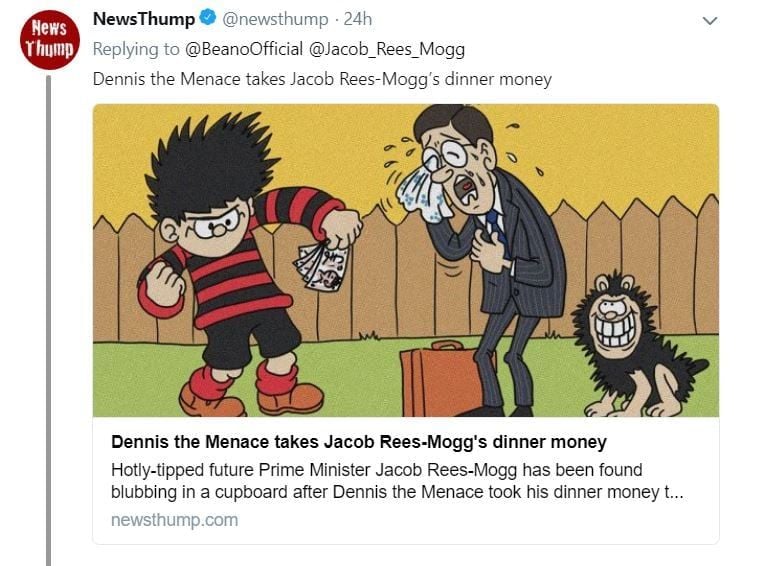 Rees-Mogg who has just joined the roster of controversialists with a live phone in at LBC radio station, finally weighed in on the #Waltergate Scandal.
"I am flattered to be accused by the Beano's legal eagles of imitating Walter the Softy whose powerful physical prowess is so much greater than my own" tweeted the Hard Brexiteer in response.
Well, that escalated quickly… #Waltergate pic.twitter.com/z4dfQ91MLh

— Beano (@BeanoOfficial) April 5, 2018
Jacob Rees-Mogg is in line for a huge personal windfall when Britain exits the single market
Brexit minister apologises for entertaining Jacob Rees-Mogg conspiracy theory on Brexit data