Rail bosses are investigating after a group of residents apparently chopped down trees on an embankment – to give them a better view.
The wooded area above a train line has disappeared after years of locals in large townhouses asking Newtwork Rail to remove them.
Locals say their repeated requests to have them chopped down have been declined by officials because the trees stop landslides and are home to bats and badgers.
It is thought a group of around ten residents in Montpellier hired a tree surgeon to carry out the work and fell the trees – to give them better views across Bristol.
But people living there say they were found out when neighbours on the opposite side complained.
Network Rail say homeowners did not have permission to chop down the woodland, which sits on a hill behind their back gardens, overlooking the railway.
One neighbour said: "It's bitterly ironic that they did it to improve their views but have left us on the other side with a view of total devastation."
Locals say the work was done to create a better view from the back of their homes in Montpelier, Bristol and to allow more light into their rear gardens.
The wooded embankment is home to badgers, a colony of bats and helps prevent landslips on the steep embankment down to the railway line.
Tree felling normally requires health and safety plans, supervision from Network Rail and the stopping or slowing of trains on the line.
A Network Rail spokesperson said: "We did not give permission for the recent de-vegetation work in Montpelier to be carried out.
"Safety is our priority and nobody is permitted to access the railway unless they have the proper permission.
"We are currently investigating this matter."
Around ten residents of homes on the street, Cromwell Road, chipped in for the tree surgeon, it is understood.
It was organised by landscape gardener Jonty Cutting who said he obtained permission from Network Rail for the work.
"I don't want to say too much about this," he said, when contacted. "But we did have permission from Network Rail."
He said the permission was in the form of an email, but refused to show the email as evidence.
Network Rail claim to have checked a long thread of emails between Mr Cutting and their office – and said none could be interpreted as permission.
Those living on the other side of the railway, on St Andrew's Road, are furious at their neighbours.
"It looks like a scene of absolute devastation," said one resident. "We knew nothing about this – they never asked us about it.
"When we first saw workmen cutting down the trees we were obviously upset, especially when they began cutting all of them down.
"But we never imagined they didn't have permission to do it."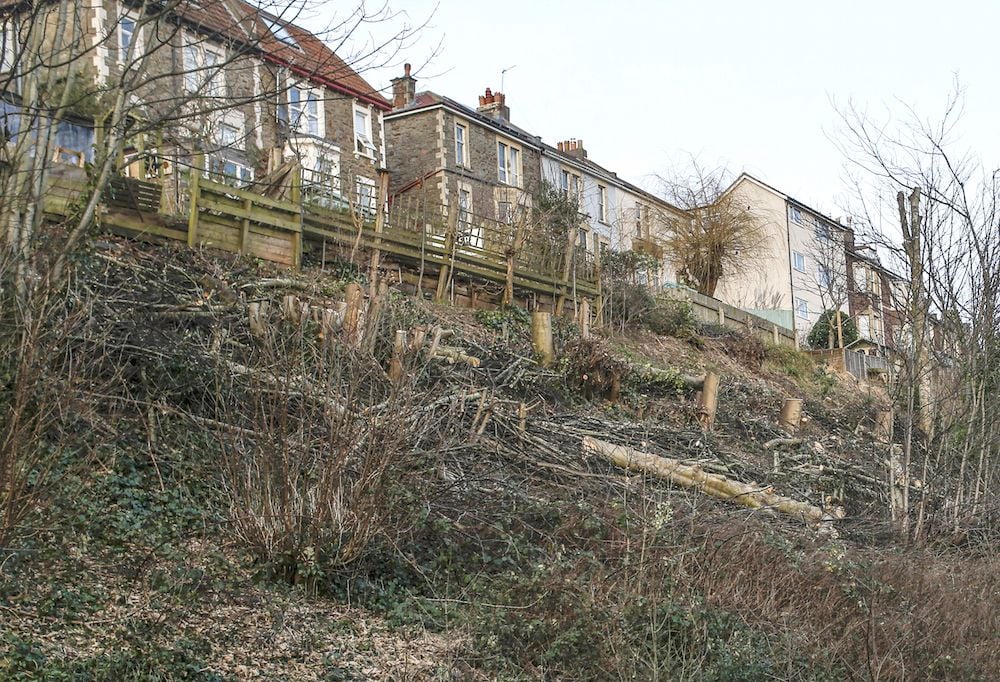 One resident of St Andrew's Road knocked at the properties on Cromwell Road pleading with them to stop the work.
Another resident whose house overlooks the woodland site from the south said she was appalled at what had happened.
"They have been asking Network Rail for years to chop those trees down and Network Rail kept saying no, and they've gone and done it without permission – it's appalling," she said.
"The worst thing for me is the wildlife that's going to be affected. There's badgers living down there, bats in the trees, it's all going to be badly hit by this," she said.
Local resident and former councillor Christian Martin said he had been in contact with Network Rail.
He said: "They said they are going to have to send a work team out to clear up, as there are logs threatening to roll onto the track.
"They will have to remove stumps that won't grow back and they said they would be seeking to recover the costs from the Cromwell Road residents – which are estimated to be between £25,000 and £30,000."
https://www.thelondoneconomic.com/news/virgin-release-traingate-footage-proves-corbyn-told-truth-traingate/23/08/
https://www.thelondoneconomic.com/news/50000-people-demand-richard-bransons-virgin-care-hand-back-328000-surrey-contract-dispute-payout/11/12/