A high-end weapons company are selling the world's most expensive handguns – a pair of £3.2 million pistols made from a 4.5 billion-year-old meteorite.
The 'Big Bang Pistol Set' consists of two stunning handguns forged from the Gibeon meteorite, thought to be 4.5 billion years old.
Their creator claims the luxury pistols are the first functional objects made from the meteor, which was discovered in Namibia, southwest Africa, in the 1830s – where it is thought to have landed millions of years before.
At a combined cost of £3.2 million ($4.5 million), the pistols are said to be of interest to a 'hedge fund billionaire, tech-mogul, industrialist or Royal' when they go to auction at an unspecified date.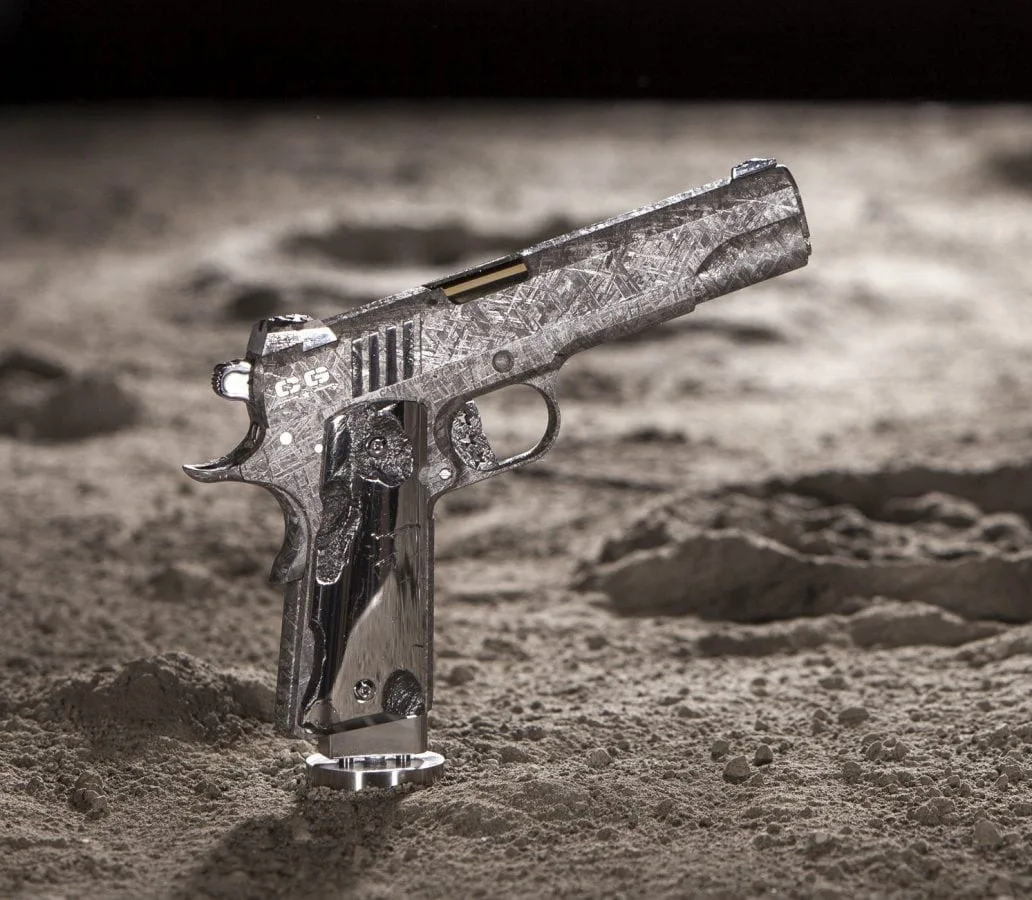 Both guns are coated with a tanned-metallic rock, emblazoned with the 'Widmanstätten' pattern, formed over millions of years through intense heat and cooling.
The meteorite is said to have passed throughout the solar system, including Mars and Jupiter, before being made into an M1911 style military pistol – a gun used in both World Wars.
Rob Bianchin is founder and president of Cabot Guns, the specialist weapons company responsible for the set, based in Indiana, USA.
He said: "I have been told by many collectors and experts that The Big Bang Pistol set are the 'holy grail' of collectable firearms.
"Gibeon meteorites exhibit the most desirable crystalline pattern and are the most desired of all iron meteorites.
"These will be the crown jewel of any collection – they will appeal to both firearm collectors as well as those fascinated with space and engineering."
The master craftsmen from Cabot Guns chiselled the unshapen meteorite into the set of the most expensive handguns ever.
Rob said the pistols are fully functional and that this is the first time that a mechanical object has been forged from a meteorite.
He said: "Man has been crafting weapons since the dawn of time, it predates speech – I don't believe anything more outrageous or complex in a pistol can trump this."
The former NRA Pistol Champion shop provides an array of other deadly weapons, including 'The Ultimate Bedside 1911' and 'The American Joe'.
Rob added: "The majority of Americans understand the importance of the 2nd Amendment but with rights comes responsibility for sure.
"It's a different world in the U.K. with respect to gun laws – although, the powerful in British society still have access to bespoke long guns.
"I am unimportant in the grander scheme of things, I will be gone and forgotten someday, but the pistols will not."
By Ben Gelblum  and Daniel Hammond